The Shape of Water (2017) – Film Review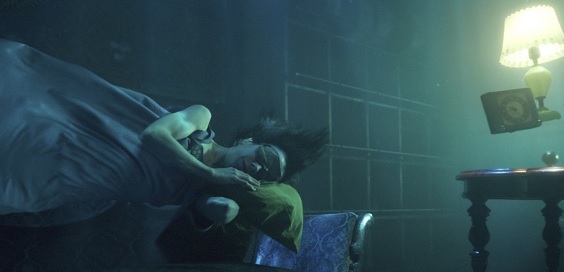 Director: Guillermo Del Toro
Cast: Sally Hawkins, Doug Jones, Octavia Spencer
Certificate: 15
by Roger Crow
Baltimore, 1962, and a mute cleaner at a high-security government laboratory embarks on a relationship like no other in Guillermo Del Toro's BAFTA-winning masterpiece The Shape of Water.
Sally Hawkins, giving one of the best performances of her career, is Elisa Esposito, the mesmerising heroine who lives above a cinema, is friends with a neighbouring artist (Richard Jenkins), and lives a lonely existence. While he has designs on the cafe worker nearby, she's an achingly solitary figure who cleans up at the lab a bus ride away.
This is a world of classic Bakelite gadgets and Cadillacs, the sort of nostalgic design you'd expect from a visual maestro like Del Toro. (He's a film maker who could shoot a movie about the phone book and I'd happily hand over my cash).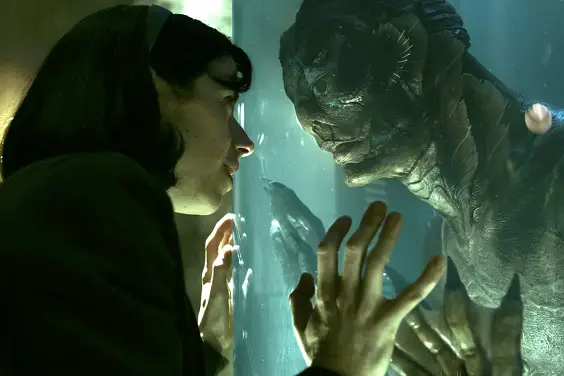 "Hits the bull's eye"
Following the fascinating misfire that was Crimson Peak, he's hit the bull's eye with this heart-rending tale which feels like a mash-up of The Creature from the Black Lagoon, Amelie, Delicatessen, Frankenstein, Hellboy and ET. And yet despite its influences, it's also like nothing else I've ever seen.
Witnessed after the mega bucks Black Panther, where I didn't believe in any of the characters, each of Del Toro's protagonists here feels like they live and breathe, whether it's air or water.
The casting is spot on, probably because the role was written for Hawkins, and Michael Shannon personifies the tough government stooge so well I can't imagine anyone else in the role.
Alexandre Desplat's score is a perfect accompaniment to the unfolding drama that washes over me, and though I try and remind myself it's only a movie, the fate of the amphibian man at the heart of the drama is as compelling as ET's in Steven Spielberg's 1982 classic.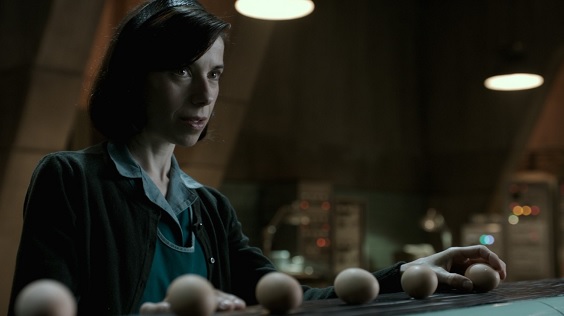 "Wondrous imagery"
I'm on edge throughout as I just want a happy ending. While I'll obviously not spoil a thing, I'll happily see this again to soak up the wondrous imagery, nail-biting action and beautiful romance.
Having been hooked on Guillermo's work since he started making waves in world cinema in the late 1990s, it's a relief to say he's finally made his masterpiece.
Don't wait for the home release. Rush out and see it at a decent art house cinema, and not a certain multiplex where they turn the lights on the split second the credits roll.
Easily one of the best films of this or any other year. Gracias Guillermo.
9/10