Red Rock West (1993) – Film Review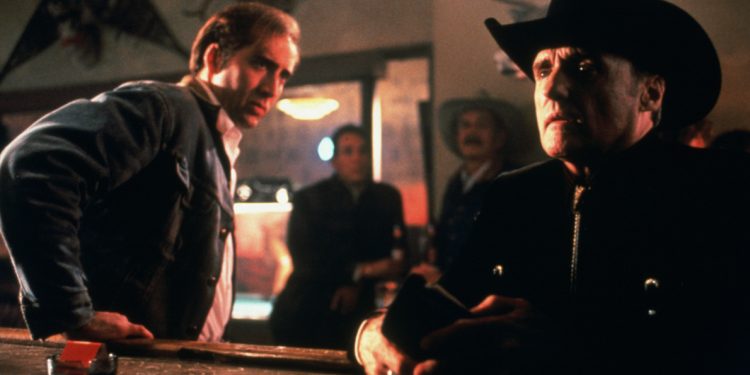 Director: John Dahl
Cast: Nicolas Cage, Dennis Hopper, Lara Flynn Boyle
Certificate: 15
By Sarah Morgan
Nicolas Cage is an actor who likes to keep his audience on its toes. We never know what we're going to get – will he be in outlandish mode, all bizarre tics and mannerisms? Or will he have dialled it down to deliver a calmer, more believable performance?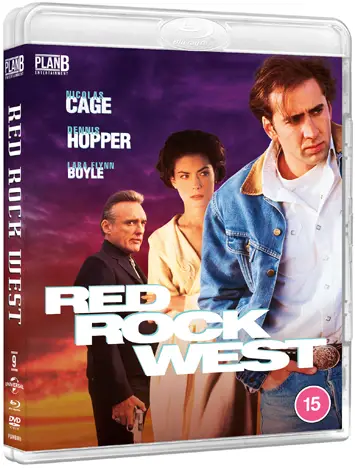 He opts for the latter approach to his role in Red Rock West, director John Dahl's stylish neo-noir thriller set in Wyoming, a region cinemagoers might associate more with the western than with dark double-dealings and a femme fatale.
"Hired gun"
Nevertheless, it works well, the desert wastes providing a bleak background to a tale of money, lust and betrayal.
Cage plays Michael, a former Marine who arrives at an oil field in the middle of nowhere, having been promised a job by an old friend. When it doesn't work out, broke and desperate, he visits a bar in the one-horse town of Red Rock, where he's mistaken for a hired gun by the landlord, Wayne, who gives him $5,000 to kill his unfaithful wife Suzanne – there'll be another $5,000 waiting for him when he's done the deed.
Michael accepts the money, warns Suzanne and leaves a note for the local sheriff, informing him of Wayne's plan. Then he high tails it out of town – but is forced to stick around after accidentally running down a man in the road.
And that's when things turn really bad…
Michael discovers that Wayne is also the local sheriff, the real assassin has arrived and nothing is quite what it seems. Falling for Suzanne isn't the best idea he's ever had either.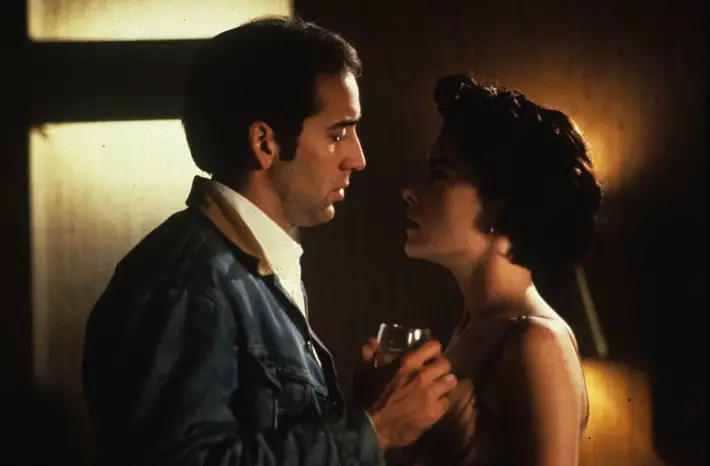 "Impressive cast"
There are more twists in the tale than you can shake a stick at, so it's important anybody watching the film gives it their full attention. If they do, they'll be rewarded with a highly entertaining evening's viewing.
Cage is likeable in the lead role, and he's supported by an impressive cast which includes Lara Flynn Boyle, then fresh from her success in Twin Peaks, as man-eater Suzanne, JT Walsh as her husband and last by no means least, Dennis Hopper as the assassin. He's clearly having the time of his life, chewing up the scenery and terrifying everyone in sight.
Dahl deserves plenty of plaudits too. The script, which he wrote with his brother Rick, is taut and gripping, with some sharp lines and an intriguing plot. Why the film was a flop on its release is a mystery, it deserves more credit than it received at the time.
Limited Edition Special Features:
● High-Definition Transfer
● UK Blu-ray Premiere
● Still Gallery
● Optional English SDH Subtitles for the Main Feature
● Video Essay with Film Critic Mark Searby
● Audio Commentary with Director John Dahl
● New Interview with Actor Dale Gibson
● "Caged In" Host Petros Patsilivas talks Nicolas Cage's Performance
● Booklet by Ian Schultz
● Poster
Red Rock West is released on Dual Format by Signal One Entertainment, £23.99