The Band Plays On (Live Stream) – Review – Sheffield Crucible
By Helen Johnston, March 2021
In a lockdown that feels like it's been grinding relentlessly on forever comes a spark of showbiz defiance as Sheffield's Crucible Theatre flings open its virtual doors to welcome audiences back for what promises to be a hit show.
After a year starved of live performances, I sat down to watch The Band Plays On and was both moved and uplifted by five powerful female monologues punctuated beautifully by some of the city's best loved musical hits.
Seeing the stage made me realise how much I've missed taking my seat with hundreds of other people ready to be transported to another place for a couple of hours by the skill of actors, musicians and all those other talented people working in theatre.
It was an emotional return for the cast too who said in the after-show chat that they had been moved to tears when they took their bow in the silence of an empty auditorium.
But as Anna-Jane Casey, a veteran at the Crucible, said: "It didn't feel cold or dead without an audience because there is life in that building. We all cried at the end, even the crew members were weeping, theatre is such a connective art."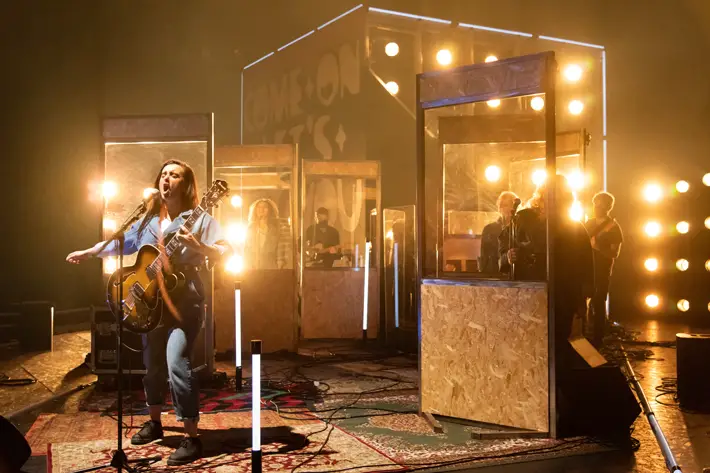 "Rich political and social history"
Jodie Prenger described it as a unique experience. "I'm immensely proud that things like this can happen during this awful time, it's a beacon to everybody in the entertainment industry that we're still going."
The five monologues were written by Chris Bush, who wrote the hit Standing At The Sky's Edge which featured stories from Sheffield's Park Hill flats sound-tracked by Richard Hawley's music.
Chris has once again managed to capture the spirit of the city by this time delving into its rich political and social history, starting with 'Bunker Baby' and memories of the 1984 TV drama Threads which imagined how a nuclear attack on Sheffield might look.
Anna-Jane Casey plays a daughter looking back on how her dad was so affected by the programme he decided to build his own nuclear bunker on their allotment, spending more and more time there as he struggled to come to terms with the industrial decline taking place in Sheffield in the '80s. In the end he tells her: "Someone already dropped a bomb on us and no one even noticed."
Jocasta Almgill is next with 'We're Alright', which takes us on a political journey from Labour's 1992 election defeat after Neil Kinnock's misjudged rally at Sheffield Arena, right up to 2016 and the Brexit referendum. Jocasta plays the daughter of a staunchly Socialist mum, who finds that as she grows up and makes her own life choices she feels less sure about following her mum's convictions.
The uplifting Sheffield Rules monologue by Maimuna Memon celebrates the fact that football was invented in the city in 1857. Maimuna is the teenager who ends up joining her dad's weekend footy team and then joining Sheffield FC ladies. She takes us backstage at the Crucible while she's talking, re-emerging up on to the stage as though from the tunnel at a football stadium.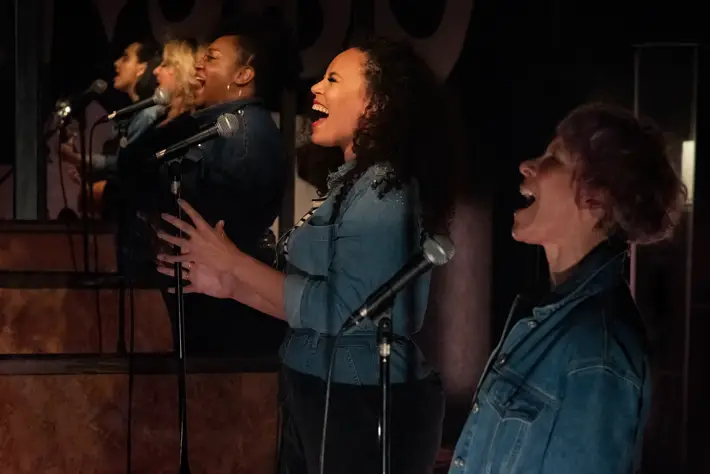 "Incredible"
Sandra Marvin puts in a poignant performance in 'Flood Gates' as she recounts the Sheffield flood of 1864 when Dale Dyke dam burst and sent 700 million gallons of water crashing on to the city killing 240 people. Her character lives in Hillsborough and the flood becomes a metaphor for what happened at the football ground in 1989, a torrent of people being pushed through turnstiles, the crushing asphyxiation like drowning. She notes how the name Hillsborough will be forever associated with something dreadful.
Finally, we have 'Sanctuary', and Jodie Prenger reminding us that Sheffield was the first city of sanctuary declaring a welcome to refugees fleeing to this country. Her character is not a refugee but a teacher who moves to the city after meeting her partner at a London university and they decide to move up north. They seem happy but as lockdown begins in March 2020 he confesses he won't be spending it with her.
The songs interspersed with the stories are 'I Bet That You Look Good On The Dance Floor' by the Arctic Monkeys; Def Leppard's 'Pour Some Sugar On Me'; Jarvis Cocker's 'Don't Let Him Waste Your Time'; 'Sing It Back' by Moloko; 'The Crying Game' by Geoff Stephens; and 'Beginners' by Slow Club.
The music was as incredible as the acting. I might not have been sitting in a theatre, but I still felt the urge to clap after each performance. So, do yourself a favour and take a night off from Netflix to support a Yorkshire theatre and its people instead. They need us as much as we need them.
'The Band Plays On' runs online until March 28 and tickets are available at sheffieldtheatres.co.uk