Introducing: Caroline & The Lights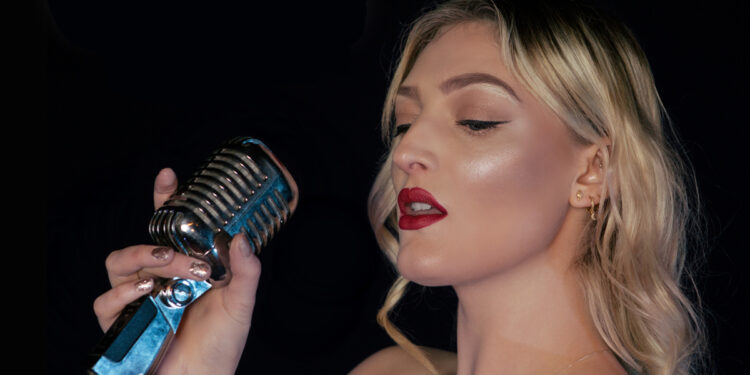 From Sheffield, fierce melodrama, huge choruses…
YOUR NAME: Caroline.
BAND NAME: Solo with touring band, Caroline & The Lights.
WHAT DO YOU DO/PLAY? Singer-songwriter, pianist, composing/arrangement of strings, backing vocals, and various other instruments.
HOW LONG HAVE YOU BEEN PLAYING MUSIC?
I was surrounded by my music growing up, it was pretty much a case of being handed an instrument at birth. Our family holidays were spent at Glasto in the 90s and early 2000s surrounded by hippies, walking in on far too many drunken men in unlocked portaloos, pretending to be a slug in a sleeping bag at the front of the pyramid stage completely oblivious to the bands on stage – I loved every second of it. We dressed up as the Von Trapp family and sang together at Sing-Along Sound of Music, watched Singin' in The Rain more times than I can count, re-enacted Disney musicals, and regularly put on concerts in my living room, much to my family's delight, I'm sure. I guess it wasn't surprising that I then took up piano lessons at six and inevitably started writing my own songs at about eight years old. I also spent a lot of time playing with other instruments, but piano is where my heart will always truly lie. After about 18 years of trying to convince everyone that I was actually serious about this whole music thing, I finally got the go-ahead from my mum after I finished sixth form to pursue it and she couldn't have been more supportive ever since, even coming on tour with me for several years while I was solo and calling myself Caroline Francess. Although life as a solo artist was far more simple, I just needed the music to sound how it sounded in my head – it needed to sound BIG. So I got some like-minded, very talented musicians on board, and away we went under the new alias of Caroline & The Lights.
GIVE US 3 REASONS WHY WE SHOULD TRACK DOWN, LISTEN AND DISCOVER YOUR MUSIC?
I am completely and utterly unapologetically melodramatic, something that people are often made to feel isn't okay. My music makes it okay. It takes the most devastating, most beautiful, darkest, saddest, most wondrous, and most joyful parts of life and lets you indulge in those emotions – something I feel is desperately important.
WHERE DO YOU SOUND BEST – FESTIVAL, CLUB, BEDROOM – OR SOMEWHERE ELSE?
There is no greater feeling than playing to an audience, no matter the size. To be able to connect with people you don't know, make them feel things they haven't felt in so long or haven't allowed themselves to feel, is just incredible, and is exactly why I do this. We're a bunch of snowflakes standing in a room sharing our feelings over some sad songs and I wouldn't have it any other way.
WHAT WAS YOUR FIRST…
RECORD? I'm a classic millennial so listened to my parents records plenty but never bought my own sadly. Don't hate me!
CD? 'Oops!… I did it Again' – Britney Spears. What a legend. #FREEBRITNEY. Fun fact: I once fell asleep listening to this album on repeat and woke up knowing all the lyrics.
DOWNLOAD? I don't why but 'Bad Day' by Daniel Powter comes to mind, or maybe 'Numb/Encore' by Jayz & Linkin Park. Whatever it was didn't sound so great on my bright pink Motorola Razr.
SO, WHEN IT ALL GOES RIGHT AND YOU'VE GOT A HUGE QUEUE OF HANGERS-ON AND A RIDICULOUS MANSION, WHAT WILL BE YOUR BIGGEST INDULGENCE, MUSICAL OR OTHERWISE?
Being able to play a grand piano on stage surrounded by a full orchestra for every show I think would have to be a thing.
SO, WHEN IT ALL GOES WRONG AND YOU'VE ACRIMONIOUSLY BROKEN UP CITING HUGE MUSICAL DIFFERENCES, WHAT DO YOU FALL BACK ON?
One of the perks of being a solo/band hybrid is that the music dies with me and I'm not planning on stopping any time soon!
WHO ARE YORKSHIRE'S FINEST IN CULTURE, SPORT AND MUSIC?
I'm a huge fan of the theatre as you can probably tell by my music, so would have to say Sheffield Theatres. Got my tickets booked for Everybody's Talking About Jamie in August!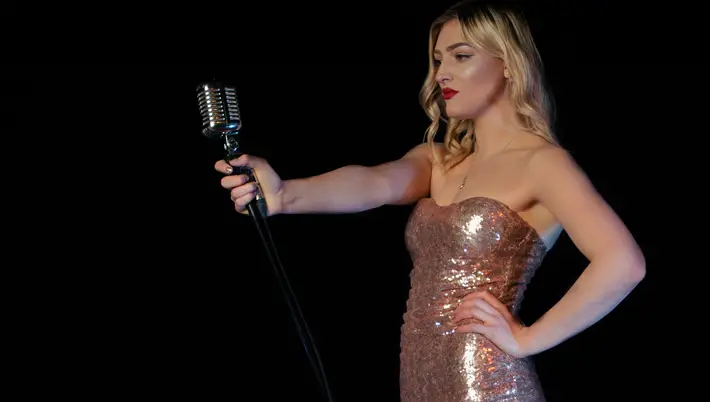 NAME YOUR SUPERGROUP – WHO'S PLAYING WHAT, WHO'S ON VOCALS AND WHO'S YOUR BEZ?
Phoebe Bridgers – Vocals
Ben Howard – Guitar
Sufjan Stevens – Banjo
John McVie – Bass
Dave Grohl – Drums, I just can't really pick anyone else over him, you know?
…can you tell I like sad music?
GO SEE THIS FILM: About Time.
GO READ THIS BOOK: The Catcher in the Rye.
GREAT LOST BAND/ARTIST: Fun.
WOULDN'T BE CAUGHT DEAD SUPPORTING: Diet culture.
LONDON, L.A OR LEEDS?: L.A. I'd love to know if I can actually get a tan if I live somewhere sunny enough!
AND FINALLY… AS YOU LEAVE THE STAGE, WHAT ARE YOUR PARTING WORDS?
Don't be a dick.
The new single by Caroline & The Lights, 'Once or Twice' is out now
For more info visit: facebook.com/carolineandthelights