Introducing: Household Dogs
Howling five-way duststorm from Leeds sucking up alt-rock, post-punk and Americana into a stark, startling whole…
BAND NAME: Household Dogs
WHAT DO YOU DO/PLAY? Declan: Lead vocals and guitar. Matthew: Bass.
HOW LONG HAVE YOU BEEN TOGETHER AS A BAND/PLAYING MUSIC? M: We released our first single in 2017 so its going on three being in each others company now.
GIVE US 3 REASONS WHY WE SHOULD TRACK DOWN, LISTEN AND DISCOVER YOUR MUSIC?
D: Collectively our aim is to tell stories and use those stories reach out. It is really only you who can decided if you have been reached. So, you'd have to dig us out and draw your own conclusion. We are heavy on the personal outreach in the live shows. We want to come to you. It can be horrific watching a static live band. A half hour set can seem like a lifetime and that's something we battle. Making our live shows as intriguing and engaging as possible is what we do. And finally, why not? In an era where music is as available as the air you breathe and almost as cheap, why not listen?
WHERE DO YOU SOUND BEST – FESTIVAL, CLUB, BEDROOM – OR SOMEWHERE ELSE?
M: A club or anywhere with a stage large enough to fit all five of us on.
WHAT WAS YOUR FIRST…
RECORD?
D: Vinyl record? Nick Drake, Five Leaves Left.
M: Their Satanic Majesties' Second Request by The Brian Jonestown Massacre.
CD?
D: I can't say I remember the finer points of my formative years but I would guess Guns 'N' Roses' Appetite for Destruction. It was definitely an early purchase.
M: I think that was Power Slaves by Iron Maiden.
DOWNLOAD?
D: Another tough one. It was definitely some emotional west coast pop punk. Taking Back Sunday? Or Fall Out Boy.
M: I'm afraid to say I never got into the download thing. I always bought CDs.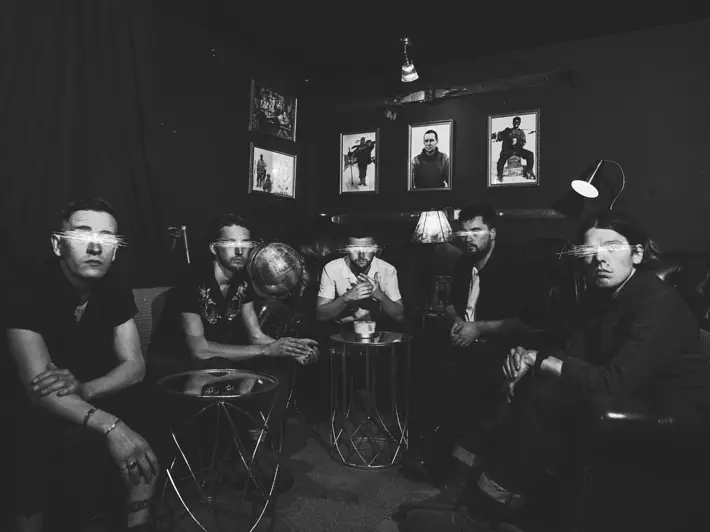 "Wave of artistry"
SO, WHEN IT ALL GOES RIGHT AND YOU'VE GOT A MANSION AND A SUPERMODEL GIRL/BOYFRIEND, WHAT WILL BE YOUR BIGGEST MUSICAL INDULGENCE?
D: A Steinway grand piano.
M: Black Sabbath playing my birthday party.
SO, WHEN IT ALL GOES WRONG AND YOU'VE ACRIMONIOUSLY BROKEN UP CITING HUGE MUSICAL DIFFERENCES, WHAT DO YOU FALL BACK ON?
D: I love painting and writing poetry. Probably not the greatest vocations to fall back on but have proven great ways to waste time whilst unemployed.
M: I'd be a professional tinker. Take lots of things apart and struggle to put them back together.
CITE SOME INTER-BAND MUSICAL DIFFERENCES…
D: As it happens we don't share a lot of musical tastes. They intersect at the odd turn but that's about it. So, we have lots of musical differences, we embrace that and use it to inform what we do.
WHO ARE YORKSHIRE'S FINEST IN CULTURE, SPORT AND MUSIC?
D: I'm not sure we can help with the sporting list as most of us still support our hometown football clubs, but there is certainly enough culture in Yorkshire. David Hockney? The Brontë sisters? There is so much music in Yorkshire. There may be artists like The Arctic Monkeys but really there is more going on than that. Music up North is an ever changing wave of artistry. Especially in Leeds, it's not always those big names that mean the most.
NAME YOUR SUPERGROUP – WHO'S PLAYING WHAT, WHO'S ON VOCALS AND WHO'S YOUR BEZ?
D: Oh, well this would be tough. Ginger Baker on drums? He was a wild guy and did some truly incredible things.
M: Geddy Lee on bass and Toni Iomi on guitar of course.
D: I would love Kate Bush on vocals. Bringing it all together with a haunting voice and some late eighties interpretive dance moves. As for Bez, has there ever been a better Bez than Bez himself? I'd definitely pay to see this creative collision.
"I've subverted expectation"
GO SEE THIS FILM:
M: Natural Born Killers or True Romance.
D: I saw Joker last week and it was wild. Beautiful.
GO READ THIS BOOK:
M: Them by John Ronson.
D: Titus Andronicus by William Shakespeare.
GREAT LOST BAND/ARTIST:
M: Moondog.
D: Eyeless In Gaza.
WOULDN'T BE CAUGHT DEAD SUPPORTING:
D: Nickleback.
LONDON, L.A OR LEEDS?:
D: Leeds in the summer, L.A. for the winter and London for bank holidays and Easter. A diplomatic answer.
AND FINALLY… AS YOU LEAVE THE STAGE, WHAT ARE YOUR PARTING WORDS?
D: Generally, I thank everyone for being there and tell them to be safe and have a wonderful evening. On the odd occasion I've subverted expectation and told people to 'fu*k off home' but I've never mean it. We'd actually much rather people stay and talk to us. It's what we are there for.
Household Dogs' new single 'Will My Dreams Be Electric Tonight?' is out on October 24
The band play Leeds Wharf Chambers, October 28 and Brudenell Social Club, November 10
For more info visit: facebook.com/householddogs