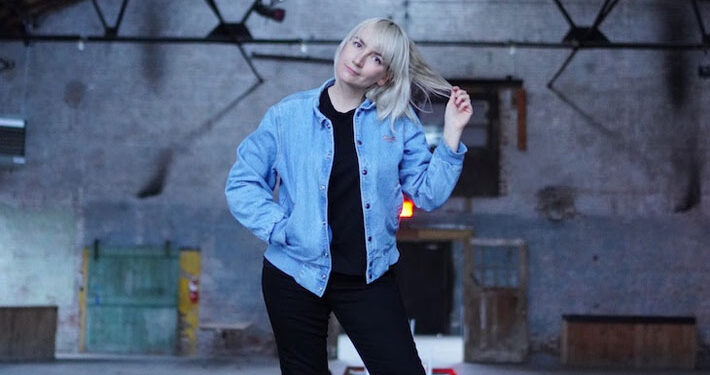 Former Sky Larkin songwriter and indie royalty collaborator from Leeds, going solo…
YOUR NAME: Katie Harkin.
HOW LONG HAVE YOU BEEN PLAYING MUSIC? I saved up for my first guitar when I was 15.
ANY PAST BANDS OR COLLABORATIONS WE SHOULD KNOW ABOUT? I released my self titled debut solo album in April during lockdown on my own label, Hand Mirror. I've been a touring member of Sleater Kinney, Wild Beasts, Flock of Dimes and Courtney Barnett and Kurt Vile.
GIVE US 3 REASONS WHY WE SHOULD TRACK DOWN, LISTEN AND DISCOVER YOUR MUSIC?
Stella Mozgawa of Warpaint and Jenn Wasner of Wye Oak/Flock of Dimes/Bon Iver play drums and bass respectively on the album, and it was recorded in three different time zones but it has a northern heart.
WHERE DO YOU SOUND BEST – FESTIVAL, CLUB, BEDROOM – OR SOMEWHERE ELSE?
Truly I sound best where the monitors are good enough to let me know what's going on, but not *too* good – so I push my voice a little more than I should. A dangerous sweet spot to chase.
WHAT WAS YOUR FIRST…
RECORD? Yeah Yeah Yeahs first EP ( I wanted to buy the CD but the Jumbo Records employee convinced me I'd want to snap this up on vinyl and they were right).
CD? 'The One And Only' by Chesney Hawkes.
DOWNLOAD? Hard to recall – not quite so romantic – but also vital! Hmm let's say all of the Joanna Newsom records that I also own on vinyl but aren't streaming anywhere.
SO, WHEN IT ALL GOES RIGHT AND YOU'VE GOT A BOTTOMLESS PIT OF MONEY AND LONG QUEUE OF HANGERS-ON, WHAT WILL BE YOUR BIGGEST MUSICAL INDULGENCE?
Making Hand Mirror the best it can be, supporting other artists and musicians with their projects, keeping the cycle going. And, yes, there's one guitar I've always wanted but I don't want to be outbid whenever it turns up on eBay.
SO, WHEN IT ALL GOES WRONG AND YOU'RE LEFT BITTER AND TWISTED AND CURSING THE MUSIC INDUSTRY, WHAT DO YOU FALL BACK ON?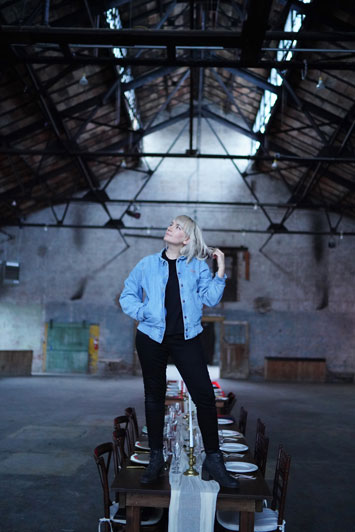 That's what we're all facing right now eh? Now it's an impossibility to earn my living from touring, funding is an essential lifeline to artists until we can reconfigure the music industry in a way that is fair for all, self sustaining and safe.
WHAT ARE YOUR MUSICAL GUILTY PLEASURES…
Terrible indulgent soundcheck jams, that's probably the worst music I can think of that I actively enjoy.
WHO ARE YORKSHIRE'S FINEST IN CULTURE, SPORT AND MUSIC?
I saw Jessica Ennis-Hill at the garden centre once and was VERY star struck. Nicola Adams' gold post boxes in Leeds always make me smile. The positive impact of the Brudenell Social Club is so huge that it defies description at this point, and I covered Sheffield's own Comsat Angels song 'Independence Day' because it never loses its meaning for me.
NAME YOUR SUPERGROUP – WHO'S PLAYING WHAT, WHO'S ON VOCALS AND WHO'S YOUR BEZ?
Truly I could spend days answering this question so I'll just say the Sea Lice band that Kurt Vile and Courtney Barnett assembled for that tour that I was lucky enough to be a part of. There's a special magic to a group that you know is temporary.
GO SEE THIS FILM: 'Spaceship Earth' (Biosphere 2 Documentary).
GO READ THIS BOOK: Sister Outsider by Audre Lorde.
GREAT LOST BAND/ARTIST: Norma Tanega – she's hardly 'lost' but I wish there were 20 more albums. I've been listening to her a lot this year.
WOULDN'T BE CAUGHT DEAD SUPPORTING: Lancashire Tea, Yorkshire Tea all the way.
LONDON, L.A OR LEEDS?: Leeds mate.
AND FINALLY… AS YOU LEAVE THE STAGE, WHAT ARE YOUR PARTING WORDS?
See you on the internet.
The debut album from Harkin is out now
For more info visit instagram.com/harkathon