An Interview with Wild Beasts
As Wild Beasts' debut album 'Limbo Panto' confirms the band as one of the best new prospects in the country, Matt Callard spoke to front-man Hayden Thorpe, shortly after a victorious Leeds Festival appearance…
For those immediately fleeing in terror – not from the b-movie horror of the band's name, but from those nightmare-inducing, denim-clad, third-on-the bill-below-Wolfsbane images that it evokes – fear not. Wild Beasts are no filthy rock throwback.
The name's deliberately incongruous, and though the band are a unique animal, and certainly wild in spirit, they're as far removed from the Reading Festival line-up circa 1983 (check it out, if you dare) as you'd hope. And if you need any more convincing, well, the name actually derives from a French phrase attributed to an early 20th century artistic movement. So come back; we're in safe and familiar art school rock territory, then.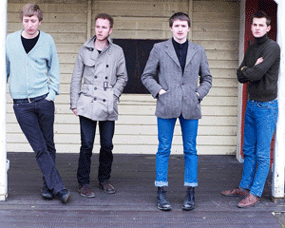 Hayden Thorpe is the front-man and focal point, mostly down to his spectacular, cart-wheeling falsetto and dangerous moustache. Part Sparks, part Kate Bush, part Morrissey, it's an extraordinary instrument (the voice, not the moustache). His imaginative and alliterative lines book-end a crucial, devilish rasp. The band's decision to settle in Leeds, rather than industry-centric London, or those bickering northern twins Manchester and Liverpool, already ranks as one of the city's finest musical coups.
"Heritage weighs you down"
"I think Leeds has got one of the healthiest music scenes in the UK," says Hayden. "There's a warmth to the live venues and an enthusiasm for any band. People are excited for each other's music. Independent venues give local bands the chance to play."
It was still a brave decision. Leeds can't help but have something of a musical inferiority complex to its Pennine neighbour. Apart for a few vital mavericks over the years, The Kaiser Chiefs are probably the biggest thing to ever come from the city. Although it's precisely this lack of cumbersome bagg(y)age that appealed to the band.
"That was one of the reasons we came to Leeds. It doesn't have that heritage that weighs you down, that melds you, that keeps you in the past. You can keep moving forward. It isn't bogged down. Manchester has The Smiths, The Stone Roses, Oasis. But Leeds is just starting to develop. The great thing is Leeds is happening right now, rather than 12-years ago."
The band hail from Kendal in the Lake District, which is hardly the kind of knife-crime hotspot that might persuade you to jump on the back of the first tractor out of there. But the sense of isolation, the absence of the big city cool crowd all helped equip Wild Beasts with their fierce individuality.
"We had to entertain ourselves"
"Kendal's only a small place," laughs Hayden, aware he's stating something close to obvious. "At the time we had to travel to Leeds or Liverpool or Manchester to see a gig and we were a bit bitter about that at the time. We had to entertain ourselves really. When we'd read the magazines they'd always be featuring the major cities. It didn't really mean much to us. All the scenes and things like that, we didn't experience them at first hand. So we had to devote ourselves to creating our own community."
The Kendal rock and roll community centres around one bar, the alluringly named Dickie Doodles. Although Hayden says it is "a jamming type place, pub rock and AC/DC covers bands basically, or guys playing blues with Budweiser bottles as slides," it must still have been an essential escape for the nascent Wild Beasts.
And while to Hayden the DD scene was "equally as disheartening as hearing about exciting things from afar," there can be no denying this unusual, away-from-the-crowd scene of their's helps meld the band's disparate influences. There's the clipped jangle of Orange Juice, the unworldly poise of early Kate Bush, Jeff Buckley's freewheeling theatrics, a healthy dose of noughties post-rock, a bit of Vampire Weekend hi-life. It all blends into something refreshingly (and inevitably) different. And, while we're at it, what a sweet blast of country air to hear a young band admitting a love for Howlin' Wolf and Nina Simone, rather than (yawn) The Beatles or Nirvana.
"We want to be popular and accessible"
"We didn't have any scene or group or older kids to tell us what was cool or not cool. So we just sort of discovered it ourselves. We grew up on the cusp of the internet starting out and that opened up another world immediately. I think that growing up in a small town, the more appealing things are the more adventurous things. When you're surrounded by the mundane and normality, you feel constrained by that. It's always the more exotic and adventurous artists that catch your attention."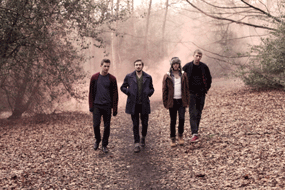 Signed to the esteemed Domino Records – current possessors of the best band roster since My Bloody Valentine just about bankrupted Creation – it seems the artist-friendly label (Arctic Monkeys, Franz Ferdinand, Bonnie Prince Billy) must be a dream for any band to work with.
"There's a big difference these days between making music that people listen to and making music that sells. I think it's sad that there's been a big movement towards music that will sell. I think Domino are one of the few labels that make music for music lovers. That's part of the adventure for us – we don't want to be awkward and leftfield – we want to be popular and accessible, but that doesn't mean you can't push the boundaries a bit and challenge people. I think Domino have that edge, where they have the mainstream bands, the popular bands that are amazing at what they do, and they have the leftfield underground bands that are also incredible at what they do. We hope we find our own ground between the two."
"I only heard afterwards about the riots"
A recent appearance at the annual rock heavy riot-fest that is The Leeds Festival took the band away from the cosier confines of the indoor circuits to the wide open spaces of the arena – not that the change seemed to phase the band particularly, in what was a celebratory performance, a full stop, indeed, to the band's first phase.
"It was amazing actually. I've never been before and I was pleasantly surprised. I only heard afterwards about the riots. I think it's a proper festival – a cool place to be. And I love the occasion of festivals but the atmosphere and intimacy of a proper venue – you can't replace that really."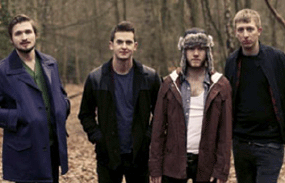 Currently touring as support to kindred spirits Foals it promises to be one of those I-was-there events – and Hayden's an admirer of the Oxford band.
"The thing about them I like is you can already imagine how good their second and third albums could be. With a lot of bands you hear their first album and you think, well, that's that."
Then it's into the uncharted territory of the European indie scene, the band recorded their debut album in Sweden with Franz Ferdinand knob-twiddler Tore Johannson, but the Euro live circuit is still fresh with promise, an adventure at every step.
"We're looking forward to experiencing music differently. In England the rock and roll and indie pop scene has been around for so long and it's so structured and formulaic. It's exciting to put our music somewhere else and see what happens."
The musical map of Leeds is being drawn right here and right now. Let Wild Beasts claw out their own unique contour. There's no need to run.