An Interview with Luciano Becchio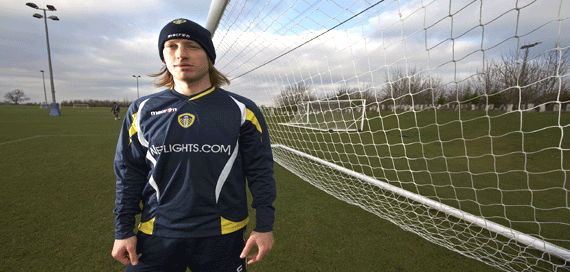 Luciano Becchio Interview
by Duncan Thorne
It's fair to say there's not much love lost between England and Argentina – especially when it comes to football. The 'relationship' dates back many decades and the Falklands War in 1982 added a more serious angle and further spice to an already incident-packed rivalry. Sir Alf Ramsey infamously referred to the 1966 Argentinian World Cup side as "animals". In 1986, Diego Maradona's Hand of God was followed by an incredible piece of skill to score what was arguably the greatest ever goal.
David Beckham became public enemy number one after he was sent off for reacting petulantly to Diego Simeone's goading, as England crashed out on penalties in the 1998 World Cup. 2002 saw another meeting between the old sparring partners as Beckham went some way towards redeeming himself by scoring the only goal of tense affair in Japan. Even the 'friendlies' are played with a passion rarely seen at international level. Romeo and Juliet this is not.
So it's interesting then, with such a turbulent history, that all the Argentinian players to have pulled on shirts for English club sides have proved so popular with the fans. Ricky Villa and Ossie Ardiles were massive crowd favourites at Tottenham Hotspur as they led them to cup successes in the 1980s. Carlos Tevez secured legendary status at West Ham Untied after his goals saw them pull off one of the great relegation escapes and he's already a double Championship winning player with both Manchester clubs.
"I enjoy myself every time I play"
So with such goodwill being shown to the Argentinian imports, it should come as no surprise that Leeds United's Argentinian star Luciano Becchio is now one of the most popular figures with the Elland Road faithful. But why are the Argentinians so popular compared to the mass of other foreigners who ply their trade in English football? Maybe it's the Latino flair, maybe it's the fans' love to antagonise rival supporters, maybe, dare we say it, they are somewhat English-like who, to a man, give 100 per cent to the cause week-in, week-out – the minimum the fans who pay their money expect but do not always receive.
Not for Becchio is it gloves in August, mysterious injuries in December and the continual longing for warmer climes despite his career being spent at sun-kissed locations including Boca Juniors, Barcelona, Mallorca and Merida.
"I'm very happy here," he confirms at United's Thorp Arch training ground in sub-zero temperatures. "I enjoy myself every time I play and I love the fact Leeds have such a big, big following – at home or away. There are always so many people there getting behind us. It is a great place to play and improve as a footballer."
He's certainly settled into the Leeds way of life and is picking up the language, although he gives the impression he's not too keen on having to go back to the classroom. The very mention of it makes him react like a naughty schoolboy who hasn't done his homework.
"English lessons? Oh no!" he laughs with slight embarrassment, "I have a tutor who comes to my house once or twice a week. At the moment it's usually once because I'm getting a little bit better… and also the team has been very busy!"
"I want to build friendships"
Despite his happy-go-lucky persona he admits he still misses some aspects of Argentina, especially his family. Understandably so as he left his home in Cordoba to pursue his football career when he was just 18.
"It is very difficult because I have a very strong relationship with them. We are in touch every day on the phone, by emails and webcams. But I really miss seeing my younger brother growing up, playing football. I have a young nephew as well and it is hard to know they are growing up with me so far away."
Any homesickness Becchio may have is eased by the strong friendships he has forged throughout the club. It underlines his long-term commitment to the cause.
"We haven't just played and trained together. We have become friends off the pitch too," he states referring to his team-mates. "That is important to me. I don't want to just make partnerships at work. I want to build friendships that will last. Even if, in the future, we end up playing for different clubs or whatever."
His career to date has already seen him take in some of the more glamorous clubs in world football, including Boca Juniors and a spell at Barcelona. It is the same path his boyhood hero Diego Maradona took many years ago.
"I got the chance to move to Barcelona so, of course, I took it. But I didn't get a lot of chances to play there. I didn't feel they really looked after me or gave me a chance. Sometimes you just have to move on if things are not happening for you."
"I thank God that I was able to come here"
Trying to force his way into a Barcelona side boasting the likes of Ronaldinho, Henry, Eto'o and Messi was never going to be easy. His career took him on to Merida in the Spanish third division. An impressive return of 27 goals in 50 appearances kick-started his career before the opportunity of English football came knocking.
"Marcelino, who played for Newcastle, is my agent. He spoke to Gwyn Williams (then Leeds's technical director) and gave him a DVD of some of my matches. Leeds watched this and liked what they saw. So I was invited for a trial and I did okay. I thank God that I was able to come here."
So what of that famous Luciano Becchio Superman-style goal celebration?
"No, it's nothing to do with Superman!" he laughs. "I have a friend Guiza (the Spain international who now plays at Fenerbache, whose name is pronounced 'Geezer'). That's what he does every time he scores a goal!"
The affable Argentinian definitely has all the makings of the super hero Leeds are crying out for. If he can fire them to promotion it would appear to be a marriage made in heaven.
Pictures: David Lindsay
Editor's Update: Becchio left Leeds for an ill-fated move to Norwich City in January 2013 – but his legendary status at the club is assured