An Interview with I Like Trains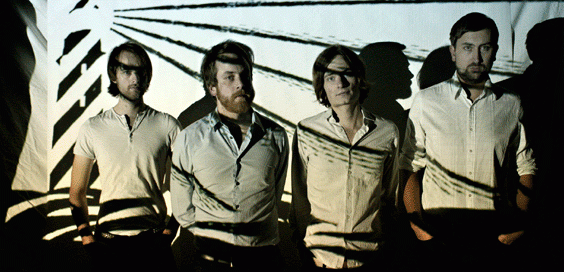 Leeds-based 4-piece I Like Trains recorded their second album in the wild and windy North Yorkshire Moors, in search of a suitably 'icy edge' that could see the band follow former On: featured stars Wild Beasts as the region's next major breakthrough act. Singer David Martin spoke to Matt Callard about the healthy Leeds scene, studio madness and an 'overall tone of resignation'…
How is the new record going, what shifts in sound and mood can we expect from the new record?
That's a tough question to start with! I think the new record is a little more varied in terms of mood. We've dabbled in major keys and have been a little more restrained on the reverb and delays. We decided to go into record without everything mapped out in fine detail. We have left ends open to explore, and have been pushing each other outside of our comfort zone.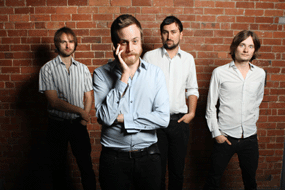 You're recording in a lonely farmhouse in the Yorkshire Moors – sounds very Withnail & I. Is it suitably desolate and windswept?
It was exactly as you'd imagine. Five people in a house going a little crazy and making a lot of noise. There was no escape really. It snowed in week two, so that added an extra icy edge to proceedings.
"Blind panic"
Do you enjoy the studio isolation? What's it like to air new songs for the first time?
I love the studio. I like that we have enough time to be really creative and explore different versions of the same song. I'm extremely excited to get it out there for public consumption. Airing songs for the first time live can be a little bit like blind panic. I love the reaction if it all goes well, but I often don't enjoy playing the song live for the first few times. Our fans will be familiar with live versions of the new songs, but they should be warned that some of them have changed a little since they last heard them.
The few new songs I've heard sound great – a little more song-based, a touch more accessible maybe… how ambitious are you? Leeds has never really had a world-conquering band – are you ready for it?
We're extremely ambitious, but we don't set ourselves targets as such. It is interesting to see how far we can take what we do without resorting to the lowest common denominator! I think that you're probably right, in that our new songs are little more accessible. As for Leeds not having a world-conquering band, I'd suggest that the Kaiser Chiefs are pretty successful! They did play to a world wide audience at Live 8.
"Stronger than ever"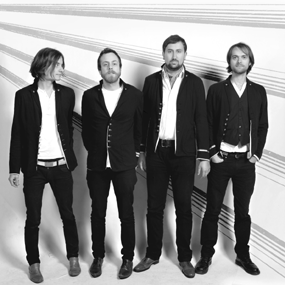 You've a strong local following – how important is that fan base to you?
It is always a pleasure to play in Leeds although I'm never relaxed before a home town show. I guess that in itself tells you how important our local fans are to us. We're keen to give them a good show / record in return for the support they've shown us. The Leeds music scene is stronger than it's ever been.
Why is that? Is the scene competitive? What other Leeds bands do you admire?
I'd suggest the local scene isn't all that competitive and is stronger as a result. Bands, venues and promoters are looking to help each other out mostly. Wild Beasts are a big I Like Trains favourite. We also have love for Sky Larkin and Grammatics.
Are you part of the general Leeds band-bonhomie? You look like outsiders – personally, I like a bit of musical antagonism!
Well, I guess we were very much a part of what was going on in the early days of Dance to the Radio (Leeds indie record label), playing shows and socialising with Forward Russia, This Et Al and Duels etc. We're not so close to some of the newer Leeds bands.
"Darker music exists everywhere"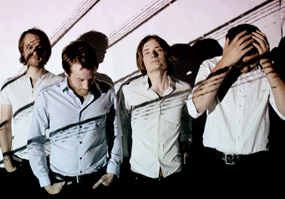 Wild Beasts told our magazine Leeds gives them an 'otherness' that London-based bands can't attain – do the band harbour ambitions about moving to London? What benefits does being based in Leeds bring I Like Trains?
I'm not sure we really have any ambitions to move to London. We really enjoy playing in London, and it seemed to catch on to I Like Trains very early, so in that respect maybe there is some truth in the words of the Beast. If we were going to make a move as a band I feel it would probably be European. Berlin and Copenhagen have been mentioned but the idea hasn't been explored fully! I guess the main benefit of living in Leeds over London is the cost of living!
Leeds has a legendary doom-rock history – why do you think that is? Something in the water?
I think that the darker music exists everywhere, its just that it isn't celebrated so publicly. The relationship between our location and the bleakness of our musical output is not something I've given too much consideration to.
What current bands do you admire? Who were your heroes when younger?
Bands we have been referencing heavily in the making of our latest album have been Jeniferever, Mew, Radiohead, Wild Beasts and Low. Our heroes when we were younger are many and varied and often pretty awful!
"Our fate is sealed"
You take inspiration from lots of areas other than music – will you be continuing with the historical references and people portraits? They've become your signature thing extremely quickly.
It has been our signature, so it feels only right to take what we have learnt from the past and to start looking to the future for our inspiration. During the writing process for this record I have been researching a lot into the science of climate change. I was very conscious not to make a preachy record. You must do this or that, so I think the overall tone is of resignation. I feel that our fate is sealed.
Pop music's a package and I admire the band's presentation – a lot of thought must go into the artwork, the live shows, the suits etc?
Yes. It came very naturally to us to begin with, but it's becoming more and more difficult to maintain our band aesthetic but to keep it updated and fresh.
What's your favourite live experience so far? Have you enjoyed playing the festivals to ever larger audiences?
My thoughts keep coming back to a festival in Poland called Off Festival. We were headlining the second stage which was located in a clearing in the woods. It was our first show in Poland and we were amazed at the reaction we got. I have fond memories of shows in Greece and Germany, Leeds and London. Not so much Swindon.
Finally… where will I Like Trains be in 2020?
Underwater.