An Interview with Andrew Gale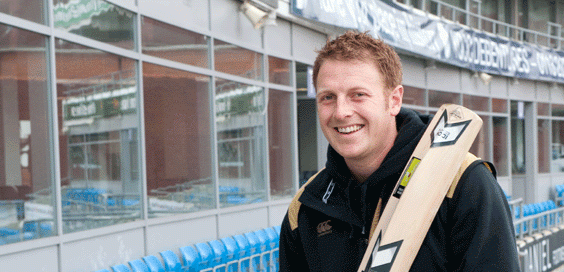 Andrew Gale Interview
Gale Force
by Duncan Thorne
You often hear sports people complaining that they've had 'busy periods'. That they lead 'hectic schedules'. But before anyone makes such a claim again, they should take a look at Andrew Gale's diary for the last few months. Then see if it really has 'all happened so quickly' for them.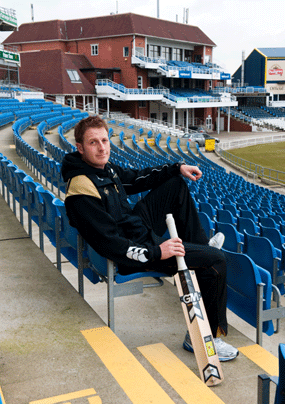 Since the end of the 2009 season, in which Gale enjoyed a second consecutive successful season with the bat and cemented his place in all forms of the domestic game, he's received some of English cricket's greatest honours. He was appointed Yorkshire County Cricket Club captain. Selected to take part in the four-week England Performance Programme camp in South Africa. Chosen to lead the England Lions' tour to United Arab Emirates. He then packed his bags again for Yorkshire's pre-season tour to Barbados. And he also managed to cram in the small matter of getting married in between jet-setting off around the world to play cricket in three different continents.
"I've only spent five weeks at home all winter. I got married in October. But it's probably been the best way to start a marriage," he jokes. "I'm lucky in that I've a very understanding wife. Her support has been really important. Everything has happened really quickly. I'm very proud to have been given the Yorkshire captaincy. It was a dream come true."
"Meteoric rise"
It's fair to say Gale is not the most obvious choice. He is in a team boasting the likes of Jacques Rudolph, Tim Bresnan and the now-departed Matthew Hoggard. Cricketers who have more successful careers to date and far greater experience. But perhaps nothing should come as a surprise to Yorkshire followers. Even those with the most active imaginations couldn't have predicted the county's dramas over the years on and off the pitch. But credit must be given to the Yorkshire hierarchy. They have been bold enough to trust their instincts and give Gale his chance. The selectors were no doubt impressed with his intelligence, clear thinking and all round batting skills. They see him as much at home batting for two days in a County Championship match or clearing the ropes in the helter-skelter of a Twenty20 encounter.
Yorkshire are not the only ones to identify his leadership potential. The England management team appointing him to front the Lions tour to United Arab Emirates in February. This despite the 15-man squad including Ian Bell, a player with experience of winning two Ashes campaigns and over 5,000 international runs. What is more incredible is Gale's meteoric rise to the top of Yorkshire's ranks when you consider it was only last year that he cemented his place in the four-day County Championship side.
"All the skills"
Gale is an exciting dasher in the one-day arena. He has had some explosive game-turning knocks. But the 2009 season proved a watershed moment for the Dewsbury-born left-hander. He only missed out on reaching the coveted 1,000 runs mark due to injury late in the season. It was enough to show those in power that here was a man who was young, talented, ambitious and able to repeat his success on a regular basis. Something that's plagued the squad over recent years.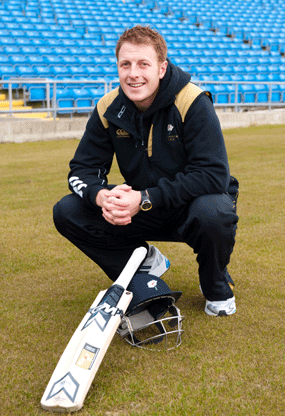 His appointment potentially marks a new chapter in Yorkshire's extremely colourful history. Gale heads a new generation of talent at Headingley that includes Tim Bresnan, Adil Rashid, Jacques Rudolph, Ajmal Shahzad, Joe Sayers and David Wainwright, along with new Australian fast bowler Ryan Harris. He will be joining later than expected having been drafted into Ricky Ponting's international line-up after impressing in the Sheffield Shield. The squad has the ability to dominate the domestic game for years to come. But gelling it all together on a consistent basis is going to be one the hardest tasks facing the new leader.
"We have all the skills and talent to win things. We've sat down and talked about this. With a few players leaving (including former Test players Michael Vaughan and Matthew Hoggard) there are opportunities for people to take their chances by getting runs and wickets under their belts," Gale states.
"Captaincy is natural"
"This winter we've had 11 of our squad playing in the England set-up from the first team down to the under-19s so the talent is there it's now about directing it and putting the performances in. Quite a few of our players are young but they've been around a bit now and have plenty of experience. So it's time they stepped up and moved on to another level. This is going to be crucially important if we are going to be successful. The first month of the season is going to be really important because we have four championship games so we have to get off to a good start to set the tone and make sure we are right up there.
"I'll be using my own experience to help others become more consistent because two years ago I was scratching around in the second team and fighting hard to get into the first eleven. But I took my chances and managed to get two good seasons under my belt and made quite an impression. My voice has been heard in the dressing room and I've the respect of the players and captaincy is something that I've always found quite natural to do. I want to use this to get Yorkshire back on the map and where it deserves to be and that's top of the County Championship."
"Yorkshire is the priority"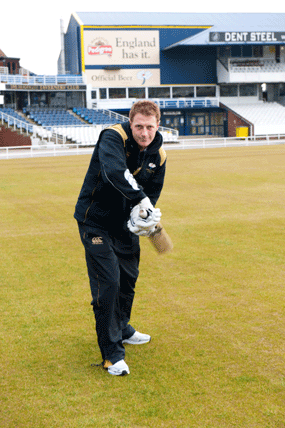 His winter involvement with the England squads has also opened his eyes to international cricket. It re-fuels an already burning desire for success. "This winter has been a good taster for me. The England Performance Programme showed me what I have to do to become an international cricketer. I really want to get full international honours. But Yorkshire is the priority. I've got to keep churning the runs out and knocking on the England door by being successful for Yorkshire. That is my main concern."
Someone with full international honours is Herschelle Gibbs. Yorkshire signed him in the close season to boost their Twenty20 ranks. No doubt he will thrill the Headingley crowds with his daredevil approach to batting. It has seen him carve up the best bowling attacks in the world over the last 15 years. The appointment of the explosive South African opening batsman excites Gale. He is looking forward to his influence and experience having a big impact on the squad on the pitch and in the dressing room.
"Very exciting"
"Herschelle is someone we've been looking at since November-December time. He's a very exciting batsman who has done really well in international Twenty20 competitions. I'm sure his experience will have a really good impact on our dressing room as well as on the field. I'll be looking to learn from him. I'm sure the rest of the players are too. So that's another exciting part of the season for us to look forward to. I can't wait to get started."
That last line sums up perfectly Gale's steely approach and determination towards the tasks ahead. Here's a man who has hardly stopped playing cricket all winter. Yet the hard work is only just beginning if he and his Yorkshire team are going to achieve their goals and fulfil their undoubted talent.
Pictures: Steve Stenson
Editor's Update: Since this interview Andrew Gale has been appointed Yorkshire coach, taking over from Jason Gillespie for the 2017 season.