The Golden Years of Yorkshire Cricket 1959-1969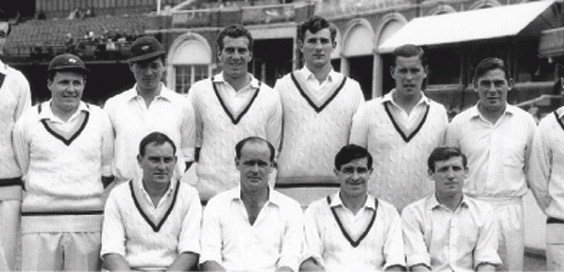 Between 1959 and 1969, Yorkshire won the County Championship seven times and the Gillette Cup twice. It was a golden era; the team studded with legends like Trueman, Close, Illingworth and Boycott.
Here, in a foreword extract by Ray Illingworth from Andrew Collomosse's book Magnificent Seven, the former captain remembers the highs, the occasional lows and the behind-the-scenes turbulence from Yorkshire cricket's greatest decade…
It was a beautiful summer. Good wickets and outfields like lightning. The start of my best period as a player, the dawn of a new Golden Age for Yorkshire cricket. Until 1959, my career had been a mixture: some years, I was better with the bat, others with the ball. But in '59 everything came together, for me and for Yorkshire. A memorable year.
We clinched Yorkshire's first outright County Championship since 1946 in sensational style in our final game against Sussex at Hove. Chasing 215 in 105 minutes, we got home by five wickets with seven minutes to spare. None of the Yorkshiremen who played under Ronnie Burnet on September 1, 1959, will ever forget that day.
"A relatively inexperienced side"
I played a big part in the victory, scoring a hundred when we badly needed runs in our first innings and taking seven wickets in the match. I was at the non-striker's end when Brian Bolus hit the winning runs. And the Championship was the climax of a marvellous year for me on a personal level, too. I played two Tests against India and in all first-class cricket, I scored 1,726 runs at 46.64 and took 110 wickets at 21.46; it was the second of my six doubles as a Yorkshire player. Yet at the start of that season, Brian Sellers, the county's new chairman and the man whose refusal to offer me a long-term contract in 1968 forced me to leave the county, had poured cold water on our prospects of taking Yorkshire back to the top.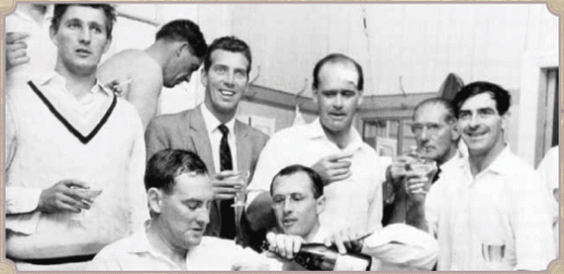 He predicted that it would be three years before a side that had been re-built after finishing a turbulent 1958 in eleventh place, would become a force. Sellers was wrong; we did it in one.
Was I surprised Yorkshire had come so far so quickly? A little bit, I suppose. I knew we had the potential to become a good side but I'd played through so many disappointments over the previous eight years that I wasn't sure we could do it with a relatively inexperienced side. But once we had that first title under our belt, I was very confident indeed that we would go on and win it again. And we did. Six times in the next nine years. And Yorkshire also won the Gillette Cup in 1965 and again in 1969, the year after I joined Leicestershire.
"Poor team spirit"
It was a marvelous time for Yorkshire cricket, a golden era that no county has come close to matching in over half a century. Yet it had all been very different for me during the seven years after I made my first team debut against Hampshire at Headingley in August, 1951. I was just 19 and I found myself in a dressing room where virtually everyone was an England international. Len Hutton, Johnny Wardle, Willie Watson, Bob Appleyard, Frank Lowson, Don Brennan and Norman Yardley, the captain, played in 168 Tests between them.
A year earlier, Brian Close had become the youngest player to turn out for England, aged 18, and Fred Trueman was ten months away from the start of a record-breaking Test career. It should have been the perfect arena for a young player to develop and forge a successful career of his own. Instead, the atmosphere was acrimonious and the team spirit poor. We finished second behind Warwickshire in my first season and then Surrey won the title seven times in a row from 1952. Yorkshire finished second three times and third once, not bad going for any other county. But not good enough for Yorkshire, who had won the title seven times in the thirties.
"A real impact"
Now Surrey were a great side and they had matchwinners in all departments. But so did we and I'm sure that if the team spirit had been right and we'd really been pulling together, we would have beaten them on at least a couple of occasions during those seven years. Instead we had to wait until 1959. Norman Yardley was my first captain. A lovely fella, he'd led England in 14 of his 20 Tests and off the field. You wouldn't find a nicer man. But he wasn't strong enough with some of the senior professionals. There were times when I'd be preparing to bowl and a senior player would come up and say, "What are you doing?"
"The captain's told me to bowl."
"On yer bike! I'm bowling here."
And I'd have to wait another few overs before I got on. I first started to make a real impact in 1953, the year England regained the Ashes under Hutton. Because of Test calls, Appleyard's health problems and injury that ruled out Close for virtually the whole season, I played in all 28 matches, scoring 717 runs and taking 69 wickets. In '54, with Closey and Appleyard fit again, I played in 18 games and I seem to remember doing a hell of a lot of Twelfth Man duty.
"There had to be changes"
I was capped the following year. Or rather, I asked for my county cap. Two or three counties were pestering me to join them so I said to Yardley, "You've seen enough of me now. If you think I'm good enough to play for Yorkshire then they should give me my cap; if not, they should let me leave."
I was capped next match…but I must admit it niggled that I'd had to ask for the bloody thing! I'd been playing since 1951 and held just about every record for an uncapped player. Yet I still had to ask for my cap. Doug Padgett did even worse. He was 16 and the youngest player to appear for Yorkshire when he made his debut in '51… and he wasn't capped until 1958!
Norman finished in '55, the year Len Hutton retired, and was succeeded by Billy Sutcliffe, son of the great Herbert Sutcliffe. Billy tried hard to move things on a bit. But he was 29 and found himself up against the same seasoned professionals that Norman had found hard to captain.
It wasn't easy for him. And it didn't help that the crowd were on his back, too. We all heard the jeers of 'You're not as good as your dad!' Billy was a good bloke but it was very hard work for him. Looking back, I think he'd have been all right if he'd taken over in 1958, the year Ronnie Burnet succeeded him, instead of two years earlier. In a way Ronnie was fortunate because I think everyone recognised that there had to be changes and the clear-out of senior players had already begun by the time he took over.
"Destroyed confidence"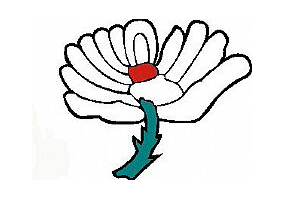 Watson joined Leicestershire in 1957 and then towards the end of the 1958 season, Wardle was told he would not be retained. He was then sacked after criticising the club in a newspaper article and subsequently withdrawn from the England party to tour Australia that winter. Like all the other younger players, I'd had problems with Wardle. But I always stood up to him. I was strong enough, he spotted that and eventually he was OK with me. But some of the others were frightened to death even to go for a catch because of the reaction if they missed it.
"I got the same treatment at first and eventually, after missing a chance in a match at Bramall Lane, I had a real bust-up with him. I said, "Look, when I came into this team I was the best fielder in the side. But you've destroyed everybody's confidence." I was all right after that. In fact from that point, whenever there was a slog on and the batsmen were attacking Johnny, I was sent into the outfield. I think I got 30-odd catches one season, which was a hell of a lot for an outfielder. But the others were still frightened and you can never play a team game when players are frightened.
"We all got on"
Ironically, before the final row that led to his sacking, I think Johnny was trying to do a reasonable job as senior professional. But great bowler that he was – through the fifties he was on his own as a left-arm spinner – it had to happen and we had to start afresh. Lowson and Appleyard also retired at the end of that summer so Vic Wilson was the only member of the early fifties establishment who was still around at the start of the 1959 season. And Vic was a great bloke.
So with the turmoil of '58 behind him, Ronnie began his second season with a mainly young side featuring several of the players who had played for him in a very successful Second XI. They had won the Minor Counties Championship in 1957. He knew them and they knew him. And people like Fred, Closey and me were now senior players and, importantly, we all got on. I'm not saying the three of us didn't have our disagreements; we did. But when the dust settled we were still pals and that was important.
Of course, there were concerns about Ronnie. He'd done a good job with the Seconds but he had no background of first-class cricket. And at 39, his fitness was always likely to be a problem. In fact he did break down early in his first season in charge and missed the first seven championship matches. And how much did he know about the first-class game? He'd captained Baildon to honours in the Bradford league and had played Minor Counties cricket with the second team.
"Struggle physically"
But this was going to be a much sterner challenge. And I don't think Ronnie was totally sure how I felt about him. He perhaps thought one or two of us who were now senior players might not be 100 per cent behind him. But I think it's fair to say we all supported him because he was such a good bloke. He treated everybody honestly and fairly, which in the end is all you can do as a captain.
He was never afraid to ask advice, which he needed to do, and he usually accepted it. And critically, he got the spirit right; after so many difficult years, that was the be-all and end-all. It has to be when you are living in one another's pockets for five months of the year. And throughout the sixties the team spirit was excellent. The Berni Inn steakhouses played their part, too. They were just starting to open around the country and sometimes in the evenings we'd go out and have a steak and a couple of those great schooners of sherry they used to serve up! We were Yorkshire lads together and that was always a great advantage.
Say what you like about overseas players, I still believe that 11 Yorkshiremen have something no other side could have. Ronnie came in at the right time…and he finished at the right time, too. I know he didn't want to go after winning the Championship and I can understand that. But he was beginning to struggle physically and we didn't want a skipper who was missing a week here and a week there. I didn't agree with Brian Sellers very often, but he pushed Ronnie into retiring and it was the right decision.
"No helmets"
Vic Wilson took over, retained the title in 1960 and regained it from Hampshire in '62. We won it again under Closey in '63 and after Worcester had won it two years in a row, we collected three on the bounce from 1966. And even when we didn't win it, we were always very close, particularly in '61 when ten of Hampshire's 19 wins came in declaration matches; we had no declaration victories. Opposing captains were prepared to leave them good targets of around 60 an hour whereas we were set 110 or 120. If we set a side a reasonable target, they wouldn't go for them; if Hampshire did the same, they'd have a go. So I always say that '61 was really our year as well, although I'll admit Worcester won it fair and square in '64 and '65. They were a good, well-balanced side.
By 1966, though, we were close to being the perfect unit. There were no weak links. We had a formidable batting line-up to choose from in Geoff Boycott, Phil Sharpe, Ken Taylor, Padgett, Closey and John Hampshire. Fred, Tony Nicholson and Richard Hutton were a powerful pace attack, while Don Wilson and I shared the spin. Jimmy Binks was, in the view of my England team-mate Alan Knott, just about the best wicketkeeper in the game. And there has never been a better fielding side. The close catching was second to none with Sharpe at slip, Closey either in the slips or at bat pad as they call it these days, and Fred at short leg. That lot didn't miss much… and they didn't have helmets.
"A brilliant captain"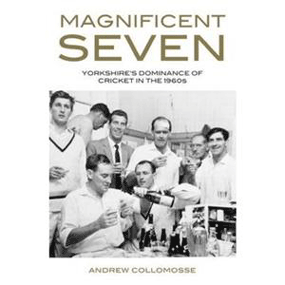 Ken Taylor at cover and Don Wilson at mid-wicket were world class. I used to say Wils had telescopic arms…if the ball went past, he seemed to extend his arm a few inches and grab it. We worked a lot of run-outs together. I used to station my mid on just that little bit deeper to tempt the batsman into a quick single. When he went for it, Wils would come swooping in from midwicket, the telescopic arm would go down and the batsman would be on his way.
All the players were deep thinkers about the game, although I was the only one with a license to pass on a few words of advice to the skipper. Closey was a brilliant captain and on a day when things were happening out in the middle, he was always in control, directing operations and standing fearlessly close to the batsman at forward short leg.
But on a quiet day, Closey sometimes tended to drift off a bit. Binksy and Sharpey would spot it from behind the stumps and Jim would run over to me and say, "Hey up, t'rudder's gone. Go and have a word with him!" And I'd bring him back into line. Brian would never have taken that from anyone else, not even Fred. We'd always been close. He was my best man and godfather to Vicky, my elder daughter. And as a captain, he realised I knew what I was talking about and my only interest was the good of the side.
"Devised the plan"
I can still picture Closey at the end of a day's play, sitting in the dressing room surrounded by the Press boys. He'd be saying, "Well, at that stage I decided this… or I did that." And all the lads used to look in my direction and raise their eyebrows. We still have a laugh about it when we get together for one of our reunions.
In 1966, when Closey was appointed captain of England for the final Test against the West Indies at The Oval, we travelled down to London together. I'd played in the Third Test at Trent Bridge so I'd had a look at the West Indies, who won three of the first four games.
Garry Sobers was probably at the height of his powers and had already scored 691 runs in seven knocks. But I'd spotted one potential weakness. So on the way down to London I said to Closey, "Look Brian, the one thing about Sobers is that he'll always go for the hook shot at any stage of his innings, even right at the start. "We've never really tried him out properly yet. So when he comes in, tell mid-wicket to walk back ten yards instead of walking in and let him have it straight away. He'll definitely go for it."
So John Snow let Sobers have a bouncer first ball, Garry nicked it on to his body and Closey, who had stood his ground at forward short leg, took the catch. It worked a treat. Afterwards, when I heard him telling the press how he'd devised the plan that got Sobers first ball, I thought, "Bloody hell, Brian, come on…" But I didn't mind if it made the old boy happy.
"Hand in my resignation"
To be candid, 1968 marked the beginning of the end. We won the Championship with a 60 run victory over Surrey with five minutes to spare in the final game at Hull but we were just starting to lack a little bit. Significantly, Fred was beginning to go. He'd lost a yard or two of pace, although we had Chris Old coming through and at that time he was very quick. Maybe we could have got by for another season with Fred bowling fast-medium and Chris operating in short bursts. But Fred decided to call it a day and so did Ken Taylor. And I left, too.
Basically my departure was down to one man, Brian Sellers. He was the biggest fly in the ointment for me at Yorkshire and he spoiled it for a lot of people. In 1968, I was 36 with a wife and two young children to support. Yorkshire had only ever given their players a one-year contract but I didn't think it was unreasonable to ask for a bit more security. I wanted a three-year deal. I'm not a fool and when I went to see John Nash, the secretary, I had five bloody good offers from other counties in my pocket. I said, "Are they going to give me a contract, Mr Nash?" "No, Raymond, they are not," he replied. "Well, in that case, I'm afraid I'll have to hand in my resignation."
"Autocratic approach"
I gave him my letter during a game at Bradford and in the normal course of events, it would then have gone before the next committee meeting. Instead, within a quarter of an hour, Bill Bowes, the former Yorkshire and England fast bowler, who covered the county for the Yorkshire Evening Post, came to see me. "Ray," he said. "I've been asked to talk to you on behalf of the press about you leaving Yorkshire." "How do you know about that, Bill?" "Mr Nash has rung Brian Sellers, who said you could go and any other bugger could go with you."
Ronnie Burnet, who was a committee member by that time, later told me that if my letter had gone before the committee, I would never have been allowed to leave. I had a lot of sleepless nights before I decided to go and I don't think I would have ever done so but for Sellers and his autocratic approach. But once he had shouted his mouth off like that, there was no way back. In one way, I suppose, it was the best thing he ever did for me. In 1968, I earned £1,500 as a Yorkshire player…and that included three games for England.
"Best side in the country"
I doubled my money at Leicester. And if I'd never gone to Grace Road as captain, I wouldn't have been appointed captain of England in 1969. It's funny, though, because when I left Yorkshire, Arthur Mitchell, the county coach and a man for whom I had enormous admiration, took Doug Padgett to one side and said, "Illy will captain England." Now nobody in the country could have seen that at the time because Colin Cowdrey was captain and looked secure…but Arthur sensed it could happen. And sure enough, when Cowdrey snapped an Achilles tendon before the start of the 1969 series against West Indies, they sent for me.
Less than two years later I became only the third England captain to regain the Ashes in Australia. When I look back at the whole picture, my ten seasons at Leicester was my happiest time. My wife Shirley will confirm that off the field, the atmosphere was like a breath of fresh air after Yorkshire. Before the first match of my first season, all the players were invited into the committee room for a drink. That had never happened at Yorkshire. The Leicestershire players were made welcome and their wives were properly looked after. We didn't have committee men grumbling if our wives used the same toilet as them. Leicester had never won a trophy in 90 years. But for a while we were the best side in the country.
"Nothing can take away those memories"
We won the Championship in 1975, when we also beat the Aussies, the Benson & Hedges Trophy in 1972 and '75 and the John Player League in 1974 and '77. As John Steele, our opening batsman, once remarked: "It's great to walk on to the field knowing the opposition are frightened of us, rather than the other way round." So over a five year period, the cricket was as good as anything I'd experienced at Yorkshire. And off the field, in my dealings with officials, it was far better; all in all, the happiest time of my life.
When I say that, however, I'm not talking about the time I spent with the lads. I loved being with the Yorkshire players and a member of a successful Yorkshire side made up of players born and bred in Yorkshire. From the first Championship year of 1959 to the final title in 1968, we were a team in every sense of the word, on and off the field. Nothing can ever take away those memories. It was a very special time with some very special people. And it all began in that beautiful summer of 1959.
Cricket Pictures courtesy of Yorkshire Post Newspapers
'Magnificent Seven: Yorkshire's Championship Years – The Men, The Magic, The Memories' by Andrew Collomosse with foreword by Ray Illingworth and afterword by Brian Close, published by Great Northern Books, June 2010. Hardback, 288 pages, with 32 pages of images, £16.99, ISBN: 9781905080748. To order a copy phone 01274 735056 or visit the website at greatnorthernbooks.co.uk