Remarkable Cricket Grounds by Brian Levison – Review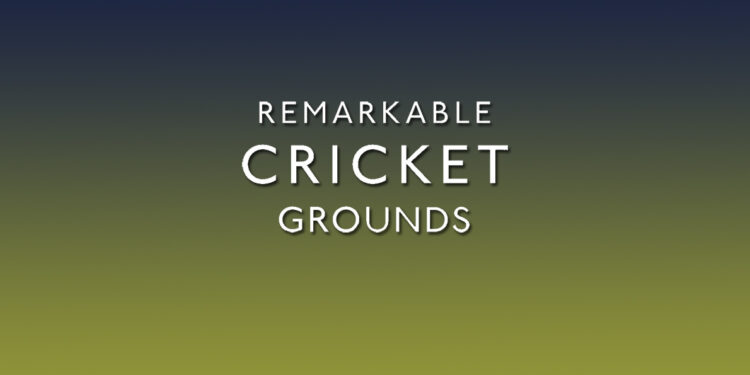 By Dominic Picksley
There was a time when I would don my whites and stand in a field for a few hours, hoping for two or three overs of prodigious spin, while later sitting nervously with my pads on praying, as next man in, that I wouldn't be needed as the opponents' lightning-quick opening bowler came back on for a second spell.
Many of the cricket grounds I graced in my younger years I can barely remember now, such is the passage of time and the unremarkable nature of those venues.
My home patch was a sports field in a local village, bordered on two sides by farmers' fields, but with short boundaries, and many were the times that Kookaburra balls landed inches away from freshly made cow pats or were lost in the undergrowth never to be seen again.
Such cricketing arenas like this would never, you would think, ever feature in Remarkable Cricket Grounds, but that is what makes Brian Levison's glorious book such a fascinating piece of work.
He picks out 78 grounds from around the world, including the obvious ones like the stunning Test arenas of Lord's, Old Trafford, The Gabba, Melbourne Cricket Ground, Eden Gardens and Newlands, but he also includes places like Spout House in North Yorkshire, which is literally a sheep field on a slope and where the legendary W.G. Grace was said to have been bowled for a golden duck, while Prince Harry has played there twice.
And then there's The Ship Inn Cricket Club, in Fife, whose home wicket is the beach at Elie, with seaweed used as the boundary marker. Plastic balls have to be used as hard ones won't bounce on the sand, with batsman not needing pads. And a local rule says that someone hitting a six into the pub's beer garden is rewarded with their height in beer… a feat achieved by West Indian ace Richie Richardson, no less.
Some not so well known international grounds are visually stunning like the Himachal Pradesh Cricket Association Stadium in Dharamshala, India, with its banks of different coloured seats, easily picked out against the stunning grey/white backdrop of the Dhauladhar mountains, the peaks of which climb to 18,370 feet. It is also the highest international ground in the world.
"Fine examples"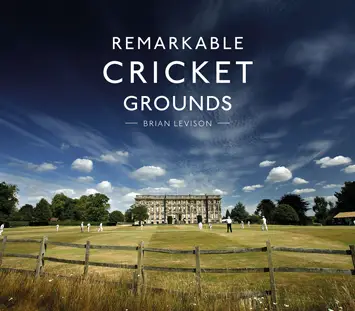 The futuristic-looking Moses Mabhida Stadium, in Durban, South Africa, also hosts football matches and was used in the 2010 World Cup. It's not dissimilar to Wembley, with an enormous 'Y' shaped arch covering the ground, a design inspired by the national flag.
Arnos Vale Stadium on Saint Vincent, in the Windward Islands, is another great choice, lying on the edge of the ocean and situated next to the small airport, with passengers able to enjoy a terrify view of the arena before they jet off into the skies.
Overlooked by tropical cliffs, there are breadfruit trees growing in the area, which are descendants of the tree the infamous Captain Bligh took with him when he eventually sailed to the island following his 'Mutiny on the Bounty' nightmare.
Levison has gone to great lengths to unearth some gems, finding cricketing arenas in the most unlikely places, such as in the Slovenian Alps, where Surnikovo is home to Mezica CC, not far from the Austrian border.
And who knew they played cricket in South Korea? The Yeonhui Stadium, in Incheon, was only built in 2014 – for the Asian Games – and was the country's first-ever venue solely for the sport.
Corfu, Germany, Italy, Hong Kong, Singapore and Switzerland also feature in the book, with the latter surely one of the most romantic cricketing spots, given its location in St Moritz and overlooked by perilous ski runs and glorious hotel and chalets.
Finally, we head back to England, where many venues are in the grounds or very near to stately homes to castles, with the impressive Bamburgh Castle standing guard over its cricket club, while Blenheim Palace, Castle Ashby House (Northamptonshire), Milton Abbey (Dorset), Raby Castle (Durham), Stoneleigh Abbey (Warwickshire) and Portchester Castle (Hampshire) are all majestic venues, with the latter's ground even situated within the castle walls themselves.
There are probably hundreds more Levison could have selected, but these 78 are pretty fine examples of Remarkable Cricket Grounds and last mention goes to Lynton and Lynmouth Cricket Club, whose Valley of the Rocks location, in North Devon, is quite simply awe-inspiring.
'Remarkable Cricket Grounds' by Brian Levison is published by Pavilion