Walking the Edge (1985) – Film Review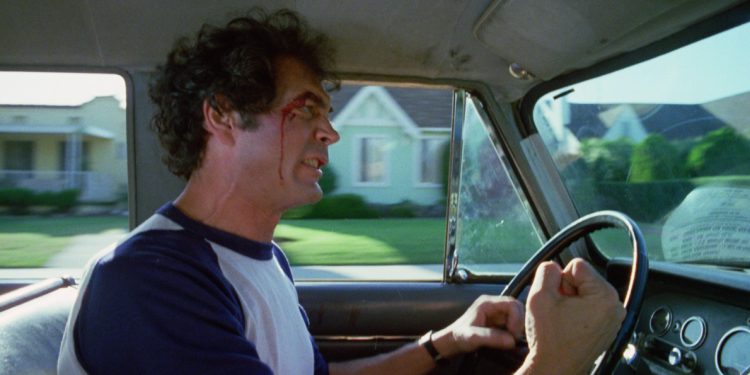 Director: Norbert Meisel
Cast: Nancy Kwan, Robert Forster, Joe Spinell
Certificate: 18
By Sarah Morgan
Robert Forster. One of the great big screen presences, and yet often so underrated and overlooked in his lifetime. But, like so many before him, his reputation has only grown since his death four years ago.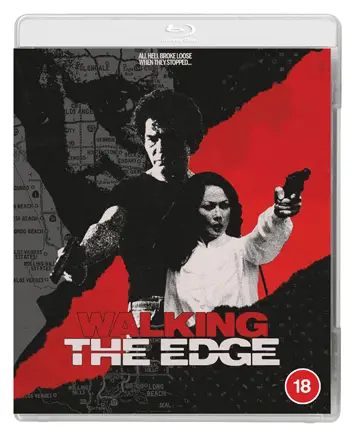 In the later stages of his career, he was embraced by both David Lynch (Mulholland Drive and Twin Peaks: The Return) and Quentin Tarantino, who cast him as bail bondsman Max Cherry in his wonderful adaptation of Elmore Leonard's Rum Punch, Jackie Brown.
"Out for revenge"
Long before either of those opportunities came along, Forster appeared alongside another of Tarantino's favourite stars, Nancy Kwan, in this low-budget thriller directed by the latter's husband, Norbert Meisner.
Forster plays Jason Walk, a cab driver with a sideline in collecting debts for a dodgy bookie. His dabbling with the shadier side of life does not, however, prepare him for what happens when his path crosses with that of Christine, a grieving woman out for revenge on the men who broke into her home and murdered both her husband and son.
Jason reluctantly becomes embroiled in her scheme, keeping her away from both the police and those who want her silenced for good, but it comes as no surprise when the pair find themselves drawn to each other and a tentative romance develops.
But love cannot always conquer all, so there are still pesky bad guys to deal with, ones who will stop at nothing to get what they want including, in the film's most disturbing scene, torturing Jason's best friend in the hope of finding out where the couple are hiding.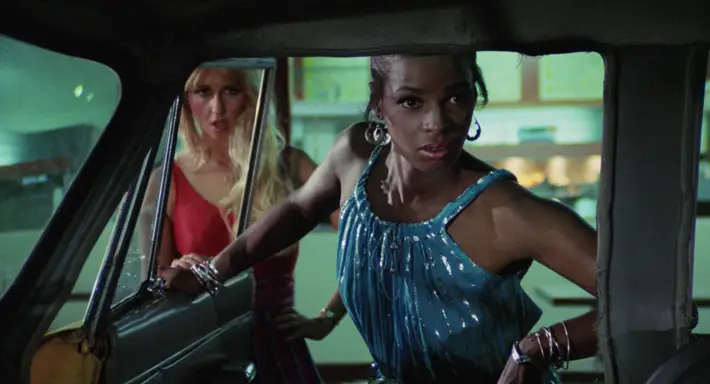 "Memorable presence"
Although Walking the Edge was made in the mid-1980s, it has none of the slick stylings or approach we got used to seeing in the likes of Miami Vice, Jagged Edge or Lethal Weapon. Instead, it looks as if it could have been made for the Grindhouse market 10 years earlier – and I like it all the more for that.
The story isn't exactly groundbreaking, but there are some clever moments in which Forster gets to shine, particularly during the early scenes in which his character is being established.
Kwan is suitably demure but steely, while Joe Spinell, always a memorable presence, no matter if he was appearing in Rocky, The Godfather or something with a far lower budget such as this, makes a great villain.
The disc is also packed with special features that add some valuable background to the production.
Special Features:
● New 4K restoration from its 35mm original camera negative
● "Scoring the Edge," a new video interview with composer Jay Chattaway
● "Det Jurgensen Remembers Forster and Spinell," a new video interview with "French Connection Cop" Randy Jurgensen
● "Breaking Point," a new video essay by filmmaker Chris O'Neill
● Theatrical trailer
● Image gallery
● Booklet with new essay by filmmaker and writer Jim Hemphill
● Newly recorded audio commentary by film historian Chris Poggiali and film producer Matt Verboys
● Archival audio commentary by director Norbert Meisel and stars Robert Forster and Nancy Kwan
● Slipcover and booklet limited to 1000 copies
Walking the Edge is released on Blu-ray by Radiance Films, £16.99