An extract from Lucas Radebe: Kaizer Chief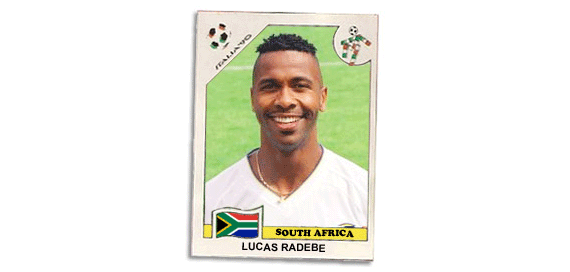 Lucas Radebe's new biography is no ordinary footballing rags-to-riches tale. It is the story of how he overcame a tough childhood in the midst of South Africa's anti-apartheid struggle, survived a shooting, and refused to be diverted from his sporting destiny by injury and homesickness, until, eventually, becoming one of Leeds United's greatest – and most loved – players.
In South Africa he is an iconic figure, underlined most pertinently when Nelson Mandela said of him: "This is my hero." In this extract, Lucas is at his footballing peak, with David O'Leary's young Leeds team seemingly on the brink of greatness…
"Bright futures"
On 18 January 1999, Leeds produced what Lucas described as 'one of our best performances since I joined the club' in beating Middlesbrough 2-0 with the rapidly emerging Lee Bowyer outstanding. But Lucas hardly had time to savour the win before dashing to Manchester Airport where he met up with Mark Fish to fly to Johannesburg. The following day, he was a guest at Fish's wedding and within 24 hours the pair of them joined up with the Bafana squad to fly to Mauritius for an African Cup of Nations qualifier.
Like David O'Leary at Leeds, Trott Moloto was giving young players their head and even though they only managed a 1-1 draw in a game they were expected to win, Lucas was impressed by some of his new international teammates. He enjoyed the excitement and energy generated by talented youngsters and he got a kick out of guiding them and helping them improve. 'The likes of Bradley Carnell, Sibusiso Zuma, Benni McCarthy and Quinton Fortune are developing into fine players with potentially bright futures in international football,' he said.
"The George Graham factor"
From the heat of Mauritius, Lucas returned to Yorkshire. Here another bunch of youngsters were exceeding expectations but struggling for consistency. After a couple of defeats in the league, they faced a mouth-watering FA Cup tie against Spurs. It would bring George Graham back to Elland Road for the first time. While Leeds's main priority was a high Premiership finish to qualify for Europe again, the FA Cup presented an alternative route. Also it was a realistic opportunity for silverware. So it was always going to be a big match, whoever they faced. The Graham factor added extra spice to the mix.
On the evening before the match Feziwe went into labour. Lucas drove her at top speed to the hospital. He needn't have rushed. At 3.30am she persuaded him that the birth wasn't imminent. He should go home and get some rest. He hardly seemed to have got to sleep when he was awakened at ten the next morning. A phone call from the maternity ward said that if he wanted to see his child born, he had better hurry back.
"Exhausting schedule"
He raced to Fezi's side and marvelled as a fine son, Lucas Hugo, was born at around half past 11. It was hard for Lucas to drag himself away. He arrived at Elland Road just in time to lead the side out. It was a cagey game against a team predictably well organised by Graham. Switched to right-back, Lucas kept Spurs' dangerman David Ginola quiet. But neither side could get on top and the 1-1 draw added a replay to Lucas's exhausting schedule.
O'Leary's 'babies' were hitting form at just the right time. They played with little fear, relishing their success. Safe in the knowledge that down the spine of the team they had the experience of Nigel Martyn, Lucas and, hopefully soon, David Batty to bail them out when they got in trouble. Two good wins improved their league position. Then there was the replay at White Hart Lane. But this time Leeds were always second best.
"Play in every game if possible"
There was no chance for Lucas to dwell on the 2-0 defeat. He had a plane to catch. South Africa had given special permission for him to miss their Castle Cup game against Botswana and play against Spurs on the Wednesday night. Even though they faced an African Cup of Nations qualifier against Gabon the following Saturday. The only available plane meant a stop over in Milan. This cut down any chance of resting on the flight. It was Lucas's 50th cap and he led Bafana Bafana to a 4-1 win. But there was scarcely time to show the family photos of the new baby before he was heading for the airport again. With Woodgate suspended, Leeds needed him to play against Leicester on the Monday night.
Faced with the prospect of three games in six days on two continents, with many hours in the air in between, Lucas joked: 'I'm looking forward to it. The plane trips will let me catch up on some much needed sleep I have lost since the baby was born!' More seriously he explained: 'It will be very hard and tiring. But I owe it to both my country and to Leeds United to play in every game if possible. It is the price I pay but I am willing to pay it.' In years to come, the true cost to his body would become clear.
"A great honour"
Lucas only had two hours from the final whistle in Pretoria to travel the 30-odd miles to his flight at Johannesburg. Not surprisingly, he arrived too late. Once again he had put himself under stress by accepting a crazy schedule. But also by his inability to turn his back on anyone. Even though he was up against the clock, he admitted, he'd felt forced to stay and sign some autographs for adoring South African fans.
'It was a great honour for me to win my 50th cap. I was delighted with the way we played,. The fans after the game were unbelievable. They were really happy that we'd won and were so supportive. It made it hard for us to leave the ground,' he said. Lucas's life would have been a lot easier and probably his body would have suffered a lot less pain if he had occasionally followed the example of less considerate sports stars and ignored the fans. But in his view, this was what came with the territory of being a highly-paid international footballer. You just got on with it.
"Quite an experience"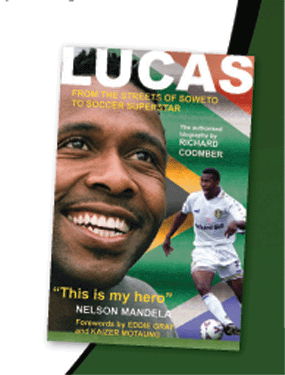 Instead of arriving back on Sunday as planned, it was Monday morning before Lucas touched down in England. He was immediately whisked off to join his team-mates at their hotel in Leicester. A brief sleep didn't really help much. But he shrugged off his weariness and led United to a 2-1 win at Filbert Street. Even he wasn't quite sure how he'd coped with the last six days. 'It was quite an experience. One I hope I never have to repeat,' Lucas reflected later. 'By the time the match at Leicester finished, even though we won, the only thing I could think of was getting to bed. And as quickly as possible. When we got back home I went straight to bed and slept through the night and all through Tuesday and the following morning as well.'
The victory over Leicester was followed by a revenge win over Spurs in the league and three more impressive displays saw Leeds in fourth place in the table and on course for a UEFA Cup place. Indeed, they were only two points behind Chelsea who were a further point behind Arsenal. Manchester United were clear of all three and hot favourites to be champions but a top three spot and Champions League place next season was a realistic and heady possibility.
"Madcap journey"
Even though Graham was picking up his first silverware at Tottenham in the form of the Worthington Cup, it still looked as though Lucas's decision to stay at Leeds had been a good one. The team had won their last seven matches in a row. This equalled a club record that stretched back to the 1973-74 season. Their chance to break it would come when Liverpool arrived at Elland Road. It was a match that SkySports TV had insisted be switched to Monday 12 April, Lucas's 30th birthday. There would be little chance to celebrate. He was facing another madcap journey to and from Africa for an African Cup of Nations qualifier in Gabon on the tenth.
It was not lost on Lucas that he had been able to go home to South Africa for a few days just two weeks before because there was an international break in England. If FIFA officials only got their act together and co-ordinated the international calendar, that could have been the weekend South Africa took on Gabon. But as usual, the problems of the players didn't come into the bureaucrats' calculations.
"New respect"
Bafana Bafana lost 1-0 to a last-minute penalty. It was a sickening result that even neutrals agreed was in large part due to some woeful refereeing. South Africa were on top throughout. They had two solid penalty appeals turned down only to be hit by an injury time sucker punch when the official awarded the home side a very dubious spot kick. Lucas was seething as he raced to the airport to catch a plane to Paris. United had a private jet waiting there to whisk him back to Yorkshire.
He touched down at Leeds Bradford airport at 8am on the Sunday. He spent most of the day in bed trying to give his body the maximum rest before the match. O'Leary was sympathetic but resolute. Agreeing it was no way to prepare for such a big match, he said: 'Bearing in mind the way Liverpool play with Michael Owen and Robbie Fowler up front, we really need Lucas in the team.'
It was a mark of the new respect Leeds were being given in the Premiership that Liverpool came to shut up shop, hoping to grab a goal on the break. But O'Leary's men weren't experienced enough to break the deadlock. The game ended 0-0 with Lucas getting the SkySports pundits' vote as man of the match. Two more draws in a row as good as killed off United's hopes of a Champions League place. But the UEFA cup was still a strong possibility and there was optimism in the camp. Particularly after the second of those matches saw them hold Manchester United despite being forced to play teenage midfielder Matthew Jones in the unaccustomed right-back role, up against Ryan Giggs.
"A dedicated trainer"
The star of the show was another teenager, Jonathan Woodgate. The youngster gave an insight into how United's young players viewed Lucas when he told the press: 'He's a great player to play alongside because he makes it so easy for you. I learn from him every single day. Not only about football, but in other ways. He is not only a dedicated trainer and player, he always has a smile on his face. He helps pick you up when you're down. Though he can hand out a rollicking too if he thinks it's necessary.'
Lucas climbed aboard yet another plane. This time heading for a friendly in Denmark where Bafana Bafana were keen to see if they had improved from when the sides met in the World Cup. In fact the result was an identical 1-1 draw. When Lucas got back to Leeds, O'Leary wasn't best pleased to find that he'd played the full 90 minutes. He was only supposed to play one half. With two weeks left of the season, United faced four more games including West Ham who were still pushing for a European place, Arsenal and Chelsea, the sides immediately above them, before rounding things off at Coventry.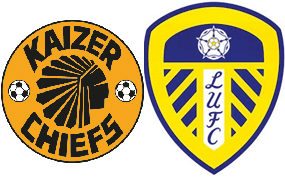 They thrashed West Ham 5-1 but went down 1-0 at Chelsea. The result finally confirmed they couldn't overhaul the Londoners in the table. The final home game was against Arsenal. Despite all the denials from Lucas and O'Leary, conspiracy theorists were convinced Leeds would go easy on the Gunners rather than do Manchester United a favour in the title race.
"Desperate to win"
There was only one way to kill the story off. Leeds did it brilliantly, beating Arsenal 1-0 with Lucas and Woodgate again the outstanding players. The Gunners threw forward Kanu and Diawara to join Anelka and Bergkamp in a bid to salvage something from the game. In the YEP, Don Warters paid the pair the compliment of comparing them to the best Arsenal defences. He highlighted the moments when 'the United captain cleared off the line from Bergkamp while Woodgate headed a bullet shot from substitute Diawara off the line.'
A lifelong Arsenal supporter, Lucas's adviser Gary Blumberg sat and admired the outstanding performance from his client and his young sidekick. But he wished they had saved it for another occasion! The Leeds fans were ecstatic and gave the team a standing ovation as they made their annual lap of honour. At last they felt they had a team that could perhaps deliver the kind of success they craved.
Lucas's smile had seldom been wider. 'We took on the reigning champions. A side that still has the chance of winning the title. They were desperate to win and we gave them their first defeat in five months,' he exclaimed. 'We have proved that we are capable of competing with the best. But we have to show we can do it on a regular basis if we are to challenge the top three for the major honours.'
"Not yet finished"
With the UEFA Cup place safe, O'Leary made seven changes for the final game at Coventry. What Lucas described as 'the best season since I joined the club' came to an end with a 2-2 draw. Of course it was not yet finished for Lucas. He still had two more matches to play for South Africa. He'd been excused a tour of the West Indies, when Trott Moloto tried out some new, home based players. But the captain was required for an African Cup of Nations qualifier against Mauritius in Durban.
Once again he boarded a plane and headed south. Bafana Bafana beat Mauritius 2-0 and so made sure they qualified for the finals. Moloto excused Lucas from playing in the final qualifier in Angola two weeks later. But he did turn out in a friendly against Zimbabwe and squeezed in a trip to Australia to team up with George Weah, Zinedine Zidane and Marcelle Desailly for an exhibition match against the Socceroos to mark the opening of the Sydney Olympic stadium. Since returning from injury against Rushden & Diamonds on 13 January, Lucas had played 27 games and flown something like 85,000 miles. He was ready for a holiday.
'Lucas: From the Streets of Soweto to Soccer Superstar' by Richard Coomber. Published by Great Northern Books, 25 September 2010. Hardback, 288 pages, £16.99, ISBN: 9781905080731.
To order a copy phone 01274 735056