Anthony's, Leeds – Restaurant Review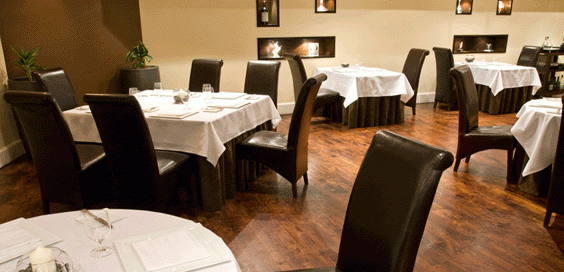 Anthony's, Leeds
Restaurant Review
by Matt Callard
Food critics – a bit like guitar technicians naming difficult chord shapes at a Radiohead concert. Sometimes a bit of mystery is a good thing, right? So, when my companion and I enter Anthony's, having left the brilliant and knowledgeable On: food writer back in the office with her organic gummi bears, we know we are out of our comfort zone. Out of our depth, even.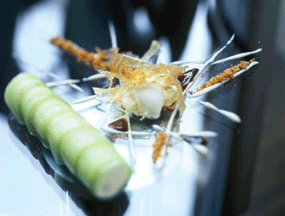 But that's ok. We enter Anthony's not as experts, or foodies, or as part of the restaurant's devotional fan base, but as average restaurant goers. We dine out twice a month, we know a broad bean from a baked bean, we think Hugh Fearnley-Whittingstall wouldn't have lasted five minutes in the scrap for barbecued pork ribs at the Dog and Duck car park the other week.
But we also enter Anthony's excited. Some might call it nervous. We are expecting a dining experience, a new sensual awakening, a genuine taste of cutting edge modern cuisine from a serious modern chef. We're not talking Nando's extra spicy Peri Peri here.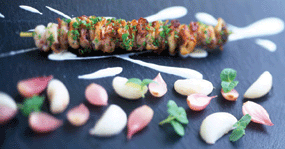 So it's pleasing to be offered the beer list over the wine list as we arrive and be greeted warmly and treated intelligently. Anthony's might currently be the city's apex of fine-dining, but it understands Leeds well enough to know that the merest hint of pretentiousness would be laughed all the way out of town to The Box Tree. The interior, likewise, is sophisticated but friendly and free from any austerity.
"Tastes like heaven in microcosm"
Tasting menus are like David Mamet scripts for actors, or New Year's Eve for pyrotechnics or free kicks just outside the penalty box for creative midfielders. They're where we really get to see what these boys can do. In other words, where the best-of-the-best get to show off. Eight courses, small, elegant, ready to dazzle. And showing off starts with the menu. Examples: tobacco rhubarb, pig's trotter biscuits, Parmesan air. The trade calls it molecular gastronomy but there's humour in them-there titles.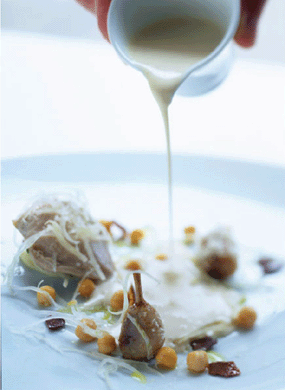 In truth the rhubarb is gently smoked and incredibly tangy. In fact it's almost out of control laid next to an impossibly delicate cured duck. The pig's trotter biscuit sits all alone, crisp and salty next to a beautiful sliver of sea bass. And the Parmesan air – our first taste of foam, that modern chef staple – is in fact a delicate complement to a deep and rich white onion and espresso risotto.
Our head chef Anthony Flinn did train with that master of culinary alchemy Ferran Adria (key phrase: 'the ideal customer doesn't come to my restaurant to eat but to have an experience'). He is regularly mentioned in the same breath as Heston Blumenthal (key phrase: 'anyone for bacon and egg ice cream?'). But, apart from a few foams, a couple of intense purees, a strange brown thing that looks like a peanut after nuclear war but tastes like heaven in microcosm, most of the things set in front of us look mouth-wateringly like food-as-you-know-it. And although your taste buds are teased and tested and tantalised they are never bullied or threatened.
"It's time for some dangerous dining"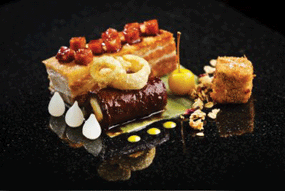 If you're a foodie, you've probably already eaten at Anthony's. If, like my partner and I, you dine out fairly regularly and want something special, a little different, yes, an experience – you must, at some point in your brilliant existence, try Anthony's.
You might not always be sure what you're eating (admittedly this could partly because you can't tell what the lovely and talented European maitre d' is saying and you are both far, far too English and polite to ask him to repeat) but that's the thrill of the ride. Plus you get two (yes, two!) desserts. A scary goat's cheese in cucumber cannelloni with herb ice cream that you will find yourself dreaming about and an unbelievable chocolate and orange macaroon cake that will make you cry with pleasure.
These are dangerous days and it's time for some dangerous dining. Get yourself to Anthony's, and get yourself tested.
Tasting menu £65 per head. Book well in advance for Fridays & Saturdays – 0113 245 5922
19 Boar Ln, Leeds LS1 6EA
Editor's Update: Anthony's closed in June 2013. Dish now occupies the space.