Burton Menswear – A History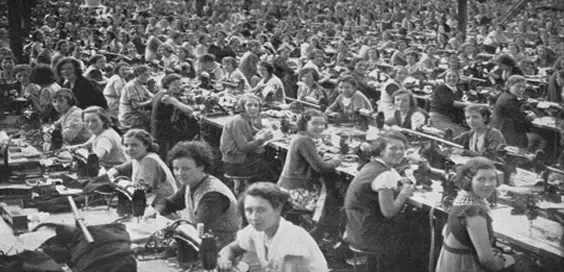 'Gone for a Burton'
Montague Burton's ambition was not only to clothe the nation, but to raise the bar on the quality of life for his employees. Keith Spence looks at the history of the company and how Burton's heritage is still influencing today's fashion…
Burton's long history in men's clothing is a remarkable story. It is founded in 1903 by Montague Burton (originally named Meshe Osinsky). He is one of several Russian Jewish immigrants who build enormously successful businesses from humble beginnings. Montague comes to England from Russia when he is 15. He is only 18-years-old when he borrows £100 from a relative to open the Cross-Tailoring company in Chesterfield. The first purchase of ready-made suits is recorded on June 8, 1905, in the sales ledger of Zimmerman Bros, wholesale clothiers of Leeds.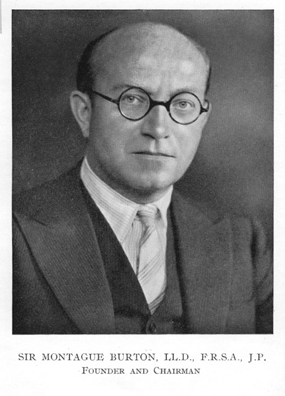 Burton marries Sophia Marks in Worksop in 1909 and sets up house in Sheffield where their first child, Barbara, is born. But they soon move to Leeds, as both the family and business expands. The business moves to Elmwood Mills, Camp Road, Leeds, but by 1914 it has outgrown these premises and transfers to Concord Mills, Concord Street, in the Leylands.
"Vast workrooms"
Between 1910 and 1914 the number of shops increases to 14 and their made-to-measure service becomes the largest in the world. At the start of the First World War production is changed from suits to uniforms. The company clothes nearly a quarter of the armed forces. Shop sales rise from £52,000 in 1915 to £140,000 in 1917. In 1918 the growing Burton family move to Harrogate, where they buy an imposing house in Kent Road, at the posh end of town. I remember as a boy in Harrogate having the house pointed out to me. Locals are proud of having one of the world's greatest business names living on their doorstep.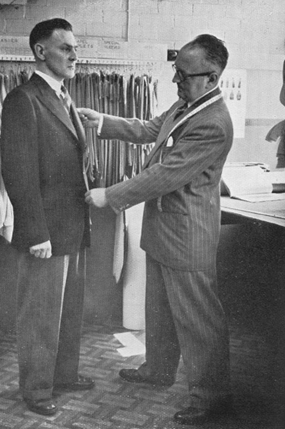 In 1921 Burton begins to develop the Hudson Road factory in Leeds which gradually becomes the biggest clothing factory in the world, employing 10,000 on the site and producing over 30,000 suits a week. It is the biggest employer in the city. Hudson Road is the heart of the Montague Burton empire. He chose Leeds because it was the centre of Britain's textile industry and so he has access to skilled tailors and machinists.
"Good clothes develop a man's self respect", is one of Burton's insights. He is dedicated to providing high-quality made-to-measure suits at a reasonable price. He revolutionises the industry with his promise of "a five-guinea suit for 55 shillings". Men start work at 14 as barrow boys then are apprenticed as tailors and cutters. But they are outnumbered by women. There are vast workrooms of machinists with whole families working on the same production line. The factory is described by former tailor Sam Bernstein as "a town itself".
"Clothe the nation"
Burton is an enlightened employer. He does his best to keep his staff happy. Hudson Road has the largest canteen in the world and has a pre-Welfare State health and pension scheme. He lays on dentists, eye specialists (to treat eye strain brought on by close needlework), chiropodists and even sun-ray treatment.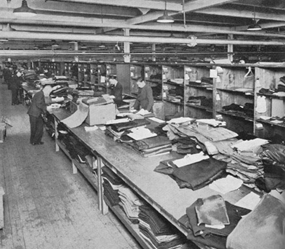 Montague Burton is knighted in 1931 for his efforts in "furthering industrial relations and international peace". He marks the honour by endowing three chairs of industrial relations at Oxford, Cambridge and Leeds universities. He is appointed a Justice of the Peace, a position he holds for many years. His ambition is not only to clothe the nation and to raise the bar on the quality of life for his employees, but to co-operate and collaborate with those working for the advancement of culture and education worldwide. Indeed, The House of Burton plays an important role in helping create the United Nations.
Burton becomes a household name because of good public relations and the way it treats its workers. Burton buys shops in the prime town centre spots and they are instantly recognisable because of their design. There are few men in England who didn't at some time enter the portals of a Burton's "gentlemen's club" and get measured for a Burton suit.
"Clothing a fifth of British males"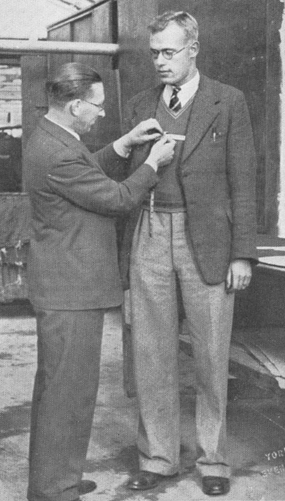 In 1934 the Princess Royal visits the Burton factory in Leeds. Here she meets throngs of cheering factory girls. She congratulates Sir Montague for his magnificent achievement in creating a pioneering welfare system for his workers. On the eve of the 1939-45 war, Burton again turns to the production of uniforms for troops. After the war, Burton produces a suit for war veterans nicknamed "The Full Monty". By the end of the war, Burton has clothed around a fifth of British males.
Sir Montague keeps an eye on his business throughout his life. He keeps in touch with the firm by telephone or telegram even when he is away on cruises. He actually keeps day-to-day diaries of these luxury cruises. Of his visit to Italy, he records: "Pompeii interests me more than any other relic I have seen so far of vanished civilisations because the ruins are in exactly the same condition as they were left in when the lava of Vesuvius overlooking Pompeii overflowed and devastated it nearly 2,000 years ago."
Always having a business eye, he writes: "Couldn't find any trace of five or ten cent stores. None of the shops (and there are hundreds of them) appear to have the requisite depth and counter space for the purpose".
"Largest multiple tailor"
He died at a Leeds dinner party for executives and managers of the company. It was at the Great Northern Hotel in Leeds where he was speaking after the meal. The funeral was held at the Chapeltown Synagogue three days later.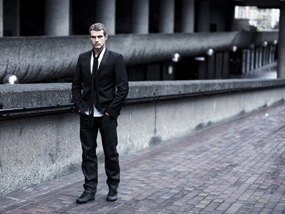 Although business drew him to London, he always loved Harrogate. He tried to buy land there as a Jewish Cemetery but failed in his own lifetime. He and his wife were buried in Gildersome. In 1964 a Jewish Cemetery opened at Stonefall, Harrogate, and he and his wife were re-interred there. These were the first burials at the location.
At the time of his death the company had become the largest multiple tailor in the world with 616 stores. In 1966 the Burton legacy lived on, suiting the England World Cup winners. A year later Arcadia became the new corporate title for the House of Burton. In 2002 Philip Green bought the Arcadia Group and became the first sole owner since Sir Montague himself.