Introducing: Caesar Did It
Grunge power reborn in Sheffield…
YOUR NAME: Luke Harris.
BAND NAME: Caesar Did It.
WHAT DO YOU DO/PLAY? Guitar/Vocals.
HOW LONG HAVE YOU BEEN TOGETHER AS A BAND/PLAYING MUSIC? Around 18 months.
GIVE US 3 REASONS WHY WE SHOULD TRACK DOWN, LISTEN AND DISCOVER YOUR MUSIC?
Well. We like to combine sludgy guitar riffs with hooky vocal melodies and if you dig hard rock and grunge vibes then hopefully you will enjoy listening to us.
WHERE DO YOU SOUND BEST – FESTIVAL, CLUB, BEDROOM – OR SOMEWHERE ELSE?
Definitely a smaller venue with an intimate setting where everyone can get sweaty.
WHAT WAS YOUR FIRST…
RECORD? Tame Impala, Currents.
CD? Prodigy`s 'Invaders Must Die'
DOWNLOAD? Bob Marley`s 'Three Little Birds (Don't Worry About a Thing'
SO, WHEN IT ALL GOES RIGHT AND YOU'VE GOT A MANSION AND A SUPERMODEL GIRL/BOYFRIEND, WHAT WILL BE YOUR BIGGEST MUSICAL INDULGENCE?
Cocaine and KFC.
SO, WHEN IT ALL GOES WRONG AND YOU'VE ACRIMONIOUSLY BROKEN UP CITING HUGE MUSICAL DIFFERENCES, WHAT DO YOU FALL BACK ON?
Cocaine and KFC.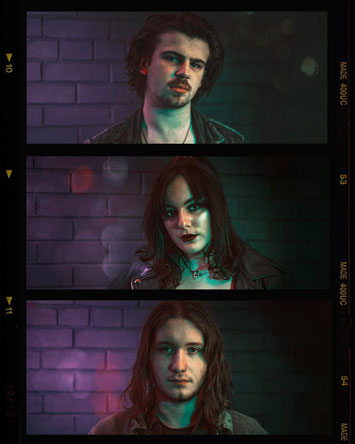 CITE SOME INTER-BAND MUSICAL DIFFERENCES…
We don`t really have any musical differences, we`re all on the same page pretty much 97% of the time.
WHO ARE YORKSHIRE'S FINEST IN CULTURE, SPORT AND MUSIC?
We collectively do not follow sports. As for music FUS are incredible. There is no one really doing what they`re doing at the moment and they put on one of the best live shows I've ever seen. Check them out, but check us out first, haha!
NAME YOUR SUPERGROUP – WHO'S PLAYING WHAT, WHO'S ON VOCALS AND WHO'S YOUR BEZ?
Craig Reynolds (Stray from the Path) on drums, Flea (RHCP) on bass, Josh Homme (QOTSA) on guitar and Michael Jackson on vocals. Bez is Ainsley Harriott.
GO SEE THIS FILM: Limitless.
GO READ THIS BOOK: Heavier than Heaven.
GREAT LOST BAND/ARTIST: Nirvana.
WOULDN'T BE CAUGHT DEAD SUPPORTING: Anyone that has got the balls to get on stage and play their own music has my support.
LONDON, L.A OR LEEDS?: LA.
AND FINALLY… AS YOU LEAVE THE STAGE, WHAT ARE YOUR PARTING WORDS?
Sorry we have got to cut our set short I've just sh*t myself.
The third single from Caesar Did It, 'Changing' is out now
For more info visit caesardidit.com