Dark Side of the Ring (2019) – Review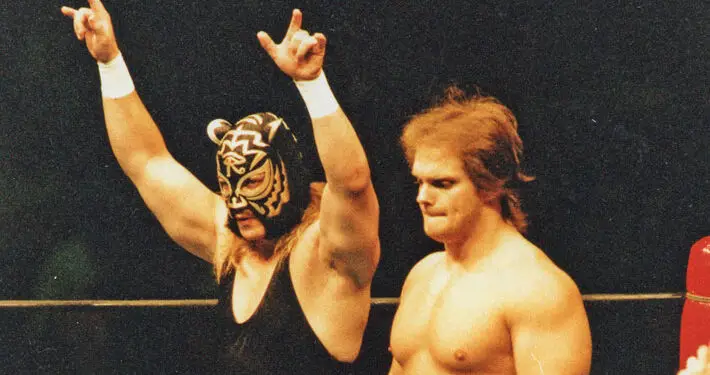 by Alex Lattimore
The world of professional wrestling has experienced more than its fair share of controversy in the past, both in and out of the squared circle – and Vice's excellent documentary Dark Side of the Ring shines the spotlight on some of the most shocking stories to emerge over the years.
The series kicks off with a two-part special examining arguably the most infamous wrestler in history, Chris Benoit, who murdered his wife and 7-year-old son before committing suicide in June 2007. Episode one focuses on Benoit's early grappling career in Japan and his native Canada, his eventual rise to the WWF (now WWE) in 2000, and his relationship with future wife Nancy Sullivan.
Contributors including fellow wrestlers Chris Jericho (who also narrates the series), Dean Malenko and Chavo Guerrero Jr offer an insight into Benoit's quiet but intense personality, while David Benoit – Chris's older son from a previous marriage – talks for the first time about the man his father was at home.
"Deeply compelling"
Episode two examines the horrific crimes committed by Benoit over the course of three days at his home in Fayetteville, Georgia, and the subsequent police investigation. The story was headline news in the US for weeks afterwards, with various theories and rumours about what caused Benoit to carry out such atrocities, including his use of anabolic steroids in the past.
However, ex-WWE wrestler and founder of the Concussion Legacy Foundation Christopher Nowinski explains in the documentary how he alerted police and coroners to Benoit's history of concussions, and asked them to carry out an examination of his brain to check for chronic traumatic encephalopathy, or CTE. This test revealed severe CTE, with damage to all four lobes of Benoit's brain and his brain stem, which may have been a contributing factor in the case.
The two-part season opener does end on a positive note, which I won't spoil, and despite the harrowing subject matter, it is a fascinating and hugely emotional look at one of the darkest moments in wrestling history. Director Jason Eisener, known for 2011's comedy-horror Hobo with a Shotgun, and his team perform a masterful task with this and every episode, weaving new interviews, archive footage and reconstructions together to tell some deeply compelling stories.
"Justice"
The 10-part series continues with an episode focusing on New Jack, a renowned and feared wrestler whose 'hardcore' style spilled over into real-life crime on more than one occasion. The WWF's Brawl for All – a legitimate boxing tournament involving the company's wrestlers – is also examined, along with the story of 'Superfly' Jimmy Snuka's girlfriend Nancy Argentino, whose family fought for 30 years to get justice over her mysterious death.
Further episodes include a look into the life and death of Montreal superstar Dino Bravo, who went from wrestler to mob enforcer, and the final edition documents the tragic in-ring death of Owen Hart, who fell almost 80ft from the rafters of an arena in Kansas City when an elaborate stunt on a live WWF pay-per-view event in May 1999 went terribly wrong.
'Dark Side of the Ring' is currently available on Sky On Demand