Jesus Jones – Live Review – Sheffield Plug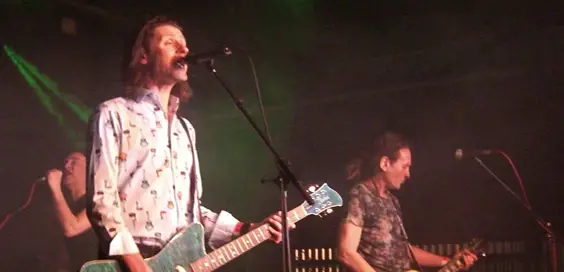 By Victoria Holdsworth, May 2018
Tonight was a lesson in 'old school' with a band I still absolutely love, and because there was no support band this evening, it meant that there was an even longer set from the men of the hour.
After seemingly disappearing into the ether after their brief reign as indie-dance heroes, it seems Jesus Jones never really went away and just got popular in other countries. Countries that seemingly had more space for the different musical genres that were springing up from a stagnant UK music scene, in a time when things at home got decidedly fickle.
With a new album, Passages, released this spring, Jesus Jones take to the stage to some ardent fans going crazy as they launch into the 1993 hit, 'Zeroes And Ones', from the album, Perverse.
It's unbelievable that the band were never close to the stardom achieved by some of their contemporaries such as The Shamen. This track sounded as hardcore and as fresh as ever, with some sustained loops, and heavy overlays, making it sound as good as anything the Prodigy have produced.
With the original line up still intact, which is a rarity in itself these days, the band don't even look any older, as they seamlessly move into a new track, 'Suck It Up', which is well received by the crowd.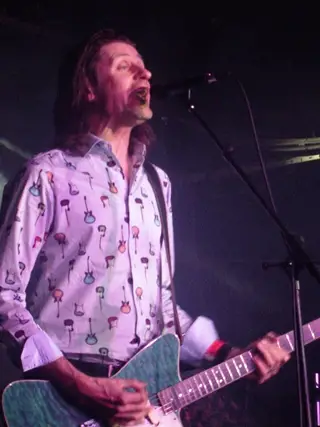 It is the first time I have heard anything from the new album, and I was mightily impressed, and also glad that they hadn't stuck around to be squandered or churned up by the then music industry. Another new track, 'How's This Even Going Down?' is remarkable, and one of the best tunes of the night. The sound quality in The Plug is not the greatest, and even though you could hear the vocals, any chance of catching some coherent banter was sadly lacking.
"Vigour and vitality"
Even though it has been decades since Jesus Jones started, their guitar rock and techno samples still make then stand out. For older fans such as me, it's fantastic that they have remained faithful to their uniqueness, and they remain energetic on stage – the tension in the room and from the stage makes it feel like something is about to explode!
'International Bright Young Thing' is slightly altered and matured and the extra dimensional tweaks have changed it into a modern day version of an absolute classic.
Songs from Liquidizer and Doubt are included in tonight's set with 'All The Answers' and 'Two And Two' demonstrating funky, punky whirls of sounds, built-up layers of guitars, keyboards and samples over wicked backbeats, and catchy, anthemic choruses.
By mid-set point the band and the crowd are all grinning like mad men, gasping for air, throwing some wild shapes, and still ready for more.
'Real, Real, Real', 'Magazine', 'Song 13', 'Right Here, Right Now' and 'What Would You Know' seem to appease the Jesus Jones die hard massive, who have just come for the nostalgia trip, and these tunes are executed with a vigour and vitality that most bands of this age would struggle to keep up with.
That brings me on to keyboard player extraordinaire, Iain Baker! Where the hell does he get all that energy from? Tonight Iain was Keith, Bez and Mr. C, all rolled into one, and he still had energy to burn. His stage antics are legendary and were at times hilarious, but just because you're behind a keyboard or synth, doesn't mean to say you have to be a wallflower.
"Pulsating, punchy hooks"
With no apparent signs of slowing down, even towards the end of the set, the band completely rejuvenate two more 'oldies but goldies' with 'Move Mountains' and 'Who? Where? Why?'.
The crowd at this point is just one pit of elbows, hands, drinks, twirling jacket and bounciness. To say that there was only a few hundred people watching tonight, the noise that they all made was ear shattering.
The encore saw another new tune, 'Where Are All The Dreams?'. This is a guitar slasher with some compelling beats and some pulsating, punchy hooks, and then two more tunes from days of yore with the excellent 'Idiot Stare' and the politically apt 'Info Freako', which is still psychotically charming.
Jesus Jones were always underrated, but simultaneously understated. They still offer us something that others of their ilk never did, combining indie rock and underground dance in perfect harmony.
Tonight was an outstanding effort, and you walked away feeling like they had just played to a sell-out run at Wembley stadium. Hard hitting and still edgy, with a penchant for dance pop anthems, Jesus Jones still know how to unleash enough noise to have us raving like tomorrow may never come.