The Wildhearts – Live Review – Foundry, Sheffield
By Victoria Holdsworth, September 2021
Not the largest of venues, but Ginger and his crew have packed it out tonight, and still left some room for social distancing, and as soon as their walk-on music starts, the crowd starts to stir and the noise becomes deafening, whilst the motley crew take to the stage with gusto.
Ripping straight into 'Diagnosis' from the 2019 album Renaissance Men, this is a blistering, balls-to-the-wall, explosive opener. Its poignant lyrics and classic Wildhearts riffs just grab you from the get-go.
A quick "Hello!" from the flame haired front man and we quickly slide into 'Vanilla Radio', which, like all their songs, is played like a well-oiled machine. Tonight the lads are really going for it, but something is distracting Ginger, and afterwards he tells the cheering crowd that all he can see is a massive clock, glaring at him, and asks the stage hand to cover it with gaffer tape, which he duly does, risking life and limb perched on some scaffold. After his efforts, the light is still shining through it, so he promptly whips off his T shirt and tapes that over the offending time piece, and all is well again.
'Sick of Drugs' has always ben a rabble rouser, released back in 1994, it still sounds as fresh and heavy as ever.
The crowd is hanging on every single note tonight and the whole band look invigourated and are playing with raw abandonment, making this a very special evening.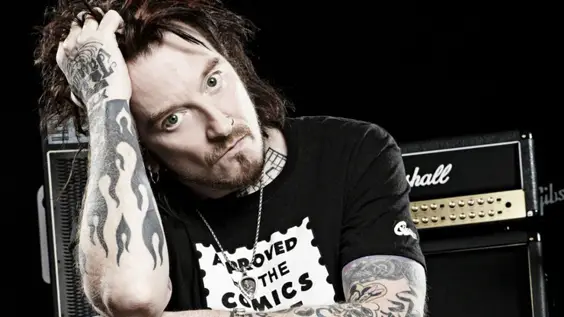 "Thundering"
A great little medley of 'Remember These Days', 'Turning American', 'Schizophonic', 'If Life Is Like a Lovebank I Want an Overdraft' and'Splattermania', is neatly polished off with an unforgettable rendition of Human League's 'Don't You Want Me', which is deliciously heavy and funked out – just pure perfection.
Barely pausing for breath, 'Caffeine Bomb' and 'My Baby Is A Headfu*k' lift the roof off, and the audience scream back every single lyric, drowning out the soundsystem.
Its really hard to pick a stand-out tune tonight. The energy the band are displaying is throbbing as 'Dislocated' is quickly followed by 'Splitter' from 21st Century Love Songs, released this year. It just shows how the band have gone from strength to strength over the decades to become the powerhouse before us tonight. 'Splitter' has some building, churning riffs that really show Ginger's prowess on guitar.
Another Renaissance Men track, which happens to be one of my absolute favourites, 'Let 'Em Go', is punchy and injects the band's own secret ingredient that has fans constantly coming back for more, keeping you in that time warp of their hardcore influence which is always on the verge of erupting.
'Mazel Tov Cocktail' and 'Caprice' wrap up the set for tonight, before a thundering encore of 'Inglorious' – another oldie but goodie from Fishing for Luckies. The band are digging deep tonight, right until the bitter end, showing their true essence as musicians.
'Suckerpunch' and 'I Wanna Go Where The People Go' are a perfect balance between punk and rock as they bring the evening to an ideal close.