The Killers – Live Review – Sheffield O2 Academy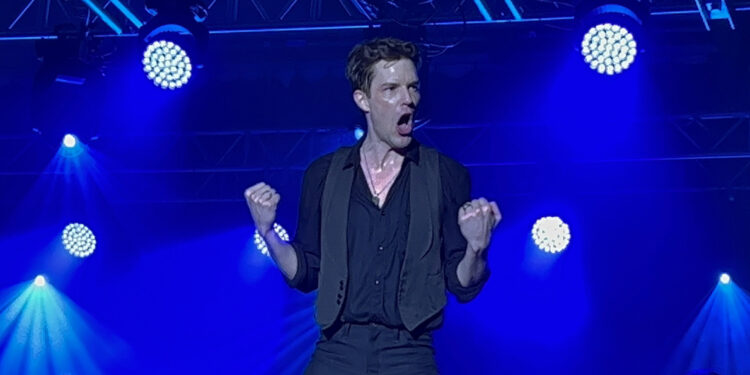 By Alex Lattimore, May 2022
While standing in the queue outside the O2 Academy in Sheffield on Tuesday afternoon, a woman walked past and – noticing the many t-shirts adorned by fans – stopped, looked at me and said 'The Killers? The actual Killers are playing here? Tonight?' And yes, it was true. One of the biggest bands in the world came to the 2,000-capacity venue in South Yorkshire, and they absolutely did not disappoint.
Tickets for this intimate warm-up show were snapped up within minutes of going on sale just over a month ago, and I was one of the lucky few who managed to get through the online scrum.
There was a tangible buzz of excitement from the moment I joined the queue at 2pm, right up to the time Brandon Flowers and co took to the stage at 8:50pm.
There were rumours that the gig might be shorter than usual, but those turned out to be unfounded, as the Las Vegas natives played a 23-song set spanning an hour and 45 minutes and had the crowd in their palm of their hand throughout.
"Mass singalong"
Their last UK performance was a headline slot on the world-famous Pyramid Stage at Glastonbury way back in 2019; a time before Covid wrought its misery across the world, and it was clear that The Killers were more than ready to return to what Flowers called their 'spiritual home' of Great Britain.
During the pandemic, the band have released two albums – Imploding the Mirage and Pressure Machine – and they opened the show with the opening number from Imploding, 'My Own Soul's Warning'. Classics such as 'Mr Brightside', 'Human' and 'When You Were Young' were, of course, played, along with deeper cuts including 'Run for Cover' and 'Midnight Show', before the night ended with a mass singalong to 'All These Things That I've Done' and its famous refrain "I Got Soul But I'm Not a Soldier", from their 2004 debut Hot Fuss.
Frontman Flowers and drummer Ronnie Vannucci appeared genuinely touched by the reception they received from the adoring audience, and the ovation at the end of the concert was one of the loudest and most sustained I've ever heard. It really is good to have them with us, even if it's just for the day.
The Killers embark on a UK stadium tour – twice postponed due to Covid – next week in Doncaster, followed by dates in Bristol, Coventry, Southampton, Middlesbrough, London, Falkirk, Norwich and Manchester, with two nights in Malahide, Ireland rounding off their visit to the British Isles in mid-June.
images: Alex Lattimore