Human [Extraordinary Bodies] – Review – Sheffield Crucible Theatre
By Clare Jenkins, May 2022
There's a moment in Extraordinary Bodies' latest show – which is part circus, part film, part oral history – when a performer hoists himself out of his wheelchair and into the air on a trapeze. It's like an ascension into heaven, showing that none of us need to feel earth-bound, that freedom takes different forms, and that everyone potentially can fly free in their own way.
Extraordinary Bodies was formed ten years ago by Billy Alwen and Claire Hodgson to reflect and celebrate physical and mental diversity. As a result, there are disabled and non-disabled performers in "the UK's only integrated circus company", which prides itself on hybrid shows "crisscrossing the boundaries of music, film, technology, circus and theatre".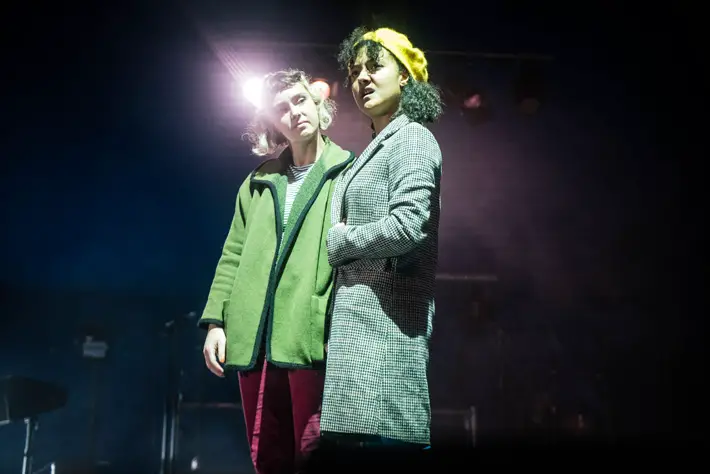 "Grace and strength"
Human – written by radio and theatre playwright Hattie Naylor, who happens to be based in Sheffield – is pandemic-inspired, devised at a time when all forms of entertainment were closed and performers out of work. So it includes the five-strong cast's recorded reflections on how the past two years have been for them, as well as their memories of childhood and adolescence. There are 'chapters' on the joy of sweets and cakes (with charming home footage of aerialist Tilly-Lee Kronick as a child), the bashfulness of first kisses, being a twin, maternal love and first experiences of going outside after lockdown. In the last of these, they talk honestly about anxiety and 'the magical place of uncertainty', and the support of communities large and small.
When Jonny Leitch (who's also the sound designer) leaves his wheelchair to perform his strong-armed manoeuvre on the trapeze, it's because he's remembering a random act of kindness: a hospital porter offering him chewing gum when, aged four, he was waiting for his parents to emerge from a meeting with a doctor. "He's not a thing to be mended," he recalls his mother saying angrily. "I want him to be everything he can be". At another point, he and Tilly-Lee combine wheelchair ballet, floor acrobatics and double-trapeze choreography to show the closeness of twins, both inside the womb and outside it.
Rosie Rowlands and Rebecca Solomon also demonstrate great grace and strength as they fly and contort themselves on ropes above the stage. The former dances dreamily in front of film footage of another performer, Alfa Marks, holding her baby daughter; the latter is passionately Italian as Graziella, the character of Circus, finding work as a delivery driver during the pandemic, but yearning to be back in the air again. Together, it all reflects co-director Hodgson's aim to "develop work that is genre-defying as well as gravity-defying".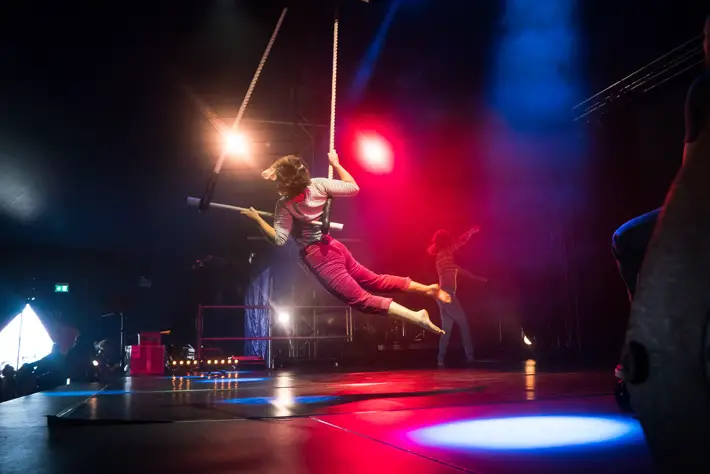 "Sense of determination"
With the added mix of live music (composed by Ted Barnes and drummed by Leitch) and songs, onscreen captions and BSL interpretations by profoundly deaf actor David Ellington, plus headsets for the audience to immerse themselves in the sound, this is a potpourri of inclusive entertainment. It's also engaging, intimate and compassionate, light of touch yet insightful, focussing on 'the god of small things' to illuminate the bigger picture.
There's a range of emotions in the recollections – sadness, hope, casual cruelty, kindness, humour – and an overriding sense of determination and 'endless possibilities'. Singer-songwriter John Kelly, unable to join the tour, is filmed (at home and wearing a lock and chain necklace) explaining the background to some of the sequences. One section has him reflecting on his birth, when his mother was told to forget she'd had him. Another shows him after lockdown, leaving his home for the first time in three months, manoeuvring his motorised wheelchair around empty, damp night-time streets, feeling first nervous then liberated as a member of society again. As Steven Lake's film plays, the other performers move in slow motion round the stage.
Overall, at an hour and ten minutes, this spirit-affirming show finely explores what it means to be human. As the cast sing, 'Human to the core… We will shine in this world and we will go our own way…'.
'Human' is at the Crucible Theatre in Sheffield tonight (May 19th), then on tour, including at York Theatre Royal on Wednesday 1st June.
More info: extraordinarybodies.org.uk
images: Alice Carfrae for Funky Llama Festival