From The Jam – Live Review – Cottingham Civic Hall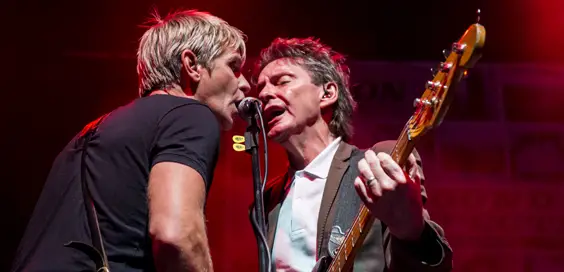 By Victoria Holdsworth, June 2018
All these years on I still marvel at the irony of being in your own covers band. And whilst I have always been a huge fan of The Jam, I had always steered clear of tribute type acts – it just isn't the same, right? There is a beauty in bands that have come to an end who, for whatever the reason, would never get back together again. Bands who leave behind such a catalogue of work and inspiration that what is left behind should only be treasured in its original guise.
Call me old fashioned, a purist or a geek, but that is just the way I feel. But alas, I have finally taken the plunge, after hearing many good things from my fellow Jam lovers, and decided to attend my first 'tribute/covers' band gig – albeit with an original band member in the line-up and despite the band steadfastly refusing to call themselves a tribute band!
It is a near sell out crowd tonight at Cottingham Civic Hall and, as the unmistakable original Batman theme chimes out across the crowd, From The Jam take to the stage. It is at this point that I would like to address something which was glaringly obvious: Bruce Foxton's hair seems to have a life of its own. There was that much dye and lacquered backcombing going on, offset by his dodgy make up job, that I honestly thought David Cassidy had risen from the dead and found himself a decent tailor. However, I digress – but I found it mesmerising!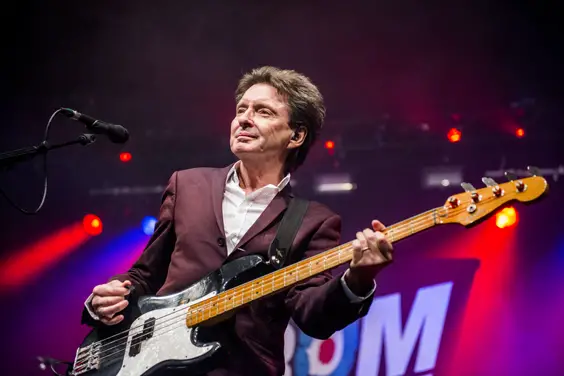 "Euphoric and in their element"
Opening their set with 'Little Boy Soldiers', the band sound very impressive; however the acoustics in the venue were terrible! They delivered the first song with some real passion, and I thought maybe this tribute lark wasn't as band as I thought it would be. The public were certainly going to get what the public wanted.
Tonight saw some of the more obscure Jam tunes coming out, as well as the old polished favourites, and the old school punk and mod vibes were perfectly executed by Foxton, who clearly loves and enjoys playing these songs, which is evidently clear on the Kinks' classic, David Watts.
The crowd at this point were already euphoric and in their element. The band were really tight, and I was very impressed with the Weller-esque Russ Hastings. Although he is like a little Lego version of Weller, he does have a much stronger and richer voice. Somehow, though, he just doesn't deliver the lines in the same way – and as a fan of The Jam, those lyrics and the passion behind them from their creator, is unsurpassed. He is to be applauded though for his understanding of The Jam's history, which is second to none, and he admirably fills Paul Weller's shoes.
'The Butterfly Collector' and 'In The Crowd' really stood out tonight, although Foxton's own 'News Of The World' seemed to lack its usual ferocious pace.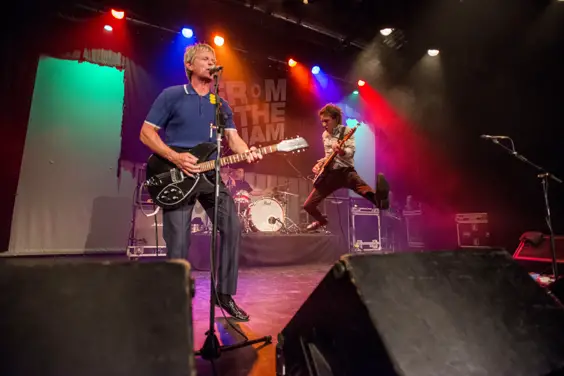 "Stellar performance"
One delight this evening was the musicianship, especially from Foxton, whose bass playing is unique and exemplary. As a fellow bass wrangler it is captivating to watch a master, as he plays with the fluidity of one my favourites, Jack Bruce. Too often musicians, who get to a certain age, tend to lose their edge a little – but not Foxton.
'Smithers-Jones' was a strong favourite with their captivated fellow mods, however some of Foxton's solo efforts, such as Smash The Clock, didn't seem to ignite the audience.
There was a lot of banter between the band and their adoring crowd which was pleasing to see, and whilst they welcomed requests, I don't think they played any of the songs people were shouting out – which was particularly funny.
'To Be Someone' exhibited a stellar performance from all, as did 'Liza Radley', but what really put me off-guard was Hasting's version of 'English Rose', which was tearjerkingly superb.
"Transcend the decades"
After the slowed down reprieve, it was time for the big guns to get wheeled out, starting with the social commentary of 'That's Entertainment'. The blue touch paper was firmly burning to explosion for the remainder of the set as 'Start' saw the place erupt more and fuelled the relentless energy emanating from the guys in the band. 'Down in the Tube Station at Midnight' and 'In The City' really shone – and just for a brief moment I forgot that it wasn't Weller at the helm.
Before I knew it we were already at the finale of the set, ending on the anthemic glories of 'Going Underground', Town called Malice', 'Eton Rifles' and 'Pretty Green'. The crowd were more than satisfied, and danced their hearts out.
I left the gig still feeling in two minds as to whether it would be something I would attend again. But I think, now, the answer is a resounding yes – but only for From The Jam. Tonight was a lesson on how great music can transcend the decades and still be relevant and desirable.
The Jam hold a very special place in many hearts, and these guys are the closest that you will ever get to a full-on reunion. Whilst us fans still live in eternal hope, I can only bestow praise on the superb version I have just seen.
images: Derek D'Souza