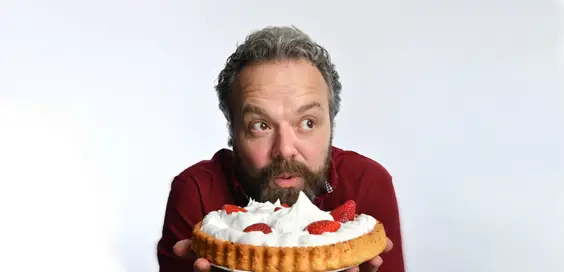 Hal Cruttenden
Famous Last Words Q&A
After literally filling our screens on Live at the Apollo, Have I Got News For You and The Royal Variety Performance, comedian Hal Cruttenden is taking his stand-up show 'Chubster' out for an extended tour.
He gave us his 'Famous Last Words' prior to his Yorkshire dates in Leeds, Sheffield and Scarborough…
Last thing you did that made you feel good?
Stand up comedy. I'm an addict.
Last night on Earth… What's your poison?
If I'm dying slowly I might take actual poison to speed things up. I'm also a bit partial to a 'Monkey in a Tree' Cocktail. I discovered it last Christmas in Barbados and I mainly keep asking for it so that I can mention I spent last Christmas in Barbados…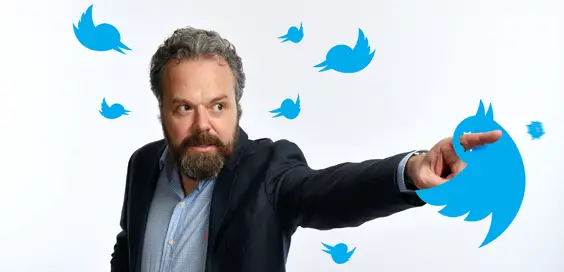 "I sob every time"
Last supper… What are you ordering?
KFC! I know it's naff but I have to stay loyal to the food that's seen me through some hard times.
Last person you'd want to share a drink with?
Donald Trump of course but I mean it as a positive and a negative. At first you'd find him revolting and awful but, as you get more drunk (he doesn't drink so I'd be the only one getting pissed), I think his absurdity would become more hilarious. Then he'd get out his suitcase with the nuclear button in and I'd suddenly feel very sober.
Last time you shed a tear and why?
A couple of days ago my wife Dawn, who's an artist and writer, showed me her first draft of a kid's book that she's creating. It's based on a boy called Jack and how he deals with losing his bear. It's really about introducing kids to the subject of loss. I've read it several times now and I sob every time. Her writing is so moving that I keep starting it and then giving it back to her and saying, 'You're such a manipulative cow!'
"Bring out my inner macho bloke"
Last refuge… where would you go?
We've just done our basement up in an attempt to survive whatever nuclear war Trump's planning. It's so nice I'm slightly looking forward to hearing the four minute warning.
Last the course… tips on loot, love & life?
Don't expect too much from life. You're not as special as your parents thought you were and, with Brexit, you're going to be poorer than them too. Enjoy!!!
Last but one… random question: Tell us about something that interests you that nobody else knows about. Like Gaelic football… or porcelain.
I'm rugby mad. Not playing it of course – too dangerous – but I'm getting an unhealthy obsession with Saracens rugby club. They lose and it ruins my week. The other week we won the Premiership and I've not really come down yet. My daughter says that my voice lowers when watching a game and I call the players 'son' in a way I never call anyone else. Rugby seems to bring out my inner macho bloke who is usually very very well hidden.
Your Famous Last Words?
This basement is great. I'm sure it'll withstand the first strike.
Hal Cruttenden is bringing his show 'Chubster' to Leeds City Varieties on November 6, Sheffield Leadmill on January 19 and Scarborough Spa on March 31