Doomin' Sun by Bachelor – Album Review
By David Schuster
Doomin' Sun is the debut album from Bachelor. As a headline that doesn't really paint an accurate picture, however. It might be more precise to say that the group is the latest collaboration between Melina Duterte and Ellen Kempner. They are both clearly musicians who like to mix it up; Duterte is best known as Jay Som, singer, songwriter, multi-instrumentalist and producer. As recently as last year, she also got together with Chastity Belt bassist, Annie Truscott, to form the band Routine and release an EP. Kempner is the central figure of Palehound, around which the American alternative rock trio have coalesced.
This flexible approach works well for keeping things fresh, and the duo have capitalised on this, putting together all the tracks on Doomin' Sun in the space of just two weeks. This fleetness of foot is something that's rarely seen in the mainstream music industry these days and is a direct consequence of the band's familiarity with 'bedroom studio' recording.
"Unsettling disonance"
Bachelor have already released two singles, ahead of the launch of their first record, and both neatly encapsulate the album as a whole. 'Anything at All' is a paean to the longing, anguish and outright fear of love: "She's forever approaching. I'm forever in dread. Wrap me in silk and bite off my head", goes the spider/fly analogy of the first verse.
The track builds around a fearsome bass line, so it's unsurprising when you learn that this was the inspiration for both the song and the collaboration as a whole. "One morning Melina was showering, and this bass line idea just stuck in her head. She went downstairs to play it, waking Ellen who then came down and joined in on drums and started recording". Starting simply with that drum and bass combination, it quickly develops with waves of guitar and swirling electronica into something far more complex and dreamier, with the occasional unsettling dissonance.
'Stay in the Car' likewise holds a mirror up to the fact that we often yearn for things which we know aren't good for us. Talking about the inspiration for the lyrics, Kempner says, "A big car pulled up and this absolutely beautiful woman got out. She was dressed all in red, dripping with jewellery and had the most wild, fiery mane I'd ever seen. She was yelling at the man behind the wheel asking him what he wanted from the store and I wished I was that man. I wanted to be a part of her life, her best friend, her driver, whatever she wanted me to be. I was completely mesmerized."
"Creative outporing"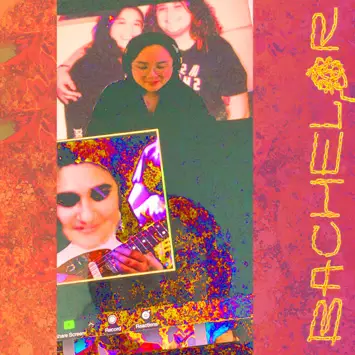 The duo have an impressive vocal approach, moving between disinterested slacker-rock and pop chanteuse, reminiscent of Louise Wener from Sleeper. On 'Stay in the Car', this contrasts well with screeching guitars, always bubbling on the edge of feedback. If this really is bedroom recording, then you wouldn't want to be their neighbours. They have mastered this sound though, in ways comparable with The Wedding Present and Nirvana.
Aside from these two killer numbers there's a lot more to like on Doomin' Sun; the slow and introspective 'Back of My Hand' and 'Went Out Without You', the psychedelic, trippy 'Spin Out'. Musically Bachelor cover a lot of indie guitar ground: 'Moon', with its simple snare and guitar combination, is suggestive of The Jesus and Mary Chain or Pixies, whilst the title track, with picked guitar and folk-style vocals, hints at the work of Fleet Foxes.
Only 'Sand Angel' doesn't really work. Its slow blues feel is too forced and the overall discordancy makes it a difficult listen. It's a shame that it comes so early in the record. However, I'm happy to cut them a great degree of slack; let's not forget that this is an album largely put together in just a fortnight of creative outpouring at a Californian Airbnb! That alone makes Doomin' Sun something special.
9/10