An Interview with David Gedge of The Wedding Present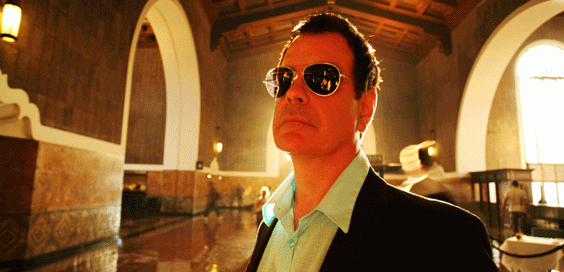 Twenty-three years, thirteen albums and a place in the 'Guinness Book of Records'  – The Wedding Present are one of Leeds's most successful and enduring bands. Matt  Callard spoke to mainman and only remaining founder-member, David Gedge as the band prepared for another UK tour, in support of new Steve Albini-produced album, 'El Rey'…
Surreal Wedding Present TV moment #1: minimalist lip-synching
1990. As the guitar clatter of 'Brassneck' (in at 24 with a bullet!) rattles incongruously around the Top of The Pops studios and into those Thursday tea time living rooms, David Gedge gives a masterclass in surly indie rock non-performance by standing hands in pockets, motionless, guitar-less and not so much miming, as offering the viewing millions a barely perceptible curl of the lip in time to the music. Much fun is to be had from witnessing the director's frenzied and fruitless attempts at livening things up by employing every fast-zoom and state-of-the-art TV trick at his disposal. It's hilarious and instantly memorable and, like all those other great Top of The Pops moments (oh, how we miss them!) – a victory of sorts.
Eighteen years on, through various band line-ups, upheavals, a name change (Cinerama) and back again, David Gedge remains the creative force behind Leeds's most enduring band, The Wedding Present. This, despite him leaving Yorkshire behind for the somewhat sunnier climes of L.A. some time ago.
"All you need is an electric guitar"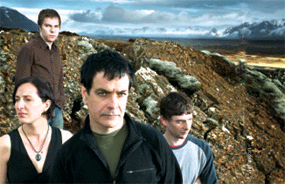 "It was in 2004 when I first moved to the States after I'd split up with my girlfriend. I'd lived in Leeds for so long. I was born there, although I grew up in Manchester and then I went back to Leeds University and that was when the band started, obviously. I'd just thought it'd be nice to have a change, really. I do like Leeds but I thought, you know, with my job you can do it anywhere in the world. All you need is an electric guitar to write songs."
It's not an obvious trans-Atlantic transition. Gedge's trademark northern growl and peculiarly English lovelorn sentiments have been labelled parochial by those less in thrall to his singular vision – but the band have a large and devoted following in the States.
"We don't do bad. It's a weird place actually America. On tour in the UK for instance, if you play to 500 people in Liverpool, you're gonna play to 500 people in Birmingham or Manchester, but over there we've done tours where we've played to two or three thousand people in Chicago and then two days later we're playing to 30 in a little bar in Salt Lake City. It's kind of regional. It is great on the west coast and east coast or Toronto, for example, but in the south, for instance, nobody ever comes to the gigs! We'll play a little bar somewhere and no one's there. It's very different state to state."
At first, David moved to the much earthier rock centre of Seattle, before settling in, as he describes it, "the big, stupid cartoon" of Los Angeles. There's something satisfying about one of our own nestling in the middle of the Motley Crüe/Guns 'n' Roses LA rock circus. Not that the band are an A-list free zone – Keanu Reeves showed up at a recent concert.
"All the paparazzi snapping away"
"It was very strange. I wouldn't have recognised him because I'm not that good on actors and actresses, but I was at the merchandise and this bloke came up to me as I was wandering off and said to me: 'That's Keane Reeves over there!' so I went over and had a chat to him – he bought four albums! He was really into it actually."
Although David neatly swerves dismissing Keanu's semi-legendary rock atrocity Dogstar with a polite "I've never heard them, to be honest, but I haven't heard the greatest reports" he sounds mildly amused with the whole showbiz flirtation. "It was weird with all the paparazzi snapping away. At the venue there was this big window and there was this gang of photographers and cameras filming away wherever he went."
Surreal Wedding Present TV moment #2: Gedge vs. The Troggs
1994. Drifting through the black hole of mid-afternoon TV boredom – here's a half-hearted concept if ever there was one: get Esther Rantzen to host an audience participation show in which a blue-rinse crowd get to vote on whether 60s music (represented by Reg 'The Troggs' Presley) is better than 90s music (represented by Dave 'The Wedding Present' Gedge). It's akin to asking a room full of cats whether they prefer Tom or Jerry. Whatever, The Wedding Present play a poptastic 'Swimming Pools and Movie Stars' and the audience hate them. Yes, it's a victory of sorts.
"He can't sing that bloke!"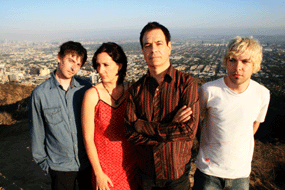 "That was a set up. They rang us up and said would you come on this thing about whether modern music is as good as the 60s. So I thought, well possibly. I said we've got this song called 'Swimming Pools and Movie Stars' which is quite popular and they said, can you do something more trashy and noisy and I really should've smelled a rat there. The audience was mainly older people so they were definitely gonna be supporting the 60s. So we did our bit after The Troggs, an internationally well-known band, and no one really knew who we were and they were like, oh he can't sing that bloke! In the end I gave up really and thought 'what's the point of this'. It was a bit surreal."
Talking of concepts, The Wedding Present were responsible for one of pop's most audacious. The Hit Parade (as it became known) worked like this: release a seven inch single the first Monday of every month for a whole year. Print 15,000 copies then delete the record immediately. Rely on your hardcore fan base to snap said record up in 48-hours ensuring you have 12 consecutive top 40 singles in one calendar year – and a place in the Guinness Book of Records alongside Elvis Presley to boot! Although David jokingly claims outright victory on this one on a technicality.
"No idea how popular it was gonna be"
"We were tied with the most hits in a year with Elvis Presley, although I must point out some of Elvis's hits were re-releases from previous years whilst ours were all new hits! But he has sold a million platinum records. Which we haven't."
Neatly packaged and leaning on that irresistible completist's urge of the record collector, the concept worked better than anyone hoped – earning the band a place in rock folklore in the process. In fact, the band probably underestimated just how successful the project would become.
"It's weird because we had to think of a figure for how many to press and it was like 'how long's a piece of string' really. We wanted the previous record to have finished before the next one started. So we came up with 10,000 for the UK and 5,000 for the rest of the world, which we thought was alright, but they did fly out of the shops. We'd no idea how popular it was gonna be as a concept. It was a bit hard on the rest of the world because they started to use the 5,000 that were allocated for them for here because it was going so well. If you think it was hard getting hold of the records over here, you should hear them in America!"
"Bit of a charade"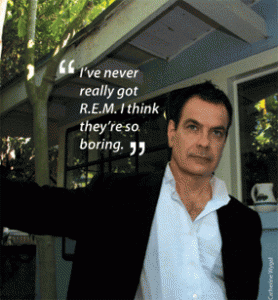 At a time when singles generally lost money, the concept even succeeded from a financial point of view.
"The Hit Parade was kind of in place of the third album for RCA. So we got the usual album advance for the 12 singles. Course it came out as an album as well. Traditionally bands don't make money from singles but we recouped it from the album compilation. It was a costly thing to do though, I must be honest."
All this indie rock conceptualism also ensured The Wedding Present terrorised the Top of The Pops producers for a whole twelve months.
"Again it's a weird one. We were on the show three or four times that year – it would have been more but we were away on tour and stuff. It got a bit weird because the record came out on a Monday and had sold out on a Tuesday or Wednesday and the chart came out the following weekend – so you're on Top of the Pops the Thursday after and the record was unavailable. So it was a bit of a charade really. I think we turned them down once and lied – our bass player's got a poorly arm or something."
Surreal Wedding Present TV moment #3: space suits and rave tributes
1995. Oh, how those Top of the Pops producers must've loved them. The Hit Parade's most memorable three and a half minutes ('Flying Saucer') arrives with a twisting, turning intergalactic pop rock classic. And what better way to celebrate with the nation than dressing up in space suits à la rave icons Altern-8 and not playing your guitars? A victory of… oh, you get the idea.
"A certain style to it"
The Wedding Present have always been a forward-thinking band. Round about the time of their second album Bizarro, they were hardly playing any songs live from their classic, iconic debut George Best. But last year they did something a little out of character – they toured the UK playing the debut album in its entirety. Had Gedge finally rediscovered these old songs so beloved of the fans?
"You're exactly right. The idea got mentioned to me because originally we were going to do a 20th anniversary re-release of George Best but it never happened. At first I was kinda, well, I'm looking forward rather than back. But everybody I spoke to, whether it was in the group, or Wedding Present fans, whenever I mentioned the idea they were like, oh god you've gotta do that, it'd be brilliant.
"So everybody seemed to be really into the idea of doing it. When we started rehearsing it I found myself quite enjoying it. It was a surreal thing to do to put your mind back 20-years if you like and forget everything you've learnt. It was an interesting mental exercise and it really focused the group. But it was a strange project in a way. It's an interesting album and although it's my least favourite Wedding Present record there's a certain style to it. Which was mostly playing as fast as we possibly could to be honest! It's quite a strenuous record to play. But we all enjoyed doing it I think. It put us in good stead because straight after we went into the studio and recorded El Rey. I think it was good training for us in a way."
"Reputation"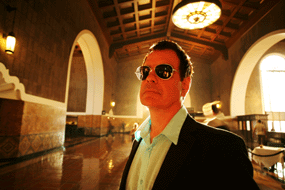 El Rey sees The Wedding Present reunited with super-producer Steve Albini. He's the man who twiddled the knobs on The Wedding Present's masterpiece, third album, Seamonsters. Albini comes with something of a reputation, but it's never been a problem for Gedge and co.
"Yeah, he's got a bit of a reputation for being difficult to work with. And I can see why that might be the case with some people. But I've never had a problem with him really. I think he does a great job basically with the guitar, bass and drums line up. It's his forte. He knows how to record a band like that. He just works very simply.
"People say what's the trick with Steve Albini? But I don't think there is one. He's got a good studio, the rooms are nice, classic equipment. He's a great fan of George Martin's production with The Beatles where it was recorded live in Abbey Road. Some of those LPs were done in a weekend and they sound alright don't they. He just encourages a band to set up and play live. Which we always tend to do anyway. It's not a great stretch for us."
"In love with pop music"
I start to put it to David that The Wedding Present are now entering a rare third phase for bands. One which only the greatest ever reach. It's where there's a brilliant and vast back catalogue to (re)discover, a new generation of bands namedropping them as an influence, plus a fresh appetite for the new material. As I attempt to elaborate, David stops me in my tracks with a laugh.
"We're approaching legendary status! Well it's not the kind of thing I think about really. Like most people in bands will tell you I just think about making the record and playing the concerts. The attention you get is flattering but you don't go on for that. I never started a band to be NME darlings. I started a band because I was in love with pop music and I wanted to be part of it. But I just feel fortunate that I've had enough success to enable me to continue, I suppose."
David Gedge doesn't really do enigmatic. There's a simple beauty to the way he works and the way The Wedding Present exist and progress. When I probe him about the next change of direction, that obligatory acoustic album, the lost gems languishing in the vaults, he just shrugs.
"I'll just take it as it comes really. Cinerama was based on more filmic stuff. But it's usually based on who's in the band at the time. We've had all these different line ups and changes and it tends to point you in a different way. We should strip it down or this should be acoustic or we should make it bigger."
There's one enigma that remains undisclosed, however. In Manchester during last year's George Best tour, the lights dimmed and a person in a white rabbit suit walked on to an empty stage. As the hush descended the white rabbit revealed the iconic shot of George Best that features on the album's cover. Cue mild crowd hysteria. Later a rumour circulates the venue that the man in the white suit is no less than pop music's greatest enigma – Morrissey. Could it be true?
"Oh, I can't possibly comment on that," he says with a smile. Leaving at least one secret hanging in the air.