An Interview with Ricky Hatton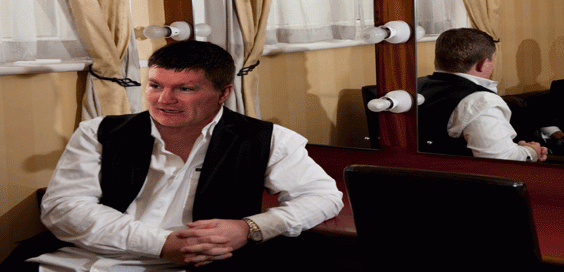 Ricky Hatton Interview
Northern Rock
by Duncan Thorne
They say there aren't any characters in sport anymore. That modern day stars are wrapped in cotton wool, controlled by multi-million pound sponsorship deals and overprotective management.
Most press conferences and interviews are manna from heaven for insomniacs with over-used, cliché-ridden responses trotted out to the tamest and most predictable questions. There is however one huge exception to the rule; Ricky 'The Hitman' Hatton.
Born and bred in Hyde, Manchester, Hatton still lives in the working-class industrial town, visiting his old haunts with lifelong friends and not tempted to join the fashionable footballers' belt of Alderley Edge in nearby Cheshire, despite The Sunday Times Rich List recording him as the 21st wealthiest young person in the world, with a wallet-busting £21 million to his name.
In an exclusive interview with On:Yorkshire, Hatton talks openly about the highlights of his career, his disappointments, what he thinks about Floyd Mayweather, his friendship with the brains behind Oasis, Noel Gallagher, and the fun he gets from tootling around in his original Del Boy Robin Reliant.
He's currently on a nationwide 'evening with' tour with fellow boxing legend, Frank Bruno.
"The next best thing is trying to produce a champion"
HOW ARE THE STAND-UP SHOWS GOING?
I love it really and I'm convinced it's helped my fan base. I've been doing after-dinner speaking for about seven years and someone must've thought I was funny and decided that I could go on and do theatres like I am now. I've got a wonderful fan base and I believe it's not just because of the way I fight that I've got the fan base that I have, it's because I do little things like this and I get the chance to meet them and entertain them in a different way.
YOU'RE BUSY PROMOTING FIGHTS UNDER HATTON PROMOTIONS TOO…
That's right, I've just got an eight-fight deal with Sky Sports and my first fight is Matthew Macklin and my next fight is my brother Matthew who is challenging Lovemore N'dou for the IBO World Welterweight Championship in November. I've got loads of great prospects coming through so it's all starting to come together for me now and I think once you've been a champion the next best thing is trying to produce a champion.
HOW DO YOU THINK YOUR BROTHER WILL DO?
N'dou has fought at a world class level on a number of occasions and Matthew hasn't quite done that, with the greatest of respect, but his last two performances have been great and he's boxed the ears off his opponents, so he deserves his shot now. He's an underdog given who N'dou has been in with and he knows that, but I think he's got the style to do it.
"You need to have that fire in your belly"
WHAT ABOUT YOUR CAREER, ARE YOU GOING TO FIGHT AGAIN?
Floyd Mayweather Jnr (who beat Hatton in 2007) made a comeback in September after two years out and all boxers get itchy feet from time to time and who knows what will happen once I've had a rest and re-charged the batteries. I might find that I'm missing it and decide to give it another go but at the minute I'm just going to sit back and have a good rest from it and what happens in the future will be.
I've been 13 years as a pro and I've not had any time off, running training, sparring and dieting all the time – well dieting most of the time anyway – and the last defeat (against Manny Pacquiao) was so heartbreaking that I've got to the point where I've just had enough. You need to have that fire in your belly to get up at 4am in the morning to go running and I don't have it at the moment so I just want to see how I'll feel further down the line and relax for a bit.
…AND WATCH MAN CITY?
Yeah, it's been absolutely fantastic so far and Bellamy has been in great form. They've started off great and you'd think the worst part would be the start when they are getting used to each other, so it should only get better from here.
"Vegas was incredible"
IF YOU DON'T BOX AGAIN, WHAT WILL YOUR CAREER HIGHLIGHTS BE?
Beating Kostya Tszyu was my greatest performance bearing in mind he was the undisputed world champion. But the disappointment for me when I do retire will be that I beat Kostya Tszyu who was number two in the pound-for-pound rankings and I beat (Jose Luis) Castillo who was number nine but I didn't quite make it and beat the number one (Floyd Mayweather Jnr) and that will piss me off.
I won five world titles in two weight divisions and topped the bill in Vegas but didn't get the number one spot. I would also say the City of Manchester Stadium will be a highlight without doubt. Breaking the post-war record with 65,000 people watching me was very humbling. People were saying 'you'll not get 30,000' and I was thinking 'mmm they could be right' so I was delighted when we reached 45,000 to be honest but to get 65,000 was absolutely fantastic.
The Mayweather fight was great too believe it or not considering it ended in a defeat but taking 35,000 fans over to Vegas was incredible and it made me feel very proud because we'll be lucky to get that many going over to the World Cup in South Africa yet 35,000 went over just to see me. And 25,000 went to see me fight Manny Pacquiao in Vegas when we were in the middle of a recession so there have been lots of highlights.
"He was the main man when I was growing up"
IS IT TRUE THE BLOW YOU LANDED ON CASTILLO BROKE FOUR OF HIS RIBS?
Yeah it is! It was the best body blow I ever landed. I moved him into position and got all my weight behind it and threw it perfectly. Castillo doesn't go down easy and is as tough as they come. Although he'd been stopped before, it was always on his feet, he'd never been put on the canvas. As soon as I landed it and he went down I knew the fight was over. Put it this way, if he'd have got up I'd have fuc*ing jumped out!
HOW DO YOU THINK YOU'LL BE REMEMBERED?
Not as the best British fighter but I don't think there's been another British fighter that's had a following like me. The record for Vegas was when Bruno fought Tyson and 10,000 went but I got 35,000 which was unbelievable. I'd like to think because of the fan base I've got that people might mention me in the same breath as 'Our Frank' and 'Our 'Enry' in years to come.
HOW IS FRANK, HAVE YOU ENJOYED YOUR TIME ON STAGE WITH HIM?
I've loved it; he's a cult hero in our country. I grew up admiring him and it's good to see him back to his best and in good form. Because he had a few tricky moments. He was the main man when I was growing up. He won the Heavyweight title so all credit to him. And he fought some great fighters in Tyson and Lennox Lewis. He's a great character.
"We see a lot of ourselves in each other"
TALKING OF CHARACTERS, HAVE YOU STILL GOT YOUR DEL BOY ROBIN RELIANT?
I have, yeah, and it's still going. But I've not been out in it for a bit so I might have to get the jump leads on it. But it's passed its MOT. I only use it very sparingly because it's about 40-years-old now and a bit temperamental. But it's a great buzz tootling around my home town. You always get a laugh when people see it and then recognise me.
ANY NEWS FROM YOUR MATE NOEL GALLAGHER ON OASIS SPLITTING UP?
I spoke to him about it and he just said "there's no going back, I can't work with 'r kid no more". Which is a shame but we've heard that before from them so you never know. But it doesn't look good. I flew out to see them in concert in Milan and as soon as I got off the plane I got a phone call from him saying "Rick, are you still going to Milan?". I said: "I've just landed" and he says: "Sorry about that, we're not coming. We've split up!"
But I've been very fortunate because they were a great passion of mine before I got to know them. It's great that they call me friends. I just said to Noel if you do break up it is a shame but now I've come to know you I just hope you're ok. We grew up near each other and I think that's why we get on well. We're both working class, council estate born and bred, down-to-earth… rum fu*kers I suppose. That's what I think I am really and we see a lot of ourselves in each other.
"He is the greatest"
WHAT WAS IT LIKE WHEN MOHAMMED ALI VISITED YOUR GYM LAST MONTH?
It was brilliant and the fact that he knows me, it's unbelievable! His team asked me if I'd do my stand-up at the dinner they were having at Old Trafford. I said of course I would and they asked me if what I wanted for it. I said: "What do I want for it? To go and spend the evening with Mohammed? Absolutely nothing." So they said they'd like to thank me for it and said they'd heard about my health and fitness centre and they wanted to bring Mohammed down and my jaw just hit the ground!
I live in a little town called Hyde. Although I'm proud of it, not much happens there. So when Mohammed Ali came it was a great day for everyone and meeting him was one of the best days of my life. It's just a shame he is so, so poorly. But whenever I see him I remember the good stuff and that he is the greatest not just for what he did in the ring but out of it too. He's a true gentleman.
WHICH IS MORE THAN YOU'D PROBABLY SAY ABOUT FLOYD MAYWEATHER JNR?!
Mayweather is an exceptional fighter no question. I haven't got much time for Floyd as a person, but as a fighter he could be one of the greats, to be honest. Mohammed Ali started the bad mouthing with the gift of the gab. But he did it with class, with fun and he did it with a twinkle in his eye, unlike some of the dickheads today.
"I hated him so much"
After the fight Floyd complemented me saying: "I was hitting you with everything and you kept coming. You had me worried a few times and I thought you weren't going to stop". So I thought 'fair enough Floyd, you've redeemed yourself there, you've given a bit of credit'. But then I've read a few newspaper articles where he's slagged me off again. So I just thought it doesn't matter how good a fighter you are Floyd, you're still a tosser. That's why you've got no fans – and he hasn't got any fans unlike me. That's what's priceless to me.
DO BOXERS ACTUALLY MEAN THE TRASH TALKING THEY COME OUT WITH BEFORE FIGHTS?
Sometimes they do. Eamonn Magee was the first to do it to me and I hated him for it. In fact, I hated him so much he knocked me on my arse in the first round because I was so fired up! But after the fight we became mates. When I went to do my theatre tour in Belfast, Dublin and Derry, I went for a pint with him. It was funny really because I used to really hate him!
Paulie Malignaggi was another one who was calling me all types of names. Saying he was going to do this and that to me. But I've never met a nicer man than him. When I went over to him after I'd beaten him he was crying uncontrollably. He said: "I just wanted to finish the fight on my feet". I felt like crying for him!
pictures: David Lindsay