Yokai Monsters Collection (1968-1969) – Review
Directors: Kimiyoshi Yasuda (100 Monsters); Yoshiyuki Kuroda (Spook Warfare, Along with Ghosts)
Starring: Shinobu Araki, Chikara Hashimoto, Kojiro Hongo
Certificate: 15
By @Roger Crow
I knew nothing of Yokai, the staple of many Japanese ghost stories. Some are creatures of folklore, some were created by artists wanting to sell a product.
If you watch this new collection, Yokai Monsters, without any clue of their origins, then you might take the stories at face value; Twilight Zone-style tales whose characters look like they were plucked from a Willow pattern plate or a Hokusai print.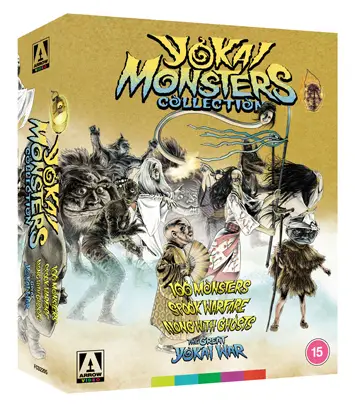 Thankfully there is 'Hiding in Plain Sight', a very handy 40-minute primer for people like me who had no clue about their origins. Folks like Kim Newman wax lyrical about creatures such as a woman with a long neck.
"Invites the wrath"
Some in Japan might have classified Bigfoot or the Loch Ness monster as Yokai, and in a way the documentary is far more fascinating than the first film in the trilogy.
It's a little like watching Avengers: Endgame without knowing a thing about the Marvel Cinematic universe. You do enough research and the results pay dividends.
Who knew that the Teenage Mutant Ninja Turtles were Yokai? Certainly not me. Though Pokemon appears a lot more germane to the genre. Yes, it might have seemed alien to many of us 20 years ago when they exploded on UK culture, but the roots of those marketable creatures go back to Yokai. Even a familiar creation like Hello Kitty springs from the same creative source.
Given the fact 100 Monsters was made in 1968, it looks pretty good.
That film centres on a greedy slumlord's attempts to forcefully evict his tenants. It invites the wrath of the titular spirits when a cleansing ritual is botched, with terrifying results.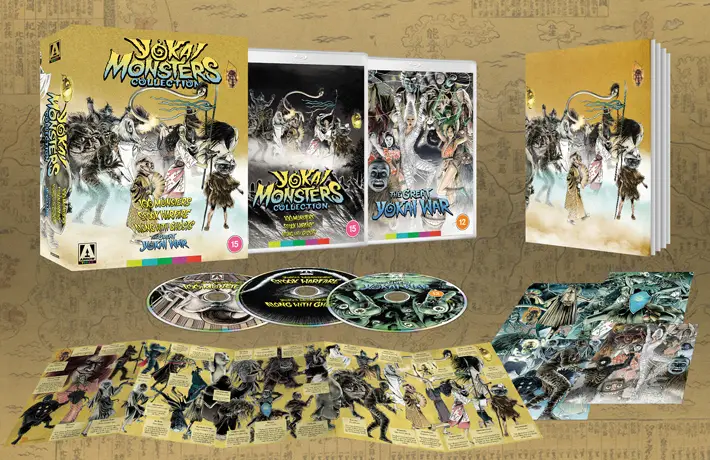 "Gloriously epic"
The second film, Spook Warfare, tells of an evil Babylonian vampire inadvertently awoken by treasure hunters, and a brave samurai that teams with the Yokai to defeat the bloodthirsty demon.
That's my favourite of the trilogy, not least because the early scenes are so gloriously epic. Hard to believe this was also made in 1968 as some of the scenes look so sharp. Okay, Kappa the teleporting water imp looks like a dry, or rather wet run for Howard the Duck, but his early showdown with the eerie Babylonian vampire does add much needed levity to the fantasy. It also featured a beautiful closing scene which lingers long in the mind.
In the final film, Along with Ghosts, the Yokai are roused to defend a young girl on the run from deadly yakuza.
There was a time these films were just the sort of compelling oddities screened on late night Channel 4, but now fans are reliant on labels like Arrow for their fix of offbeat fantasy, and more power to them.
These revamped HD versions look and sound terrific, especially when compared to the original theatrical trailer.
LIMITED EDITION BOXSET CONTENTS:
• High Definition (1080p) Blu-ray presentations of all four films
• Optional English subtitles on all four films
• Illustrated 60-page collectors' book featuring new writing on the series by Stuart Galbraith IV, Raffael Coronelli and Jolyon Yates
• Reversible sleeves featuring original and newly commissioned artwork by Jolyon Yates
• Postcards featuring newly commissioned artwork for each film by Jolyon Yates
• Foldout 'yokai guide' poster illustrated by Jolyon Yates
DISC ONE – 100 MONSTERS:
• Original uncompressed Japanese mono audio
• Hiding in Plain Sight, a brand new documentary giving a primer on yokai for Western audiences, featuring interviews with experts Matt Alt, Zack Davisson, Kim Newman, Lynda E. Rucker and Hiroko Yoda
• Theatrical trailer
• US re-release trailer
• Image gallery
DISC TWO – SPOOK WARFARE / ALONG WITH GHOSTS:
• Brand new 4K restoration of Spook Warfare by Kadokawa Pictures
• Original uncompressed Japanese mono audio for both films
• Theatrical trailers for both films
• US re-release trailers for both films
• Image galleries for both films
DISC THREE – THE GREAT YOKAI WAR:
• DTS-HD MA 5.1 original Japanese and dubbed English audio
• Brand new audio commentary by Japanese cinema expert Tom Mes
• Archive interviews with the cast and crew, including Takashi Miike
• Short Drama of Yokai, two shorts detailing the further adventures of the yokai
• Another Story of Kawataro, two shorts featuring the continuing story of the kappa character in the film
• World Yokai Conference, a publicity event where Miike speaks about the film
• Promotional Events, video of the press conference to announce the start and completion of filming, as well as the premiere in Tokyo
• Documentary on the film's young star, Ryunosuki Kamiki, and his experience making the film
• Theatrical trailer
• Image gallery
Yokai Monsters Collection is released on Limited Edition Blu-ray by Arrow, £59.99