The House By The Cemetery (1981) – Film Review
Director: Lucio Fulci
Cast: Catriona MacColl, Paolo Malco, Ania Pieron
Certificate: 18
By Sarah Morgan
Horror movies featuring children are pretty common. Rosemary's Baby, Village of the Damned, The Exorcist, The Omen… Kids may be cute and lovely (well, some of them), but they also have the ability to scare us adults silly.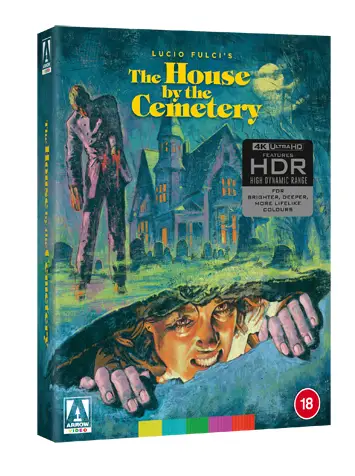 In 1981, veteran Italian director Lucio Fulci put that to the test with The House by the Cemetery, the third entry in his Gates of Hell trilogy (the others being City of the Living Dead and The Beyond), which features arguably the most terrifying, weird and annoying child ever to pop up in a movie.
"Chaos"
Created as a tribute to esteemed writer HP Lovecraft, the film was shot largely on location in New York, Boston, and also Concord, Massachusetts. At its heart are the Boyle family, who relocate to New England from the Big Apple after dad Norman, an academic, lands a job investigating the research of his former colleague Dr Petersen, who supposedly killed himself after bumping off his mistress.
Norman's wife Lucy isn't thrilled that they're living in Petersen's old home and perhaps he ought to have listened to her concerns because it isn't long before bizarre events – including a bat attack – take place. Plus, their son Bob finds a friend who may or may not be imaginary, and babysitter Ann is creepy, to say the least. No responsible parent would ever want her taking care of their child.
As is usually the case with Fulci's movies (he was never one for subtlety or holding back), the story descends into chaos, with blood and gore everywhere. Who lives and who dies? Well, you may be surprised to find out…
"Few genuine scares"
Although there are few genuine scares here, the film is highly watchable – with the exception of Bob. He's played by Giovanni Frezza, although his voice has been dubbed by an American actor which, in conjunction with his offbeat look, means he's a very disconcerting presence. Frankly, I wouldn't have blamed his mum and dad for leaving him in the titular abode and hot-footing it back to New York as quickly as possible.
The grown-up Frezza (who seems like a nice, normal guy) also appears among the special features to discuss his participation in the film, as do fellow stars Catriona MacColl, Paolo Malco and Silvia Collatina.
If you're a fan of 1980s slasher movies or the work of Italian maestros Mario Bava and Dario Argento, then you're going to love this. Fulci isn't quite in their league, but he certainly knew how to make the most of a low budget.
4K ULTRA HD BLU-RAY LIMITED EDITION CONTENTS:
4K restoration from the original negative by Blue Underground
4K (2160p) UHD Blu-ray presentation in Dolby Vision (HDR10 compatible)
Restored original lossless mono English and Italian soundtracks
Optional lossless 5.1 and Dolby Atmos English soundtracks
Optional English subtitles for the deaf and hard of hearing for the English soundtrack
Optional English subtitles for the Italian soundtrack
Audio commentary by Troy Howarth, author of Splintered Visions: Lucio Fulci and His Films
Archival audio commentary with star Catriona MacColl, moderated by Calum Waddell
Archival audio commentary with co-star Silvia Collatina, moderated by Mike Baronas of Paura Productions
Meet the Boyles – interviews with stars Catriona MacColl and Paolo Malco
Children of the Night – interviews with stars Giovanni Frezza and Silvia Collatina
Tales of Laura Gittleson – interview with star Dagmar Lassander
My Time with Terror – interview with star Carlo De Mejo
A Haunted House Story – interview with co-writers Dardano Sacchetti and Elisa Briganti
To Build a Better Death Trap – interviews with cinematographer Sergio Salvati, special make-up effects artist Maurizio Trani, special effects artist Giannetto De Rossi and actor Giovanni De Nava
House Quake – interview with co-writer Giorgio Mariuzzo
Q&A with Catriona MacColl at the 2014 Spaghetti Cinema Festival, Luton, England
Calling Dr. Freudstein – interview with Stephen Thrower, author of Beyond Terror: The Films of Lucio Fulci
Deleted scene
Alternate US opening scene and titles, re-edited and with different music
Archival introduction by Giovanni Frezza
Back to the Cellar – archival interview with Giovanni Frezza
Cemetery Woman – archival interview with Catriona MacColl
Wax Mask: Finishing the Final Fulci – archival interview with filmmaker and special makeup effects artist Sergio Stivaletti
Freudstein's Follies – archival interview with Giannetto De Rossi
Ladies of Italian Horror – archival interviews with Italian horror cinema stars Stefania Casini, Barbara Magnolfi and The House by the Cemetery's Silvia Collatina
The House by the Cemetery Q&A – 2011 panel at HorrorHound, Indianapolis, Indiana featuring the film's cast
International theatrical trailer
US theatrical trailer
TV spot
Poster and still galleries
Limited edition packaging with reversible sleeve featuring original and newly commissioned artwork by Colin Murdoch
Limited edition 60-page perfect bound book featuring new writing on the film by Roberto Curti, Stephen Thrower, Alexandra Heller-Nicholas and Rachael Nisbet
Fold-out double-sided poster featuring original and newly commissioned artwork by Colin Murdoch
Six double-sided collector's postcards
The House by the Cemetery is released on limited edition 4K UHD by Arrow