The Exorcist III (1990) – Film Review
Director: William Peter Blatty
Cast: George C. Scott, Ed Flanders, Brad Dourif
Certificate: 18
by Sarah Morgan
When you tell people you're a horror fan, they tend to automatically assume you think The Exorcist is one of the greatest movies of all time – if not THE greatest.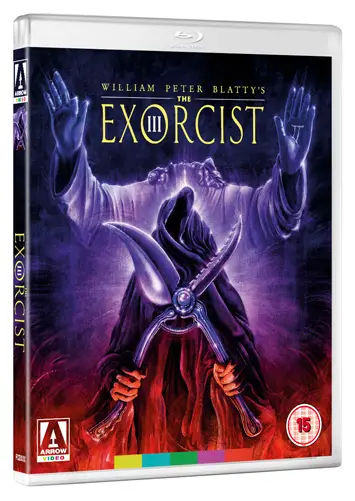 Well, I'm afraid I'm not a fan. It takes too long to get going, and I suspect I'd heard too much about it and seen it parodied too many times for it to make any kind of chilling impact when I finally got to see it when it was re-released in 1998.
In the years since I've managed to avoid Exorcist II: The Heretic, which is apparently terrible, but I'd heard good things about Exorcist III, so was intrigued when I heard it was receiving a Blu-ray release.
"Brutal and ritualistic"
William Peter Blatty, who wrote the original best-selling Exorcist novel, devised the story with William Friedkin, who directed the film, but they couldn't get the movie made. Instead, Blatty wrote a book based on the screenplay, which came out in 1983. Seven years later, the movie was eventually greenlit, and Blatty himself was given the job of directing.
He chose to block out Exorcist II; it's as if it never actually existed. Instead, the third movie links back to the original, with Jason Miller returning as the deceased Father Karras, whose body appears to have been possessed by the same entity that took over young Regan MacNeil.
However, it's George C Scott who takes the lead role of police detective William F Kinderman. He's investigating a series of bizarre brutal and ritualistic murders, which seem to tie in with the MacNeil case.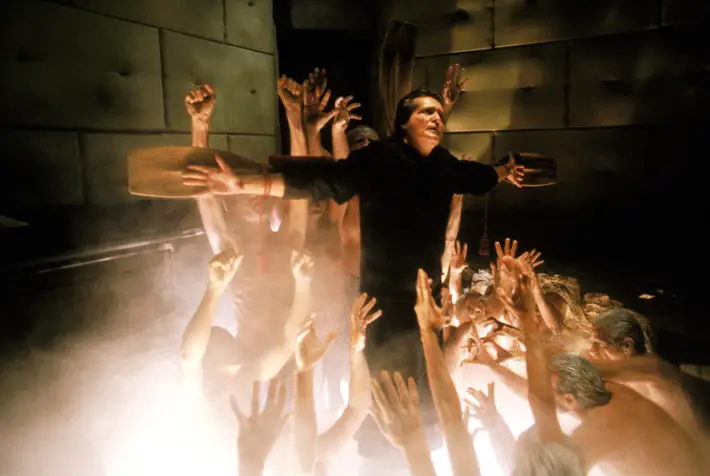 "Excellent set pieces"
Blatty originally conceived the story as a supernatural mystery, but the production company ordered extra scenes involving Nicol Williamson (looking like Brian Wilde from Last of the Summer Wine, which doesn't help build tension or create scares) as an exorcist trying to free Karras' soul.
What's great about the Blu-ray release is that it features both the overblown original theatrical release, which has a few excellent set pieces but ultimately is a little silly, and a slightly longer director's cut, which is more in line with Blatty's original vision.
The two-disc release is packed with special features, including a making-of documentary, which is almost as long as the film itself, an audio interview with Blatty, and archive interviews with various cast members.
TWO-DISC LIMITED EDITION CONTENTS - Two presentations of The Exorcist III: the theatrical cut and the 'Legion' director's cut
- Original 2.0 stereo audio and optional 5.1 DTS-HD Master Audio
- Optional English subtitles for the deaf and hard of hearing
- Reversible sleeve featuring original and newly commissioned artwork by Richard Wells
- Limited edition booklet with new writing on the film by Lee Gambin, archival articles and reviews
DISC ONE – THE THEATRICAL CUT
- 2K restoration of the theatrical cut of The Exorcist III, presented in High Definition
- New audio commentary by critics Alexandra Heller Nicholas and Josh Nelson
- Audio interview with writer/director William Peter Blatty
- Death, Be Not Proud: The Making of The Exorcist III, an in-depth 2016 documentary divided into five chapters:
- Chapter One: A "Wonderful" Time, an interview with producer Carter DeHaven and members of the supporting cast and production crew
- Chapter Two: Signs of the Gemini, an interview with actor Brad Dourif
- Chapter Three: The Devil in the Details, an interview with production designer Leslie Dilley and more
- Chapter Four: Music for a Padded Cell, an interview with composer Barry De Vorzon
- Chapter Five: All this Bleeding, interviews about the additional shoot and special effects
- The Exorcist III: Vintage Interviews, archival interviews with cast and crew members including William Peter Blatty, producer James Robinson, actors George C. Scott, Jason Miller, Grand L. Bush and Ed Flanders
- Falling Down a Long Flight of Steps, an interview with special effects artist Randy Moore
- The Exorcist III: Vintage Featurette, making-of documentary with onset footage and interviews
- Deleted scenes, alternate takes and bloopers
- Image galleries
- Trailers TV spots and radio spots
DISC TWO – THE 'LEGION' DIRECTOR'S CUT
- High Definition Blu-ray (1080p) presentation of the 'Legion' director's cut, assembled from the best available film and video elements
- Brand new 'Legion' audio commentary with esteemed film critics Mark Kermode and Kim Newman
- Deleted Prologue, an alternate opening to 'Legion' with option audio commentary from Mark Kermode and Kim Newman
The Exorcist III is released on Blu-ray by Arrow, £24.99