The Final Countdown (1980) – Film Review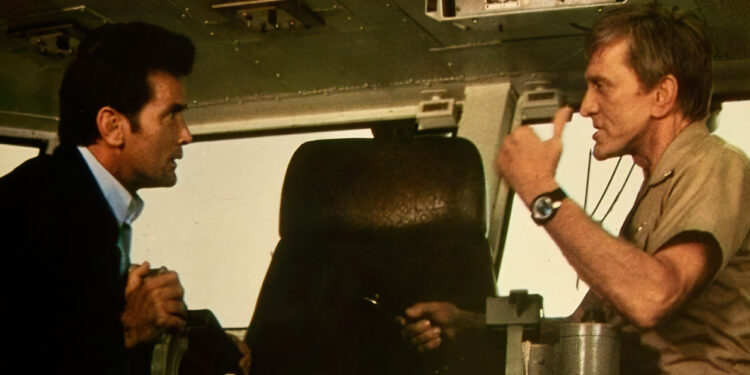 Director: Don Taylor
Cast: Kirk Douglas, Martin Sheen, Katharine Ross
Certificate: PG
By Sarah Morgan
After reading the title, you probably have poodle-haired rockers Europe's biggest hit going through your head. Sorry about that – it's an annoying ear worm if ever there was one.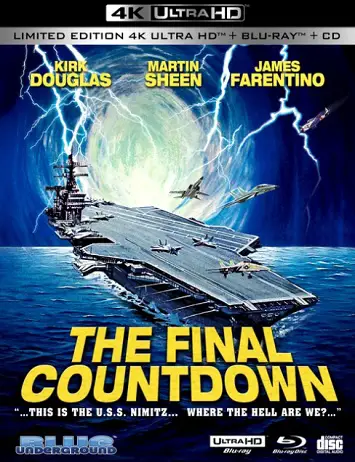 The film of the same name, however, is an amiable time-passer, but one that is unlikely to linger in the memory for long, despite its intriguing premise.
Nuclear-powered aircraft carrier USS Nimitz is embarking on a series of naval manoeuvres in the oceans off Pearl Harbor in the present day. Aboard are the crew, led by Captain Yelland and Commander Owens, and Warren Lasky, a civilian observer working for the US Defence Department.
"Bizarre occurrences"
During the early part of the ship's voyage it encounters a strange vortex; on passing through it, all those on board collapse in pain, while radar systems appear to be knocked out.
Yelland, fearing a nuclear strike on the mainland is the cause of the problems, sends out reconnaissance aircraft, who take pictures of the area. Owens, an amateur historian, realises they can only have been taken in 1941 before the Japanese strike on Pearl Harbor.
Soon other bizarre occurrences take place that prove the Nimitz must have travelled back through time.
As Yelland orders a pre-emptive strike on the Japanese forces, the vortex reappears and he must decide whether to use it to return home or change the course of history forever.
The film provides a strong late-career role for Kirk Douglas as Yelland; he was only too keen to get involved – the film was co-produced by his son Peter. Douglas Sr is as impressive and gutsy as ever, but he has excellent support from a surprisingly starry cast.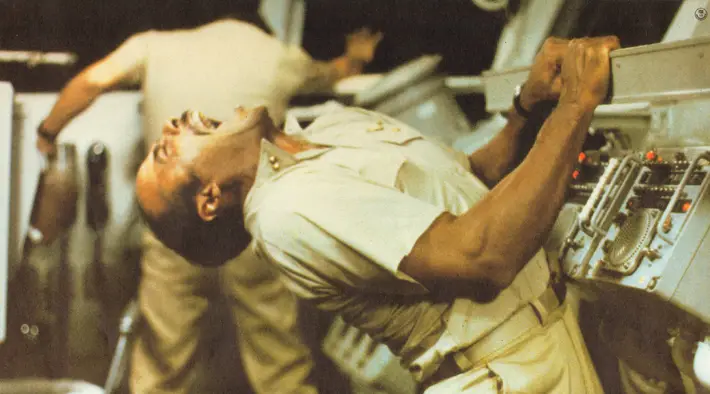 "Outlandish premise"
Martin Sheen, fresh from the success of Apocalypse Now, plays Lasky, with James Fiorentino as Owens. Charles Durning and Katharine Ross also pop up as a politician and his secretary, who become caught up in the chaos when the yacht they're travelling in is attacked by Japanese aircraft.
The film was the final directorial effort of former actor Don Taylor, whose previous credits include Escape from the Planet of the Apes and Damien: Omen II.
According to an interview with Peter Douglas' colleague Lloyd Kaufman, Taylor wasn't a very inventive film-maker and we have Douglas Sr to thank for persuading him to utilise the real-life Nimitz, which had been placed at the production's disposal by the US Navy – it's the scenes shot at sea that give the film's outlandish premise a much-needed touch of realism.
Extras:
• Audio Commentary with Director of Photography Victor J. Kemper
• Lloyd Kaufman Goes Hollywood - Interview with Associate Producer Lloyd Kaufman
• Starring The Jolly Rogers - Interviews with The Jolly Rogers F-14 Fighter Squadron
• Theatrical Trailers
• TV Spots
• Poster & Still Galleries
• The Final Countdown Original Motion Picture Soundtrack CD by John Scott
• Collectible Booklet featuring The Zero Pilot Journal
• 3D Lenticular Slipcover (First Pressing Only)
The Final Countdown 3 Disc Limited Edition (4K UHD + Blu-ray + CD) is released by MVD, $59.95