Once Upon a Time… in Hollywood (2019) – Film Review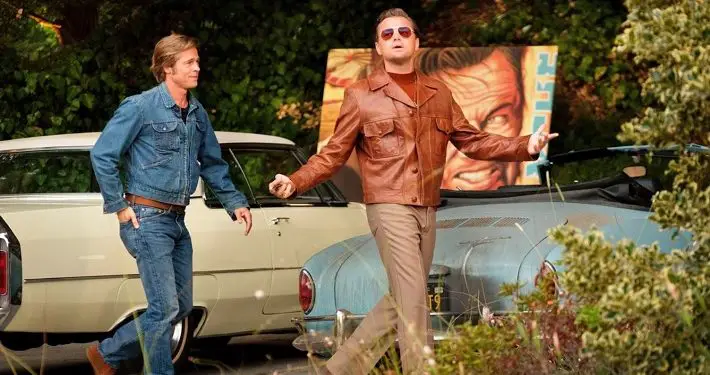 Director: Quentin Tarantino
Cast: Brad Pitt, Leonardo DiCaprio, Margot Robbie
Certificate: 18
by Roger Crow / @RogerCrow
When I heard that Quentin Tarantino was making a movie about Charles Manson and Sharon Tate, my heart sank a little. Love or hate him, there's no denying QT is a genius film maker. Yes, there are times when his scripts need trimming or he's excessively violent, but when he's on good form, as in pretty much every film barring Death Proof, he's excellent.
But the Manson-Tate saga. Did we really need another movie examining the darkest time in Hollywood history? It turns out we really did, when filtered through Quentin's lens.
The joy of the movie – and it is a joy – is focusing on Rick Dalton (Leonardo diCaprio), a TV star with dreams of movie stardom who is at a crossroads in his career. If he keeps doing what he's doing, he'll be a washed up has been in a few months. Or he can make a Western that he deems beneath him. Tackling his demons of self doubt gives us some funny scenes, but also a chance to see what he's great at. The hidden depths if you like.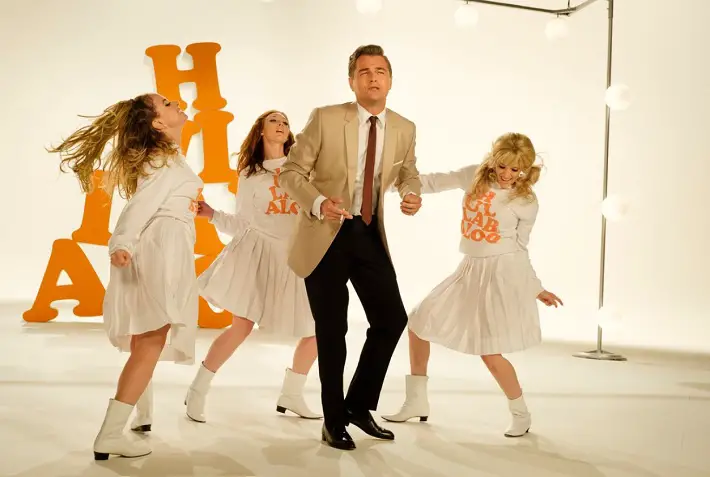 "Shady past"
His brother in all but name is his double and stuntman Cliff Booth (Brad Pitt). "More than a buddy, less than a wife," as he's described. He's also more of a driver, handyman and gofer these days. As we discover, Cliff has a shady past, that may or may not be true, and when he gets a shot at working on Rick's new film, a run-in with Bruce Lee has repercussions.
While these two are doing their thing, glowing actress and neighbour Sharon Tate (Margot Robbie) is partying with partner Roman Polanski, and soaking up life in Tinseltown. And in their peripheral vision is the shadow of what's to come.
Margaret Qualley gives a good turn as a creepy Manson girl, while Julia Butters, like Natalie Portman and Chloe Grace Moretz before her, will no doubt be snapped up for countless roles after her turn as a wise-beyond-her years child actor.
It's interesting that this is the first QT movie made post-Harvey Weinstein, and inevitably reviewers will jump on how it affects Tarantino in a #metoo world. (Harry Potter/Gravity's David Heyman is now one of the backers, so the movie's very much in safe hands).
"Glorious love letter"
I could mention more of the plot, which is sketchy at best. It's more of a long build up to that finale, which I was dreading from minute one. The glory of this is how it fleshes out the lives of Rick and Cliff, the Rosencratz and Guildenstern of the Tate story if you like. Tarantino has always been best at shining a light on peripheral characters rather than have leads carry a movie. His pending version of Star Trek will probably view everything from a doomed red shirt's perspective rather than Kirk's, if it ever sees the light of day.
But for now, he's given the world a glorious love letter to Hollywood, from its crackling neon signs, and film posters to the movies themselves. And these aren't the biggest films of 50 years ago, but cult offerings like Tate's The Wrecking Crew. The bread and butter movies which kept Hollywood ticking over.
By that finale my absolute dread thankfully melted away. It's a while since I've been that tense in any film, (a scene with Pitt on a ranch ramps up the tension), though it either helps or hinders your experience depending on how much you knew about the horrors of that era.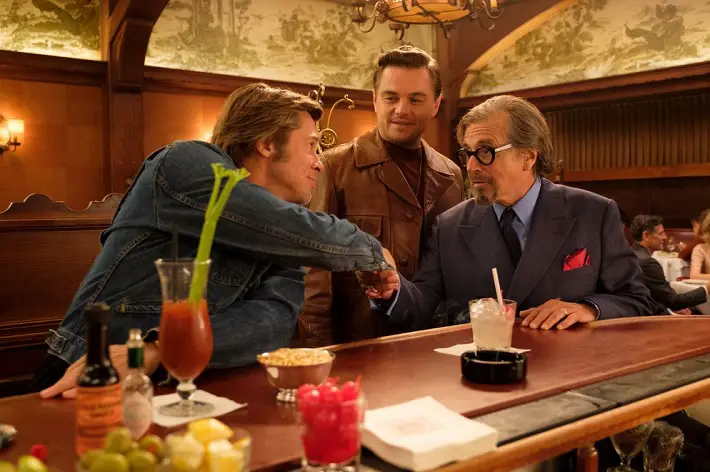 "Cathartic release"
The fact I could have clapped at the end tells you hope much I enjoyed it. Okay, it's not a perfect film, but it's one I could happily watch again for those glorious scenes.
As usual Tarantino's characters get under your skin, and Dalton and Booth are fine additions to his catalogue of creations such as Pulp Fiction's Vincent Vega and The Hateful 8's Daisy Domergue.
Some may come out wondering what just happened, while others will have that same cathartic release I did. Either way, it's a glorious experience which film lovers will adore, and that title is spot on, for reasons I won't go into.
Yes, a deliberately vague review, but if you get a chance, see this at a decent cinema. We drove 70 miles to see it at one of Blighty's best indie movie houses, Kinema in the Woods (complete with intermission), and it was all the better for it.
The fact I'd do it again tells you how good this is.
Once Upon a Time... in Hollywood is in cinemas now