Becky (2020) – Film Review
Directors: Jonathan Milott and Cary Murnion
Cast: Lulu Wilson, Kevin James, Joel McHale
Certificate: 18
by Roger Crow / @RogerCrow
Rebellious 13-year-old Becky and her (one-note) father head for a weekend getaway at a lake house in an effort to reconnect. For Becky, the trip takes a turn for the worse when her father's new girlfriend and her son show up as well. But that's the least of her problems: before long, a group of escaped convicts, led by the murderous Dominick, take the family hostage. However, they haven't reckoned on the rage and resourcefulness of Becky as they seek a mcguffin.
That's the set-up for this surprisingly effective variation of Die Hard/Deliverance/Home Alone formula ably directed by Jonathan Milott and Cary Murnion.
Lulu Wilson (Sharp Objects) gives a great turn as the teen with anger management issues, while Joel McHale (Community) is fine as the dad who's trying to forge bonds with his blended family and his daughter.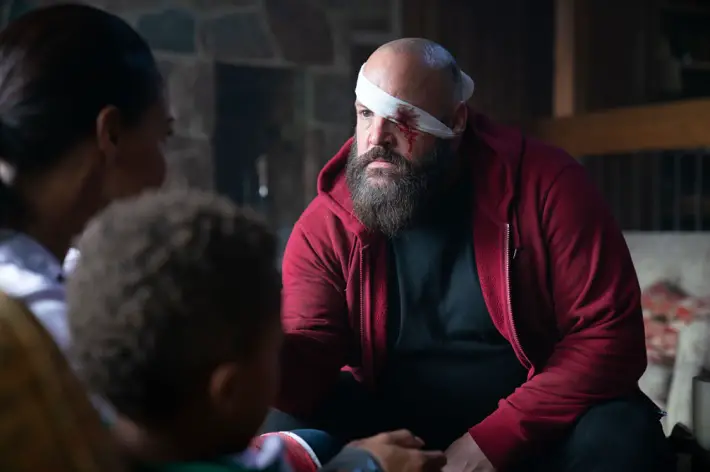 "Rather good thriller"
Perhaps most surprising is an almost unrecognisable Kevin James (Paul Blart) as the head bad guy. A neo-Nazi with a huge beard, he commands every scene he's in.
Solid support comes from from Amanda Brugel (The Handmaid's Tale) and kudos to the editors for the seamless bisecting storylines in the first act.
There are moments of torture porn involving an eyeball and a ruler that will leave some reaching for the off switch, and animal lovers will hate it – yes, it's another movie in which dogs are sacrificial pawns for bad guys. But if you can stomach all of those scenes, this is a rather good thriller with 14-year-old Lulu Wilson stealing the show as a girl you definitely don't want to get on the wrong side of.
Becky is released across digital platforms on 28th September