John Shuttleworth's Back – Live Review – Scarborough Spa Theatre
By Charlotte Oliver, March 2020
After a three-year absence, the versatile singer/organist from Sheffield is touring his brand new show, 'John Shuttleworth's Back', with its satisfying pun of a title that covers both his return to the stage and an on-going problem with lumbago.
Shuttleworth, the brainchild of character comedy colossus Graham Fellows, immortalises some of the more mundane aspects of life in catchy songs that he performs on his Yamaha PSS keyboard.
The near full house in Scarborough's beautiful Spa Theatre is obviously delighted that John Shuttleworth's back, cheering him as he enters the stage wearing his trademark red polo neck, beige slacks and brown leather jacket. From this moment on we are treated to a steady stream of gentle hilarity, which is both strangely reassuring and completely delightful.
There are new songs (each one a future classic), lots of chat and witty interactions with the audience as well as live telephone conversations with his agent Ken Worthington, wife Mary (who is currently cross with him over a domestic issue involving a dustpan and brush), and her friend, the formidable Joan Chitty.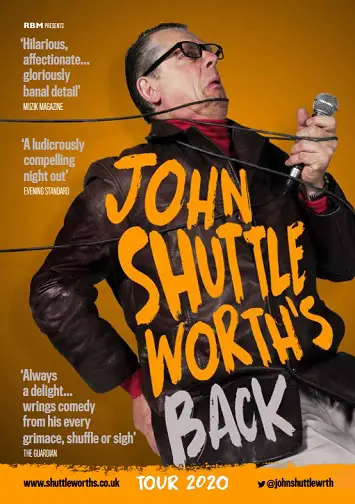 Subject matter ranges from what car he might replace his failing Austin Ambassador with, a list of 'things to make you happy' (those reliant on blister packs of medication may well find new joy in them after seeing this show) and how growing old can actually sound exciting.
"Rib-tickling positivity"
Despite his recurrent back spasms, John's hilarious observations and even temper cast a very funny and warm glow across the troubled times in which we live. He does tackle a few of the bigger issues such as Trump, mortality and the environment, but mainly focuses on minor everyday problems closer to home, like having your blood pressure taken or the extinction of his favourite biscuit.
Fellows is a masterful performer and the audience sits willingly in the palm of his hand throughout the show. This love is well deserved as Fellows has clearly researched tonight's show, mentioning local places and details about the town, all of which are met with delight by the audience.
The second half ends with John playing his classic songs back to back – favourites like 'Two Margarines', the moving 'I Can't Go Back to Savoury Now' and road lovers' anthem, 'The A1111', all of which are guaranteed to come back to you in the future and bring a little joy to an otherwise humdrum moment. The audience takes part whole-heartedly, clapping, punching the air and filling the theatre with a lively sing-a-long. It is a joy!
John Shuttleworth is an under-the-radar national treasure and his new show absolutely deserves a place on the list of 'things to make you happy'. Make sure you don't miss out on this generous dose of rib-tickling positivity; it will make you laugh on the night and brighten untold moments in the future – just the sort of great value that John would be proud of!