Two – Review – Hull Truck Theatre
By James Robinson, March 2020
For their first original production of 2020 Hull Truck Theatre and Scarborough's Stephen Joseph Theatre have teamed up to present a new staging of Jim Cartwright's Two, a bittersweet comedy drama that swiftly attained the status of classic following its first performance in 1989.
The play takes place in an old fashioned northern pub and comprises a handful of vignettes, dipping into the lives of the local's various drinkers and thinkers, all linked by the increasingly fractious bickering of the landlord and landlady.
Sometimes these vignettes involve people drinking alone, as they share their thoughts with the audience in monologue; others are two-person skits. All concern the theme of relationships in various states of dysfunction. These range from the cartoonishly comic, such as a seemingly mousey woman with a lot to say about her taste for 'big men'; to the deathly sombre: a bleak vignette involving an abusive man and his cowed partner is so packed with tension that it leaves the audience, who have until this point applauded each individual sketch, reeling in stunned silence.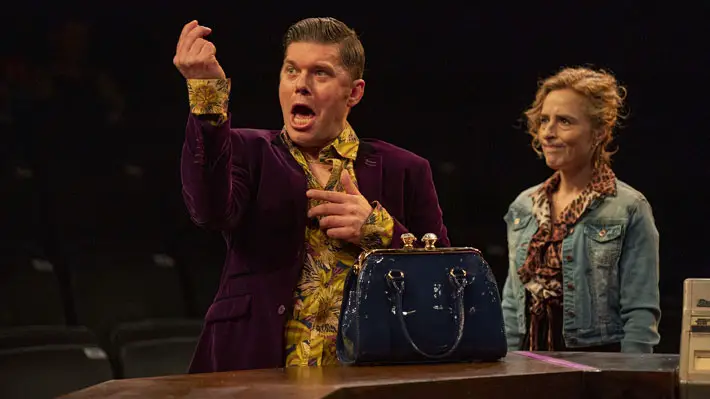 "Ingeniously handled"
Although Two takes place on a particularly busy evening in the pub, every one of its cast of fourteen characters are played by Nicola Stephenson and Matthew Wilson. The comings and goings of the patrons is ingeniously handled, Stephenson and Wilson somehow transforming themselves in split-second costume changes. Every new character is expertly handled, without ever descending into caricature. Wilson is afforded greater range, vanishing into the roles of lost little boy or avuncular old man with equal dexterity, but Stephenson is given the pick of the comic roles, landing the biggest laughs as a die hard Elvis fan and a drunk woman out to confront her lover and his wife.
The set is minimal: a circular bar with a till and a handful of pub tables. There are no props, but the extremely clever sound design from Adam McCready, in which we hear every chink of ice and smashed glass, lends a sense of realism. Innovative lighting by Zia Bergin Holly is used expressively, with sudden bursts of disco lights in a couple of sequences, or subtle cues in the overheads that reflect the ebb and flow of the evening's trade.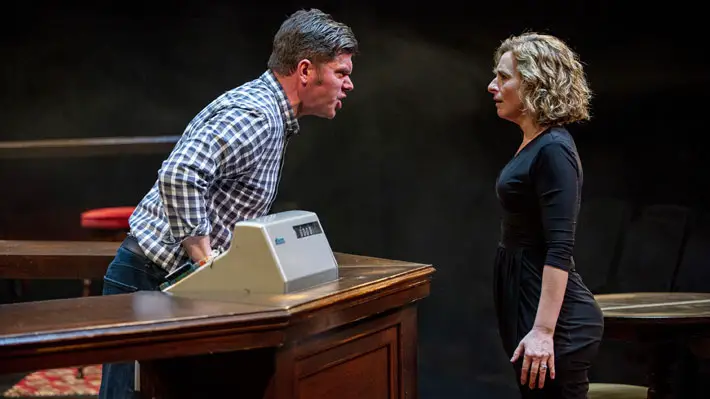 "Bittersweet and moving"
Director Mark Babych has chosen to stage the play in the round, so that the 'bar' is in the dead centre of the auditorium, with the audience seated on all sides. This adds an extra level of immersion. The viewer is transformed into a patron, earwigging on its many dramatic events. Adding to this immersive atmosphere, Stephenson and Wilson don't shy away from directing their lines at individual audience members – even, in one memorable sequence, inviting someone on to the stage. To complete the effect, audiences can buy themselves a glass of Standing Ovation from the foyer, a pilsner made specially for the production by Hull brewery Atom Beers.
Two is a funny, bittersweet and moving work that remains touching more than thirty years after it was first performed. The content remains, in Babych's words, 'universal and timeless' but the very concept of an old-school pub packed with locals is tinged with nostalgia. The pub in Two would, in 2020, as likely have been converted into flats. In this respect the play is not only an entertaining night out, but a valid historical document.