Pride and Prejudice [Chapterhouse Theatre] – Review – Burnby Hall Gardens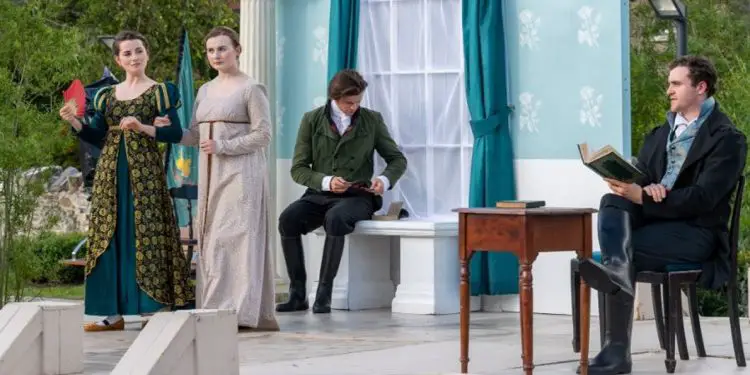 By Elizabeth Stanforth-Sharpe, July 2022
Burnby Hall Gardens has been described as 'a jewel in Yorkshire's crown'. It is home to the National Collection of Waterlilies, contains a number of relaxing themed gardens which are always inspirational for gardeners and holds regular band concerts, children's craft days, flower festivals and a whole lot more. Given to the town of Pocklington in 1962 following the death of its owners, Percy and Katherine Stewart, it is a truly lovely place to take a picnic, have a wander and while away a lazy, summer's afternoon.
It was the perfect place for Chapterhouse Theatre Company to perform their gorgeous adaptation of Pride and Prejudice, and although it had begun to drizzle, nothing marred the enjoyment of an audience who had brought with them umbrellas, blankets, linen napkins, crystal glasses, cheese knives, bottles of fine fizz and pop-up tables of very posh food; all the accoutrements needed for a quintessentially English evening.
Pride and Prejudice, the novel of manners, written by Jane Austen in 1813, has consistently been in the top ten of most loved books, in 2003 narrowly coming second to Lord Of The Rings, has sold over twenty million copies, is on the study syllabus of a number of exam boards, and has spawned many dramatic adaptations, unofficial sequels, films, fan clubs and TV versions. It's the story of the Bennett family at the beginning of the eighteenth century, a mother who is keen to see all her five daughters married to men who will improve their standing in society and the sometimes humorous, sometimes misjudged, turn of events that come with that desire.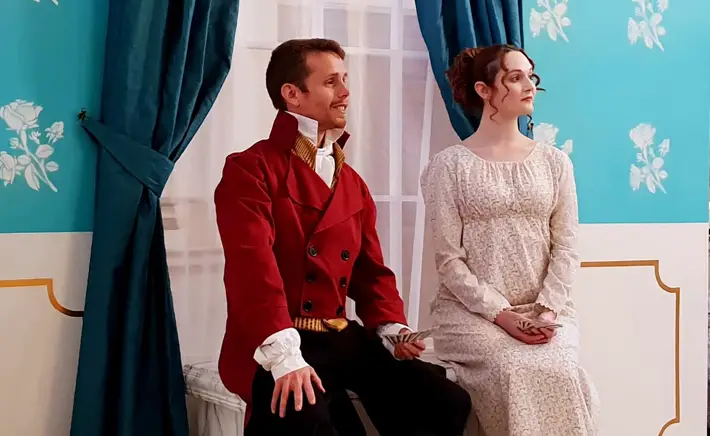 "Inspired"
Chapterhouse's version is adapted by Laura Turner, a playwright and screenwriter who has considerable experience behind her, including scripts for the BBC's Eastenders, Holby City and Casualty, and who is astute in emotion-driven narratives that provoke us to question our own motives and pathways. In her programme notes she writes:
'For me, this most famous of Jane Austen's novels couldn't be better suited for a summer's evening entertainment in a beautiful country garden setting. Not only is it a wonderful story of one woman's quest not to settle for anything less than her heart's desire at a time when many women didn't have such a privilege, it is first and foremost an unforgettable love story filled with some of the most unforgettable characters known in English literature…'
Director, Antony Law, is a teacher, director, actor and stage manager of over twenty years' experience, some considerable part of his portfolio being focused on the Classics, who has the perception to trust the actors to find and deliver their own understandings of the script; its humour, passion, drama and beauty, and his wisdom in that instinct is well rewarded.
Mr Bennett and Mr Darcy are both played by Robert Bingham, an inspired piece of casting. Mr Bennett stays well away from his wife's attempts at matchmaking, preferring a newspaper read in his favourite armchair, to attending balls and social functions. Mr Darcy loathes the social niceties and hates to dance but is dragged along by his friend. When Mrs Bennett complains that her husband never goes to the balls with them, there is a natural opportunity for comedy as the actor couldn't be both characters at the same time. The joke continues throughout the play, something that is perhaps funnier seen than written about, and something that could only happen in a small company confident in each other's timing.
"Frivolous and headstrong"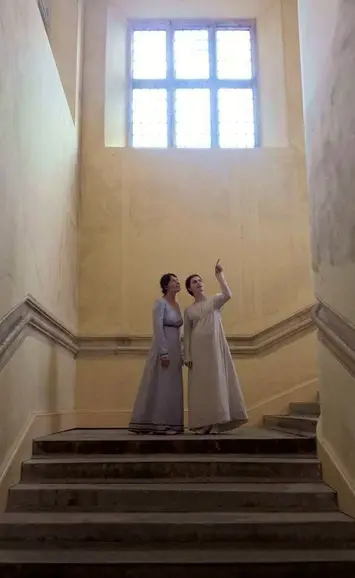 Mr Bennett is portrayed with glorious, sarcastic humour and a bemused twinkle in his eye as his wife's meddling unfolds. Mr Darcy, on the other hand, is suitably lacking in social graces and small talk, which as introverts through the ages have experienced, is often mistaken for haughtiness and pride.
Mr Bingley and Mr Gardiner are both played by Aidan Valentine. Charles Bingley appears more extrovert and affable than Mr Darcy, but it is a front for a lack of confidence and resolve that makes him seek the advice of others. Mr Gardiner, along with his wife, is instrumental in finally bringing about the marriage of Elizabeth and Darcy.
Troy Chessman took command of five characters, including George Wickham, the superficially charming soldier who wormed himself into the affections of Lydia Bennett, but it was in the role of of Mr Collins, the oily, obsequious clergyman that he truly shone. Dressed in a ludicrous coat and hat, glasses perched on his nose, reminiscent of the unfortunate pedagogue in Disney's original version of Sleepy Hollow, wringing his hands and delivering long-winded, pompous speeches, he was truly wonderful. Charlotte deserved better than to marry Collins, but the audience were given a real treat through Chessman's portrayal of this fawning, ridiculous man.
Equally strong was Caitlin Swanton, who played Elizabeth Bennett.
Annina Kaski, played Jane Bennett, who is inclined to see the good in everyone, the exceedingly accomplished Georgina Darcy, and the sickly Miss de Bourgh, with equal strength.
Caroline Bingley is vain, conceited and an unbearable snob who despises the Bennett family and is disdainful of the society of Meryton. Lydia Bennett is flirtatious, frivolous and headstrong, easily flattered and takes no heed of the moral codes of society. Both were played admirably by Amelia Howe who is making her professional theatre debut with Chapterhouse this summer.
Asha Ray played the seriously minded, bookish Mary Bennett, Elizabeth's friend Charlotte who marries the ludicrous Mr Collins, choosing financial security over love, and Mrs Reynolds, the housekeeper of Netherfield Park.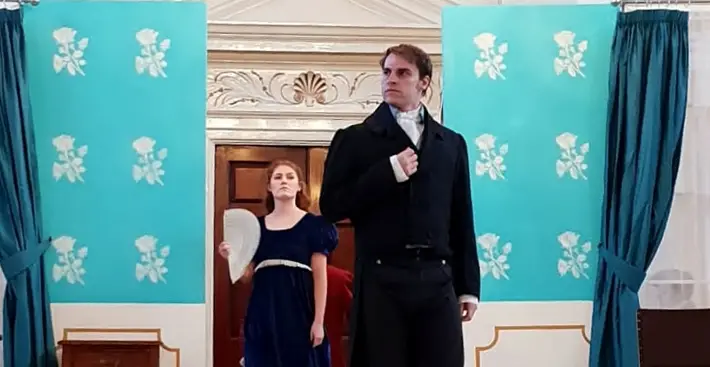 "Elegant"
Bethany Down has just joined Chapterhouse, for both this production and Romeo and Juliet. She didn't have the rehearsal period that the rest of the company had, and has had to hit the floor running, but she is a superb character actor, with funny, razor-sharp observational skills; Down is a delight to watch, and has stepped up to the challenge brilliantly, carrying responsibility for two of the most demanding characters as well as a more minor one. Lady Catherine de Bourgh is overbearing, domineering, haughty and pompous. Mrs Gardiner is elegant and genteel. Mrs Bennett, is the hypochondriac matriarch of the family, ambitious for her daughters, and given to palpitations and tremors when events do not go her way. When she demonstrated to her husband that he might like to join her in the bedroom, a gentleman sat some distance away from me chortled so much that pieces of his artisan pork pie were showered into the laps of those within spitting range. This is surely the accolade any comic actor strives for most.
The costumes designed by Pearl Constance and Nikkita McLusky are beautiful, and Lou Jardine's set is economically elegant. There are some graceful dance routines, and the wedding scene is romantically celebratory.
This was a perfect way to spend a summer's evening, and Chapterhouse are to be congratulated heartily. There are reasons why Jane Austen's work is still loved so much, and this company of eight demonstrated each one of them in this production.
The tour continues to a huge variety of venues throughout the summer, and no matter where you live in the UK there is certain to be one performance not far from you. Just one tip; take a small amount of cash with you. The company is small, doesn't carry a card machine, and programme purchases are cash only.
More info: chapterhouse.org