An Interview with Steve Hackett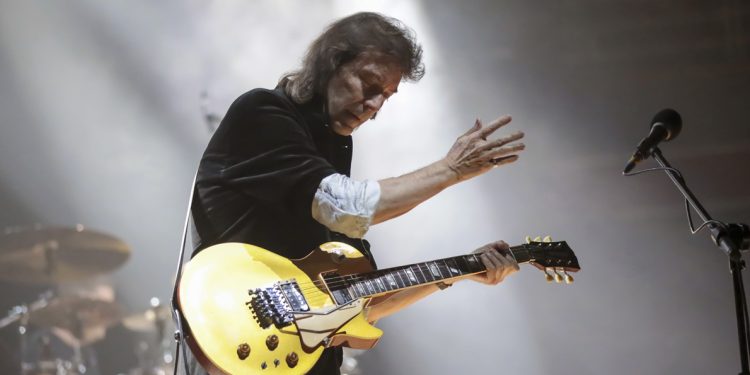 Steve Hackett discusses his upcoming UK tour and the 50th anniversary of the Genesis album Foxtrot…
We are at the fiftieth anniversary of the Genesis album Foxtrot and your forthcoming UK tour celebrates the album. How did you feel when you were recording the album, did it sit comfortably with you?
It didn't sit comfortably with me at all and, at the time, I was worried that Foxtrot was a little too far out for the listening public. Fortunately, I was proved wrong. Its relevance seems to have revealed itself over a very long period of time because I am sure there is no other album out there that sounds like Foxtrot. Whenever I have tried to write a song in the style of one of those tracks, it usually fails miserably and I think 'No, that's Foxtrot, leave well alone'.
Do you think that the album has stood the test of time?
I have always found Foxtrot to be an interesting album. Yes, I feel it has stood the test of time extremely well or, rather, I feel that the material stands the test of time. However, I could argue that the production, not in every instance but in general, left a lot to be desired.
Coming off a massive world tour, do you think that the time was right for you to go back into the studio to work on a new album?
We were a touring band; we were all young guys, we were fit, we punished ourselves with that kind of behaviour and we were recording somewhat piecemeal. We had the luxury with the previous album, Nursery Cryme, of taking time off and concentrating on getting an album right. However, we didn't have that luxury with Foxtrot. They were all young guys too and they were getting really excited about what we doing. There really was something about it.
"Let it breathe"
How were you personally feeling at that point because it had been rumoured that you wanted to leave the band?
I was involved in a stormy private relationship and that, for me, was a huge distraction from the band. I was used to being in situations with bands that didn't last that long and, particularly with Tony (Banks) and Mike (Rutherford), I got the feeling that they disapproved of what I did to a large extent. Until I got that seal of approval, on the first day of recording Foxtrot they both said to me: 'We want you to stay, we like your playing,' and I thought 'This is news to me, this is good news, so I had better stick around for a while'. Looking back, I guess that Genesis was more reserved and I think that reserve could quite easily be misinterpreted as disapproval. So, we did stick it out altogether and I have to say that I am very glad that we did. I was very much a fan of the way the guys were able to function together, write together, and add things to each other. I would say that the triumph outweighed the disappointments as the world thought that this was very good. Some albums are more difficult to make than others and you have to remember that this was the second album that we had made with the team comprising the Charterhouse guys, Phil Collins and myself. So, we were a newly formed five-man team. Some four hundred tour dates later, we were still very much a new song writing team together. I look back on it all rather fondly, I just wish that some of the album sounded as good as it did live, in particular 'Watcher Of The Skies'. I think that wherever you listen to the Genesis Live album, you get the mellotron sound that was closer to my heart and the drum sound that was closer to my heart, together with a fair bit of playing that is pretty good. Having said all of that, there is also a little bit of this and that I would change, usually things to do with timing. I had always hoped that 'Watcher Of The Skies' would have sounded a bit bigger and a bit slower in order to let it breathe. By the time we were doing Genesis Live it had settled into a comfortable live speed and we were almost in time and in tune with one another at the same moment!
Would you say that Foxtrot represented a coming of age for Genesis?
There was a progression, certainly, from the previous albums and I think that the quality of the writing had improved. That's not to say that there weren't some gems that predated this but it was the epics that I found myself attracted to. I loved 'Watcher Of The Skies' and what it did. The fact that it started off with this quasi-alienated classical orchestra in the shape of the mellotron, joined by a rhythm section that made it sound all the more powerful and the fact that it was the opposite of heavy metal. There are dynamics: there is the crescendo for a start, which is probably the most exciting bit of the tune itself; the staccato rhythm which orchestras can't play. It is so syncopated that, to this day, it continues to fox orchestras. You should never try to put an orchestra on the rhythm section of 'Watcher Of The Skies' or you will come a cropper as I have found out to my embarrassment. I have to say that it is a very clever rhythm. We are able to do things with the team, now, that we would have been hard pushed to do back in the day. I do love doing this stuff live, that's the point, and we really do tear into it with a will. We have recently been doing 'Seconds Out' and I have to say that it has just been getting better and better as the band go at it with more and more panache and attitude. They really do make it their own.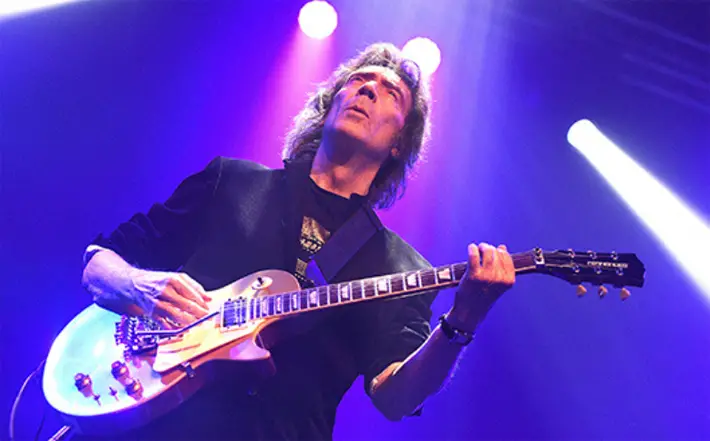 "Schools of ideas"
It has to be said that on the recording of Foxtrot Peter Gabriel really was at the top of his game.
Yes, I totally agree with you. Peter was a hugely creative individual, always had wonderful ideas and was largely responsible for the band's acceptance internationally. He was prepared to risk life and limb trying out things, not just on stage, but as a galvaniser of opportunities, a hustler. He was always very much ahead of the game, always at the forefront of technology and Peter and I hit it off because of that. For instance, the idea of doing the whole of 'Supper's Ready' live. I knew, and I think that Peter knew, that it wasn't going to work doing 'Supper's Ready' live unless we had all the bells, the whistles and then some. We needed our own light show, we needed the sound effects and Peter realised that he needed to personify it, to feel it, and not run it by the committee. He had to get up on the night and just do it: 'Don't ask what I'm doing, this is what I'm doing, this is what I'm wearing, you guys wear what the hell you want but I am going to be wearing a red box on my head. Let's make the devil!' That's fine, as you don't get things done in Genesis by not running them by the committee – you get things done in Genesis by being bloody minded! It was all to the good because whatever Peter did, got us photographed and written about. When people look back on this era, perhaps all of those things that were described as gimmicks – which made the difference at that time, seem to get consumed into the idea of 'Oh, this is really good music'. We were playing much of this music beforehand and it really wasn't setting the world alight, that is until the visuals served the best interests of that music so that it could be performed and loved in that way. You have got to give people a show, you have got to give them a framework and you have got to be spellbinding, in some way or another, particularly with complicated music. The funny thing is that I originally thought that the album sleeve was a bit of a hotch-potch. It wasn't until Peter started to personify the character on the front of the cover, as an afterthought, that it suddenly began to make sense. When people now look at the cover they will usually say, 'Oh look there's Peter Gabriel,' and they think that it is an illustration of him but, in fact, it was the other way round. He was personifying something that had been painted. We were lots of different schools of approach, schools of ideas that we all had. For me, it was spending as much time listening to Segovia as I was Jimi Hendrix. Tony's classical leanings and pop sensibility was equally as important. Peter was listening to a lot of Nina Simone's music and then there was Mike who liked Led Zeppelin and Judy Collins, lots of different ideas. Phil was very much into big bands and Tamla Motown, that is what motivated him. None of these things were Genesis but they all informed it in some way. All of these different ideas and things perhaps shouldn't co-exist in the same song, the same band, or the same album. I personally think that is what made it work, the differences with everybody, so you would get this richly textured, strange, quirky, often quaint, often comedic, very English sound.
I have always loved 'Horizons' which is the calm before the madness.
Yes, I am surprised that the band allowed me to use it. I think that the way that it was butted onto the beginning of 'Supper's Ready' is what makes it work. It acts as a precursor rather than a separate track. A lot of what Genesis did in those days was acoustic, and we used to say that if there was a song which was guitar based, it usually meant that it was based on acoustic guitar, and that guitar being a six-string Yamaha acoustic that I had borrowed from a friend. It really is a nylon guitar piece. It is based upon a Bach melody that I had heard at a distance. It has got brevity on its side, it's very short but it took me about a year to write that small piece. I just kept picking away at it, and when I thought that it was right, I played it to the guys and I fully expected them to say 'Well. that's you on your own,' but it was Phil, bless him, who said 'It sounds like there should be some applause after that and I think that we should use it.' And so we did. I was surprised that I got 'Horizons' on the album and I was surprised that they all liked 'Can-Utility And The Coastliners' as a song. I had written the song together with the lyric and I was surprised that they used a few bits of 'Supper's Ready' that I had come up with. Having said that, I was surprised that they liked anything that I ever did! At times, it could be like working with the Civil Service. I am quite open about the idea behind 'Supper's Ready' these days. I had seen King Crimson live in 1969 prior to them recording In The Court Of The Crimson King. They used to finish their set by mashing a bunch of numbers together, things as different as 'The Young Ones' and Holst's Mars. They would mash Cliff Richard and Gustav Holst and nobody missed a beat with that. I thought that if a band could do that and pull it off – and you can't tell where one thing starts and another thing stops – that's how 'Supper's Ready' was born.
You have been in the business for some fifty-four years now, have you enjoyed it?
Surprisingly, I have. Yes, I really have, and the surprising thing is that I still enjoy it. If I can, I try to play every day.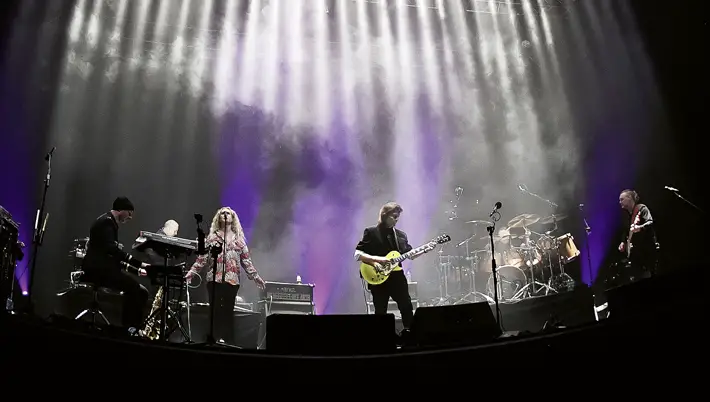 "Vastly neglected"
What can we expect for Hackett's Highlights on the forthcoming tour?
There will be some things that I have been wanting to play live for some time, songs that I personally think are very good. I feel that it is now time for me to showboat a few of those songs again. Plus, there will be some Genesis tracks that I know people are going to want to hear. I would like to do 'The Devil's Cathedral' again; we recently played that live and it just seems to be getting better and better all the time. I think that all in all, it is going to be a very good show.
Is Nad (Sylvan) in good voice?
Yes, he is. Nad has been extraordinarily consistent, he has done show after show and I have to say that his voice doesn't falter. He has, by far, been the fittest of all the lead singers that I have ever worked with. If he has a cold, or if he has got a cough, he just sings through it, and he doesn't seem to suffer. When he is match fit, Nad is mighty.
Will Amanda (Lehmann) be playing with you on any dates on the forthcoming tour?
Yes, she is going to be with us on quite a few shows but I can't tell you which shows they will be, yet, as she hasn't told me. She tells me that she would like to be on a few and I am very pleased that things have taken off for her with her album. I am informed that she is currently working on another one and I anxiously await to see what she comes up with.
I have to ask you about the forthcoming album Genesis Revisited Live: Seconds Out And More which, if my information is correct, will be released on Friday 2nd September.
Yes, you are perfectly correct. I finally went back out onto the road with my band during September and October 2021, our first tour for two years thanks to the pandemic. We performed 'Seconds Out', the Genesis live album in its entirety, tracks like 'Squonk', 'Supper's Ready' and 'The Lamb Lies Down On Broadway', all of which I personally feel have been vastly neglected over the past few years. We also played a host of solo favourites plus tracks from my most recent studio album Surrender Of Silence. We really had a great time and I have to say that the band were on fire. They tore into that magical music combining the true spirit of Genesis with a fresh virtuosic approach. They produced some extraordinary sounds under amazing lights. In my opinion, this show is a feast for both ears and eyes; the very best of so many worlds.
Steve Hackett plays Hull City Hall Sep 20; York Barbican Sep 24 & Sheffield City Hall Sep 30
Tickets are on sale now via sheffieldcityhall.co.uk
For full tour info visit: hackettsongs.com
top image: Mick Bannister