Not Dead Yet: Phil Collins The Autobiography – Review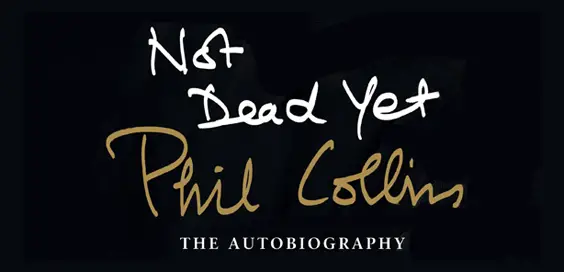 By Roger Crow
Phil Collins appears smug on the cover of his autobiography, Not Dead Yet. As I finish his stunning book, I realise that look is not just pride at his success in the music industry, and other fields, but the fact he's managed to avoid drinking himself to death.
I was never a fan of early era Genesis, being too young to latch onto their prog rock output. My knowledge stemmed from their 1980's work, and Collins' solo projects. When Peter Gabriel split from the band to forge his solo career, it was a classic case of 'looking everywhere but under their nose' for a replacement frontman. Hard to think now that Collins was reluctant to take up centre stage, or that he would be so unsure of success when his post-marriage breakup provided the fuel for debut solo album, Face Value.
The autobiography is a satisfying slab of a book, with a rather nice jacket (required). Of course, how good it is can either be like climbing a Swiss mountain with a twisted ankle or ascending by cable car based on the calibre of the author's work. And while he may have assistance by a great editor and transcriber, there's no denying Phil is a fine storyteller. He's been doing it for long enough. Though in recent years the once ubiquitous singer, songwriter, actor, drummer and instrumentalist did a vanishing act worthy of Houdini.
"Blue collar grafter adjusting to a world of musical privilege"
The book begins with the inevitable early years before covering his days as a child actor; being dropped from the Beatles movie A Hard Day's Night, and Chitty Chitty Bang Bang, and grafting on stage smash Oliver!
I'm given too much info about his teenage activities, but his big break with Genesis proves compelling. It doesn't take long to devour the first half, gleaning top facts about his private life, from him wetting the bed as a kid to his assorted divorces costing £42million.
Then there's his relationship with Mike Rutherford and Tony Banks. When Collins joined the posh duo, I imagine it was like Phil Mitchell gatecrashing the set of Brideshead Revisited, the blue collar grafter adjusting to a world of privileged musicians. But Phil was exactly what Banks and Rutherford needed, a cheery chap with a common (invisible) touch.
All drummers are the beating heart of any band and Collins' progression to frontman seemed a natural fit. He provided the thrust of the vehicle, so it seemed only right he should steer it from the front as well. Though like all great bands, they work as a committee.
"His relationships form the beating heart of the tome"
His success as a solo artist may have created tension among the group, as Collins had the audacity to become super successful on his own while Banks and Rutherford's solo work seemed to appeal to 'a more selective audience'. Yes, that's a quote from This is Spinal Tap, and there are plenty of nods to Rob Reiner's classic rockumentary scattered throughout.
While Not Dead Yet could be just a chronological arrangement of rock star anecdotes, it's his relationships that form the beating heart of the tome. His attempts to rescue his first marriage are touching. Though the fact is his devotion is to the band and his wife has to take a back seat. So there is little wonder she starts looking for attention from someone closer to home. Had she not strayed, we may never have had classics such as 'In the Air Tonight', and 'Against All Odds'.
Past the half way mark and I'm going to miss this volume. The chapter on Live Aid alone is staggering. The logistics of playing the London leg of the 1985 gig before flying via Concorde to Philadelphia are still mind blowing. And though it should be a dream for the Led Zeppelin-loving Collins to play with old mate Robert Plant and company, the atmosphere is toxic. No prizes for guessing who is allegedly blamed for their misfiring performance.
"Years of hard work almost unravel as he becomes an alcoholic"
There are countless touching paragraphs: Collins' regret at not being able to spend more quality time with his kids, and working with Clapton after the death of Eric's son is heartbreaking. But the most devastating chapter is 'Straitjacket Required', which follows the author's self destructive path after the demise of his mother. Plagued with health problems caused by decades of drumming, he's unable to do the one thing that has sustained him since a toddler. With his personal life up and down, he starts drinking. A lot.
Years of hard work almost unravel as he becomes an alcoholic. It's a sobering few pages as loved ones try to help, but he seems oblivious. Like the stunning drum solo at the end of 'Whiplash', he's on an obsessive mission that nearly finishes him.
While the rest of the book reads like a catalogue of successes combining with the true soap opera of his assortment of marriages and relationships, his health, or lack of it, is humbling and very touching. It's the best autobiography I've read in recent years. I'm sorry there's not more than the 412 pages that amaze, entertain, move and shock me for several hours.
"An incredible read"
For a brief time I'm allowed into that privileged world of rock stars; taken back to the heady era of Collins' ubiquity, and finally realise what happened when he dropped out of the limelight. And as intriguing sidebars, also discover he worked with Adele, and has one of the biggest collection of Alamo memorabilia in the world.
Whether you love or loathe Phil Collins, his life story is an incredible story. It's good to get the truth behind the tabloid headlines that told a sensationalist, often false version of his relationships.
'Both Sides of the Story' would have been an apt title, but Not Dead Yet is far more than just a witty aside about being a surviving sixty something music legend. It's a celebration.
'Not Dead Yet' by Phil Collins is published in hardback by Century, £20