An Interview with Chef Adam Reid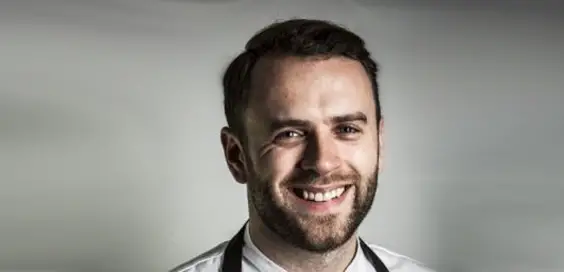 Chef Adam Reid became a major player on the restaurant scene when he became head chef at Simon Rogan's 'The French' restaurant in Manchester's Midland Hotel. Last year, he took over the venue, now renamed 'Adam Reid at The French'.
His training came under Simon Radley at the Michelin-starred Chester Grosvenor in Chester – and he really came in to public focus when his dessert course made the final banquet table on BBC2's prestigious Great British Menu in 2016.
We ask him about running a Michelin-starred restaurant in the north, what makes a good restaurant and his tips for young chefs…
Who do you try out new flavour combinations on first?
Myself, followed by my head chef, followed by whoever I think will give me the answer I'm looking for!
Do you think there has been an increase in access to top class food in the UK over the last decade?
Absolutely. Mainly I think because restaurateurs have realised that you need to appeal to a wider demographic than just rich people, even at the top level. This leads to much more relaxed, accessible and vibrant restaurants producing amazing food. There are more people willing to spend good money on a good dinner nowadays, so you need to offer an environment which does not alienate them.
"The North has to be appealing to big businesses"
What do you look for in an up-and-coming chef that makes you think they've got what it takes?
Imagination and creativity with respect for traditional methods and approaches. You can't learn to run before walking!
What makes a good location for a restaurant?
Anywhere that people want to go! Sounds daft but I don't think it's a unique formula. Your location needs to be relevant to what you are offering, and people will then be attracted to visit, whether that's a local market or from afar.
What are the benefits of running a restaurant north of the Watford Gap?
You don't have to go south of the Watford gap.
What do you think of the idea of a Northern Powerhouse, and how do you think it will affect the restaurant sector?
A Northern Powerhouse would rely on there being a reason for it. The emphasis has to be on not needing to go elsewhere. That means the North has to be appealing to big businesses who will attract more people up here to fill our restaurants every day and not just at weekends. Which in turn means making the North more appealing to the South. The problem the Government has is that making the North competitive will always be detrimental to the South… are they prepared to take that step?
"Yorkshire forced rhubarb is beyond a doubt the best"
How important do you think it is for there to be a steady influx of new talent into the industry?
Essential, it's a labour heavy industry so without skilled staff there are no restaurants, and with more restaurants opening there's more demand.
What advice do you have for young chefs looking to make their mark?
Work hard and understand the benefit of sticking it out. Too many people think 6–12 months is an acceptable learning period in a job. Realistically that's only where the hard work starts!
How important to you is sourcing local ingredients?
To me, a local sourcing policy is vital for a high quality restaurant. It ensures you can have a good and close relationship with the producer and can ensure my high standards are met and sometimes even exceeded. However, I do not believe it is the be-all-and-end-all. Good ingredients are produced all over the world and above all else it is quality which counts. I just believe in supporting your local area and community in whatever way possible. Being in the centre of a large city (Manchester) I see 'local' as anywhere as far as Cheshire, Lancashire or even Yorkshire. Yorkshire forced rhubarb is beyond a doubt the best and I am using Cheshire grown saffron, which is easily as good as anything from abroad!
Interview courtesy of russums-shop.co.uk