MG GS Exclusive MT – Review
By Liam Bird
The first press car loan of a new year is always something to look forward to. After a Christmas fortnight spent performing family duties and putting all too many miles on the already high-mileage 'daily-driver' whilst simultaneously and unfairly criticising one's own vehicle purchase, it's good to be back inside someone else's motor and drinking in that most intoxicating aroma: the new car smell.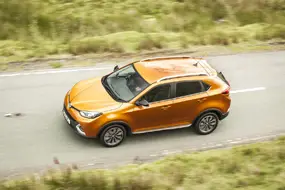 This year that most heady of scents was eventually provided by MG's new GS. I say eventually because MG's first foray into the ever-widening SUV market place arrived here a whole two days late. Due, I'm reliably informed, to a 'logistical error'. Of course, I'd never be so bold as to complain of such things…
Boasting a starting price of just £14,995, and a Qashqai (surely now the SUV benchmark) size, the MG GS is a front-wheel drive only, genuine 5-seater that boasts more power and torque than the majority of its more established contemporaries. Plus, there's a 5 year warranty to boot. It also comes with a standard kit list (if you plump for a one of the higher specs at least) that would embarrass most of its more expensive rivals: Bluetooth, sat-nav, aircon, DAB, auto lights and wipers, cruise control… the list goes on. It also gets some very all-or-nothing heated seats – never before have the Bird buns been quite so toasty!
"Hardly what you'd call confidence inspiring"
Jump aboard and although you're not met with a premium quality interior – hard plastics are the order of the day – overall the build quality is worthy of at least a little praise. Things appear well put together. They're logically laid out too, and once you wrestle with steering-rake adjustment – the leather seats in our Exclusive spec GS are electrically adjustable – the driving position also proves pretty comfy.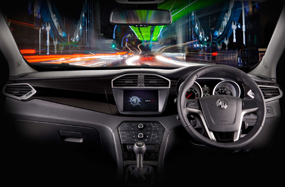 Visibility is also worthy of note. The high set driver's seat offers good views over the GS's angular bonnet and wings. But the GS's edgy styling means the view rearwards is compromised to say the least. Were it not for the reversing camera you could completely hide another car from the GS's driver's view simply by parking it closely to the rear hatch. The steeply raked rear window, sizeable pillars both back and front, and poor turning circle don't exactly aid tight parking manoeuvres either. But at least the door mirrors are a good size, and you do get parking sensors.
MG is now Chinese-owned and it is parent company SAIC that boldly claim the GS is designed for British Roads. Hmm… I'm not quite so sure. The Octagonal Morris Garages badge may well have graced more than a few sports cars since it first appeared in 1924, but a sportily firm and fidgety ride in an SUV seems decidedly out of place. Pair that with oddly-weighted and numb feeling steering, considerable body roll, and an engine that sounds coarse and feels as if it's run completely out of puff at anything approaching motorway cruising speeds, and when faced with a bleak night's drive back across the Brecon Beacons, the GS is hardly what you'd call confidence inspiring.
"MG as a brand is now a bit of an unknown"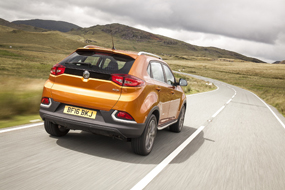 It is practical though. The rear seats fold flat, the boot is a good size and there's no loading lip. There's even a proper spare wheel – and it'll seat five with ease. And of course there's that 5-year warranty. There's no diesel option though; that 1.5 litre petrol is the only engine choice there is. There's no four wheel-drive option either.
The pros and cons go on and, alas, MG as a brand is now a bit of an unknown. Ask yourself: Where is your nearest dealer? And also, what will the GS be worth in five years? If you can answer the first question without having to Google it (I had to) and you couldn't give a stuff about residual values then the GS's undeniable value, its generous standard equipment list, and its size might well serve you well.
Alternatively, and like me, you might not think that MG's first attempt at an SUV was really worth the wait.
MG GS Exclusive MT
Engine: 1498cc 4Cyl 16V petrol
Transmission: 5 Speed Manual, Front wheel drive.
Power: 166bhp @ 5,600rpm
Torque: 184 lbft @ 1,600 – 4,300 rpm
0-60 MPH: 9.9 Sec
Max Speed: 118mph
CO2: 139g/km
MPG: 46.3 combined
Price: range from £14,995 (as driven £20,209.97)