Yorkshire's 1,000-Foot Peaks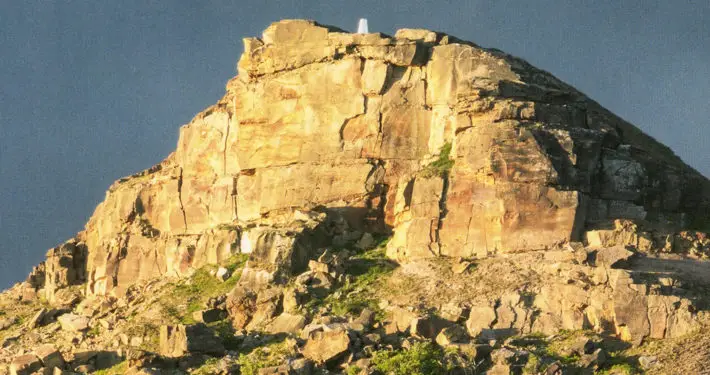 By Jeff Kent
North Yorkshire's 1,000-Foot Peaks
North Yorkshire is the largest ceremonial county in England and therefore, not surprisingly, has a varied geography. The Central Pennines, which are now commonly referred to as the Yorkshire Dales, are more a high, dissected plateau of Carboniferous limestone and millstone grit rocks than a chain of mountains and occupy most of the west of the shire, standing between the Stainmore and Aire Gaps. This is where North Yorkshire's highest hills are found, with quite a number of them reaching over 2,000 feet in height and being topped by Whernside, which rises to 2,415 feet.
To the east, between the Vales of Mowbray and York and the North Sea, are several other significant upland areas, most notably the primarily Jurassic age Cleveland Hills, Hambleton Hills and North York Moors, which contain a significant minority of the county's 600 1,000-foot peaks.
1. Sugar Loaf, 1,995.08 feet/608.10 metres, SD 893768
A significant rise on and the highest point of a short, south-southeast to north-northwest-running ridge. It rises fairly steadily and then gently from the Hagg Valley to the north, very gently from a col to the east-southeast and variably from the Cosh Valley to the west and Littondale to the south. OS Maps shows its summit to be at the OS 1:25000 map 609-metre spot height, although an independent survey in 2012 indicated that it was a little to the northeast, with a height of 609.34 metres. There are numerous shake holes on its slopes; Horse Head is situated on its north-northwestern flank and Halton Gill hamlet is located on its lower west-southwestern one.
West Yorkshire's 1,000-Foot Peaks
West Yorkshire primarily consists of high millstone grit Pennine moorlands in the west and heavily populated valleys running broadly eastwards from them, steeply at first and then gently, into the Vale of York. Although the higher landscape is mainly bleak, nowhere does the ground reach 2,000 feet. Nevertheless, the county contains no fewer than 152 hills standing at over 1,000 feet high (mostly within close proximity to its numerous urban areas), a surprisingly large number considering its relatively small area and dense population.
1. Black Hill, 1,905.84 feet/580.90 metres, SE 078046
A small plateau, which is the highest hill in West Yorkshire. It rises steeply and then very gently from the Crowden Little Valley to the south, very gently from Heyden Head to the east and variably from Far Grain (via Holme Edge) to the west and Dean Clough (via Black Dike Head) to the north. OS Maps shows its summit to be just east-northeast of the OS 1:25000 map trig point on Soldier's Lump, which is marked as standing at 582 metres. However, an independent survey in 2015 calculated its highest point to be on the top of a mound within the 580-metre tiny contour ring approximately 150 yards southwest of the pillar, which is also situated in West Yorkshire.
The peak was the highest point in the historic county of Cheshire and the current boundary between West Yorkshire and Derbyshire runs across its summit area, broadly from southwest to northeast. Tooleyshaw Moss covers most of its southern slopes; Dun Hill is situated on its west-southwestern flank; Great Hill, Wrigley's Cabin and Cliff Edge are located on its east-northeastern one and Issue Edge, Hart Hill and Stopes Moor are sited on its northeastern one.
South Yorkshire's 1,000-Foot Peaks
South Yorkshire is a small county, which stretches from the eastern side of the South Pennines to the Vale of Trent lowlands. Most of its streams and infant rivers flow broadly eastwards through steep-sided valleys carved through the largely millstone grit high moorlands standing in the far west of the shire. Although none of the hills there reach the height of 2,000 feet, 81 of them rise to above 1,000 feet. Considering the size of the county and its high population density, this is a particularly large concentration of peaks of a four-figure height.
1. Howden Edge (High Stones), 1,799.87 feet/548.60 metres, SK 188943
A flattish-topped peak, which is the highest hill in South Yorkshire. It rises increasingly steeply from a col (via its own edge) to the west, gently from headwaters of the Cartledge Brook to the east and very gently from further cols to the south and north. OS Maps surprisingly shows its summit to be at the OS 1:25000 map 548-metre spot height and not within the 550-metre tiny contour ring just to the west. Middle Moss is situated on its eastern slopes, High Stones are located on its partly rocky upper western flank and Penistone Stile is sited on its west-southwestern one.
'Yorkshire's 1,000 Foot Peaks' by Jeff Kent is published by Wittan Books, £14.75, available from bookshops and Amazon and signed copies can be purchased from independentmercia.org
Top image: Stoodley Pike in West Yorkshire © Philip Openshaw