The Lume, Manchester – Hotel Review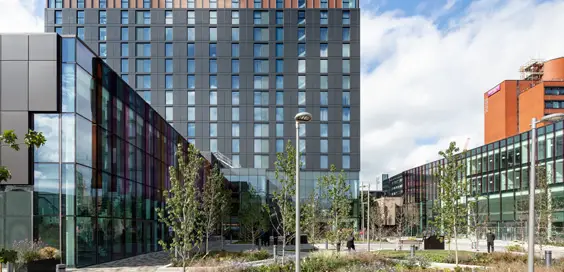 The Lume, Manchester
Hotel Review
by Roger Crow / @RogerCrow
What is the secret of life? Well, glad you asked. Holidays, and lots of them. And if you haven't got endless days at your disposal because of a little thing like work, then mini breaks are definitely the solution.
So, this Friday night at 5pm it's a case of rush home for a cuppa, throw some things in a case and head for one of Manchester's newest hotels.
The dinner we had booked at The Lume for 8pm is more like 8:30pm due to a bit of trouble matching the sat nav to the car park post code. Eventually we find one, and £10 for 24 hours isn't too bad.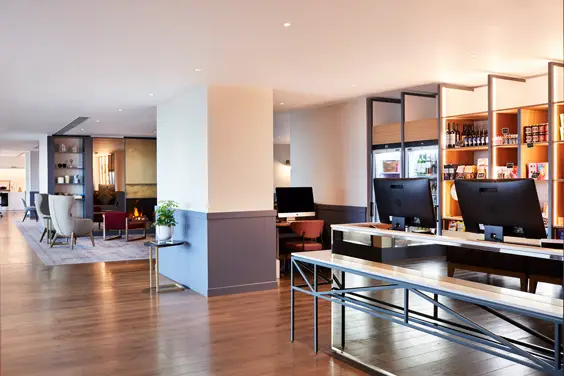 Thankfully within a few minutes of dispensing apologies for lateness, we are shown to our table, and start feeling more human again.
The restaurant is terrific. Part of the lobby has been annexed to form The Laureate, a spacious, airy eating place which boasts beautiful lighting and a cooking area in which to watch hard working folks prepping our order.
I order a mocktail, which is a perfect thirst-quencher.
For starters I opt for the sushi rolls with wasabi and pickled ginger, which is a revelation. Sushi never used to be my thing, but in recent years I've been converted, and this is the best I've tasted. Anywhere.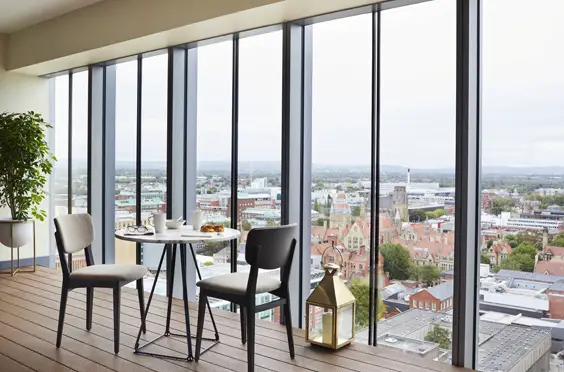 "Great value"
Rachel goes for flatbreads, which are equally moreish. As I've ordered pizza for main, I don't want to overdo it. And the crispy beef and blue cheese pizza when it arrives is delicious. As is Rachel's vegetarian Vietnamese Pho, with shiitake, rice noodles and spring onions.
All the dishes and drinks are great value, and there's little chance of feeling like you're paying inflated prices.
So that's phase one of the operation over: have a terrific meal, but how does our king suite check out?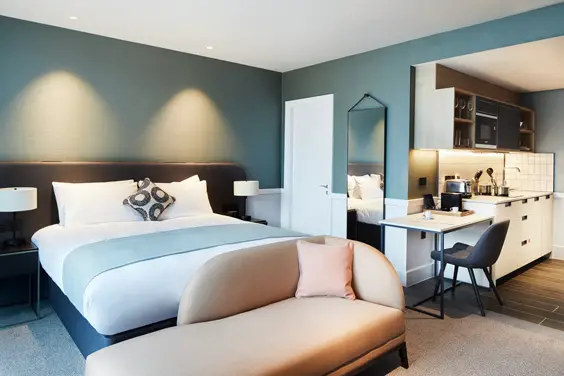 Well, it involves a little navigation to check in. The first few floors of the hotel are owned by Crowne Plaza, so we have to go up to floor 18 to find the Staybridge Suites' reception. That doesn't take long, and we also get to witness the sunset of the year. It's the longest day, and the skyline over Manchester is breathtaking. The fact the communal lounge area is mostly empty is a bonus. We wander around taking in the view from every available spot, while soaking up the elegant decor. The enormous teddy bear on one sofa means Rachel gets to collapse into his arms for a few minutes.
Our suite is phenomenal. A kitchen area with everything you need to cook a meal and wash up, including a dishwasher. There's a living area with comfy sofa and huge TV, and obviously posh coffee making facilities. If you prefer a cuppa, there's that too, though very little milk, so best to bring a bottle with you, and a box of tea. (You can get ready meals and provisions from the check-in area shop if you fancy, and they're all at an affordable prices rather than over inflated price tags that some hotels opt for).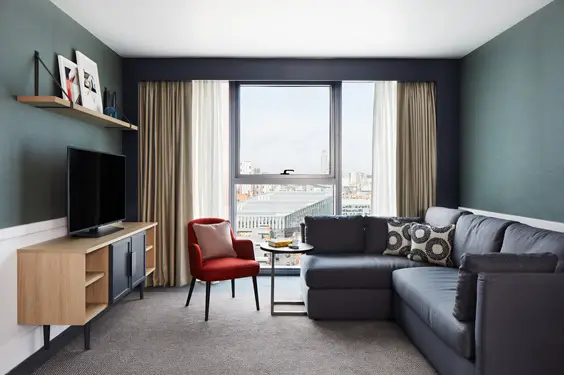 "Incredibly comfortable"
The bathroom is spacious and spotless, with a great 'panto' power shower. (The controls are behind you).
The bedroom is dominated by a huge bed, which proves incredibly comfortable; wardrobes with motion sensor lights, and another huge TV. If there's nothing you fancy on the box, you can stream content from your phone or tablet via the free WiFi.
Oh, and should you need to charge up either, there are USB ports for that too.
And again, there's that amazing view which on the longest day proves better than any hi def TV. After a coffee from the Nespresso machine, we retire for the night.
Following one of the most comfortable sleeps I've had in months, and a glorious shower, it's time to face the breakfast area.
It's around 9am and the place is buzzing with life. We manage to find a table in the glass partitioned eating area, which boasts those wonderful views. We're a little late, so grabbing a bite to eat turns into a military operation as hungry punters criss-cross from the toast to cereal to juice area. It's not long before we have scrambled egg, toast, sausage, bacon, mueseli and cappuccinos and can enjoy breakfast.
Following which we have a tour of the facilities care of a hotel guide who looks likes Alec Baldwin, circa 1988. I'm not the first person to mention it, and suggest that if he tires of the hotel business, he should send off some photos to Hollywood. Not that he needs to – he does a great job of showing us the different rooms and facilities. The DIY laundry is free, which is a bonus. Just bring your own washing machine pods.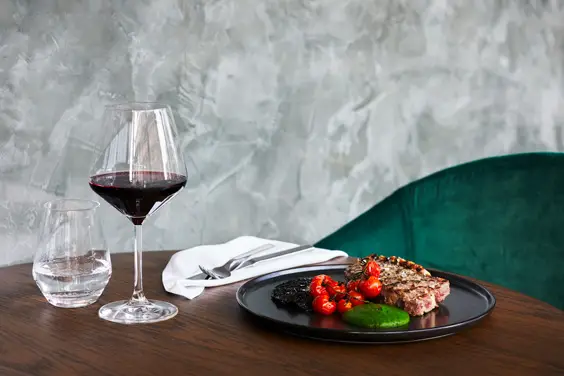 "Could happily set up residence"
The queen suite is obviously smaller than ours, but still very alluring, and the prices again are very attractive. Good to know if we fancy a few days of luxury in the near future and want to enjoy Manchester in style – preferably for a few days as Staybridge Suites offers complimentary drinks at teatime, and social events which make longer stays more attractive. Naturally the longer you stay, the cheaper it can be, and given the chance we could happily set up residence for a week or more.
There's no shortage of options if you're looking for a business conference, and the gym is excellent, for those who want to work on that "beach-ready" body – or whatever the buzz term is this season.
We wonder how expensive is it "off season". And then of course we realise there is no off season in Manchester, as it's always thrumming with some event, match, gig or festival.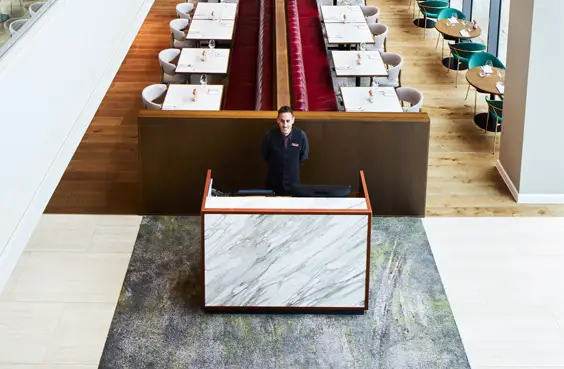 Following that excellent tour, in which I go ga ga over the lighting, and tech facilities, we walk off breakfast with a 1.5 mile trek into town. Obviously you can get buses and taxis, but as I spend a week behind a desk, I grab any chance I can to burn off calories.
And of course there's no end of attractions, whatever your taste. I don't really need to sell Manchester; it does a great job on its own, but good to know in future that if we want to enjoy any of the myriad events on the relative doorstep, we can enjoy one of its best hostelries, and eateries, without worrying too much about the cost.
It's not so much a case of 'if' we return to The Lume and outstanding Staybridge Suites, but when. The staff are excellent, the rooms terrific and the food is to die for. I get the feeling even the real Alec Baldwin would approve.
The Lume Staybridge Suites, 30 Higher Chatham Street, Manchester, M15 6ED
The Lume is located in the bustling Oxford Road area of Manchester, within walking distance of the city centre and easy access to major tourist attractions and transport hubs. The Staybridge Suites are 116 studio and one-bedroom suites, all with fully-equipped kitchens, ideal for guests staying longer or looking for more home comforts. Prices are around £90 per night.
0161 3595556
thelumemanchester.com