Burleigh Court Hotel, Stroud – Review
The Cotswolds is a wonderful, beautiful place. Every time I come here, it leaves me wanting to come back more.  It covers almost 800 square miles, running through five counties.  Each and every area of the Cotswolds has its own feel and its own identity, and all of it I've encountered so far is simply breathtaking.
My partner and I were heading for Stroud this time, for a night at the Burleigh Court Hotel. A sumptuous and elegant Manor House, it was going to be a stay that was worth every minute of the four hour drive to get there.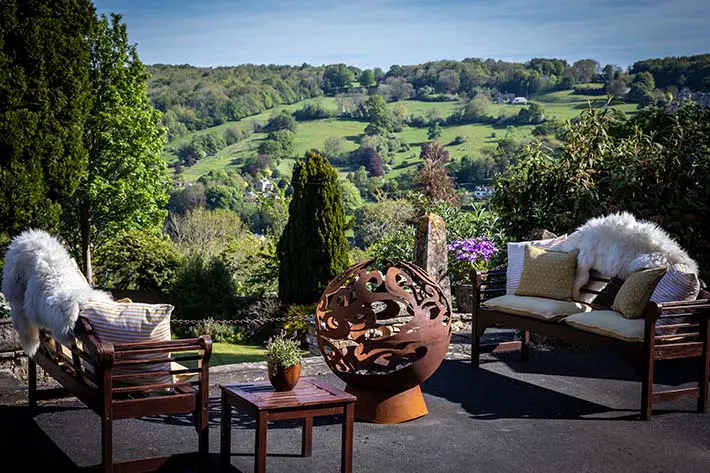 "Natural grandeur aplenty"
On the way down we realised we'd hit the jackpot. We'd booked our stay to coincide with an unexpected burst of hot, sunny weather which just enhanced our first impression of Burleigh Court Hotel as we arrived in its grounds.
The place was striking. People were sat outside, enjoying a relaxing drink and looking out on to the stunning views that you get from the beautiful gardens.  There was a lovely atmosphere, and Burleigh Court itself sat there proudly, looking as resplendent as its surroundings. Natural grandeur aplenty, and a property that was very obviously well taken care of. The air was incredibly fresh, and you could barely hear anything except the birds tweeting.
My partner and I looked at each other and we were just smiling. I can't remember what we said, but we both had the same feeling about where we were. It was the beginning of a stay that was to please all of our senses.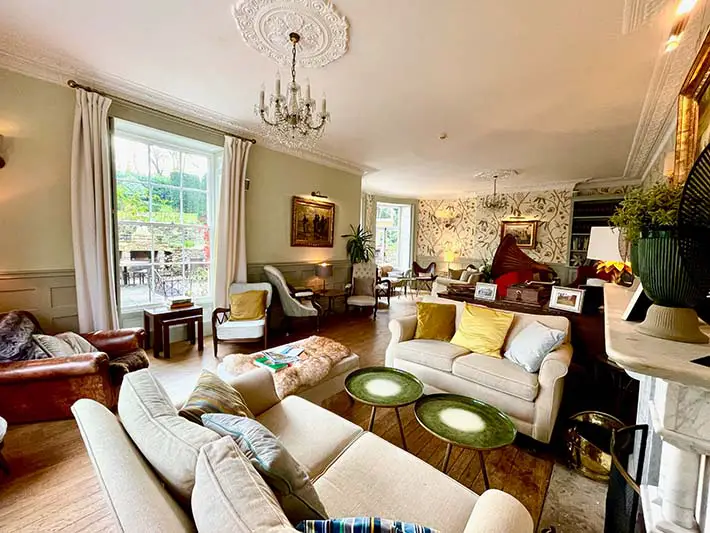 "Luxury and traditional country chic"
As we entered the reception area to check in, we ran our eyes around the interiors. We were met with a cosy mix between luxury and traditional country chic.  A boutique feel, and natural with it. A small bar to our left, and a lounge in front of us, we'd stepped in to a very tastefully created hotel, which felt as lovely inside as it did outside.
A young, polite, and very cheerful member of the Burleigh Court team greeted us. He set the trend for the kind of interaction we'd have with the staff here, with everyone being pleasant and genuine whilst taking care of us during our stay.
He handed my partner and I over to a colleague who checked us in very swiftly, and accompanied us upstairs to our room. And what a room we were in for the night.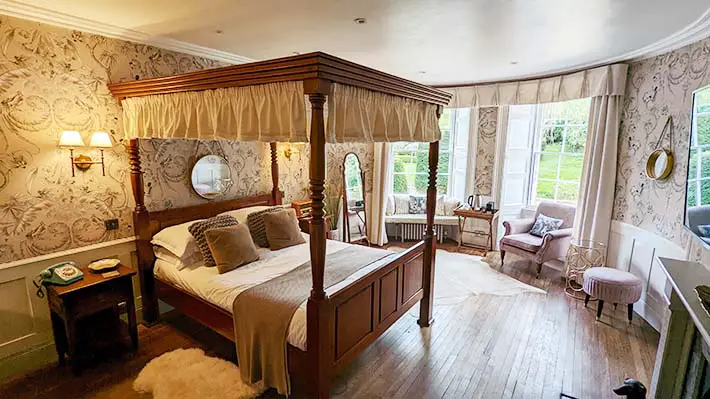 "Opulent and tasteful"
Our room was Foxgloves. The Romantic Room. A four-poster bed imposed itself in the middle of this large room, and the wooden floor complemented its period look.  We had largely traditional furniture with subtle touches of modern fused in here and there.
A large oak wardrobe and folding blinds on the bay windows brought the look together. And whilst the focus of the room was traditional, we had a few mod-cons too. The old style telephone and vintage-style digital radio looked the part. And the Nespresso coffee machine was one of the more obvious modern details. But the way our room had been styled was beautiful. It felt very opulent and tasteful.
We had a large bathroom, complete with two hand basins, a shower, toilet and a bath. It's always a pleasure to arrive somewhere for an overnight stay and have the option of taking a bath. The bathroom had a traditional, grand feel with its chandelier, white tiling and period handles.
It was very clean, and the addition of the good quality, home-made organic toiletries was a nice touch. We were pleasantly taken aback at where we were. So far, we loved everything.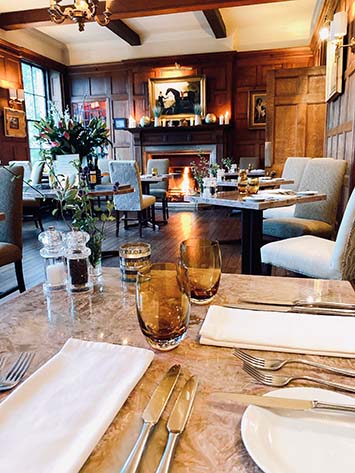 "Luxurious"
We'd hit a bit of traffic on the way down from West Yorkshire. This gave us a bit less time than we'd hoped for to relax around Burleigh Court Hotel before getting ready for dinner.  We did have the option of changing the time of our reservation in the restaurant, but we were ready for food. I'd already learned that the hotel restaurant served up the best local produce of the season, and it's an award-winning, two-rosette restaurant too. So, it looked like we were going to be in for a delightful evening.
As per the trend at Burleigh Court Hotel, we were welcomed into the restaurant so nicely. The charm and cheeriness of the people here are an excellent reflection on a fabulous hotel, with the genuine warmth certainly adding even more to an already impressive stay.
We were sat by a window, overlooking the garden and the Golden Valley of Stroud.  The view was beautiful, and the restaurant was another room that carried character and splendour.  The oak walls made a statement, as did the imposing fireplace at the head of the room. It brought home a reminder that we were in a luxurious Manor House.  Traditional artwork adorned the walls, and each table was tastefully dressed.
Once again, a lovely part of Burleigh Court Hotel.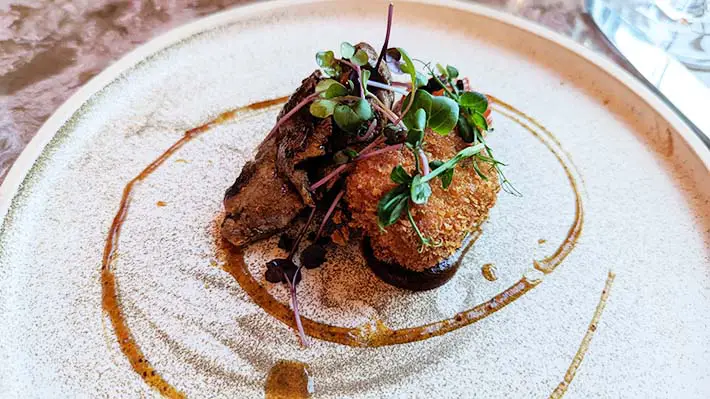 "Nice array of flavours"
As we sat down, we were handed a menu that contained a number of creative dishes. Here, two courses are available for £32pp, and three courses for £45pp. There was some tantalising options that catered for all tastes, including a good selection of vegan eats too.
My partner ordered the soup of the day (Tomato and Garlic) to start, with me opting for the Sous Vide Pig's Cheek.
For our main dishes, I opted for the Free-Range Chicken Ballotine, and my other half decided on the 32 Day Dry Aged Longhorn Beef Loin. We indulged in a bottle of Azevedo Louireiro Alvainho white (£27.50) and waited for our food to arrive.
My Pig Cheek starter was delicious. A melt in the mouth dish that was presented beautifully. It was accompanied by a tasty, crunchy ham-hock bonbon, a burnt apple puree, and tomato and swede chutney. With a nice array of flavours going in, it was a gorgeous way to begin a meal.
Across the table, my partner enjoyed her Tomato and Basil soup too. It was nicely fragrant, wasn't heavy, and despite not being over-powering in taste, it packed enough punch to be more than enjoyable.
So far, so very good. Another glass of wine while we wait for our main course.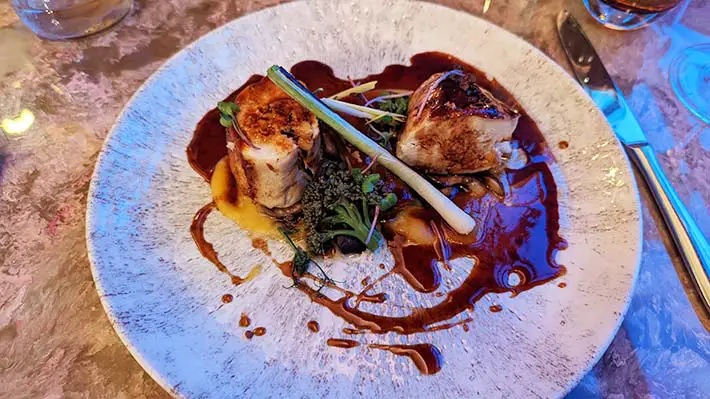 "Nicely replete"
The main-course options included Oven Roasted Skrei Cod and a Duo of New Season Lamb.  The menu prides itself on sustainability and sourcing ingredients from within 30 miles. Some of them coming direct from the Burleigh Court gardens.
Our choices arrived quickly, and they also looked incredible like our starters.
My Chicken Ballotine came with an apricot puree, Stroud IPA braised celeriac, and also wild mushrooms. The charred leek was substituted out for broccoli and spring onion. Once again, the meat was cooked perfectly, and I really liked the apricot puree addition to the plate. Unlike my other half, I'm a big mushroom fan and the way the chef had prepared them for this dish was lovely.
It had the presentation that nudged towards fine dining, but with a little more food on the plate. My main course was the perfect size, meaning that I was nicely replete, but very comfortable at the same time.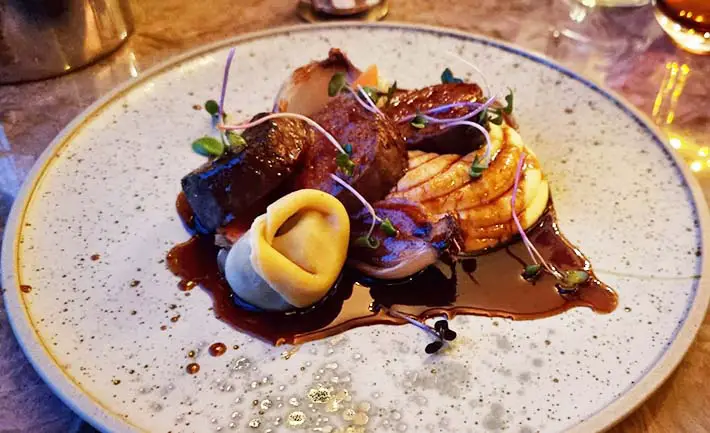 "Lovely atmosphere"
My partner's Aged Longhorn Beef Loin was cooked exactly the way she'd asked. It came with truffle mash, braised shin tortellini, burnt onion and broccoli. This dish was also the perfect size, and the mixture of flavours and textures worked together well. We were both very satisfied diners.
Although our food arrived in a timely fashion, we were sat in the dining room for the best part of two hours. It was just a nice place to be. There was a lovely atmosphere, and we found ourselves nicely relaxed. We also enjoyed watching the night draw in over the valley outside, something which is an added bonus to staying here.
After we'd eaten, we decided to pop outside to take a look at the hotel by night, and tastefully lit, it looked beautiful. We weren't searching for faults at the hotel, but if we were I'm not sure we'd be able to come across any.
By this point, it was time to retire to our room, and get some rest. We'd been on the go all day, and we were ready for sleep.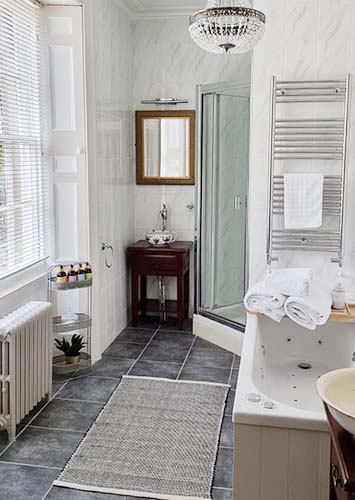 "A lovely night's sleep"
And what a lovely night's sleep we had. We were worried we may hear people passing through the corridors in the 19th century property, but once we'd fallen asleep we didn't wake until morning.
We'd been given a very comfortable bed, with the added romanticism of the covered four-poster. It was perfect for us, and made our stay even more special. We'd also closed the shutters over the window and that blocked out any light. The curtains didn't fully pull round, but were there softening the edges of the large bay windows.
We were both fantastically refreshed, and that was heightened after we'd taken a shower.  The shampoo, body wash and other toiletries smelled lovely, and had a very luxurious feel about them. We found out these could also be bought in reception – one to remember when you come to stay here.
Before meeting residential foraging expert Emmauelle for a trip around the grounds this morning, we had breakfast to eat. We were in the restaurant for 9:15am, and around half the tables were taken.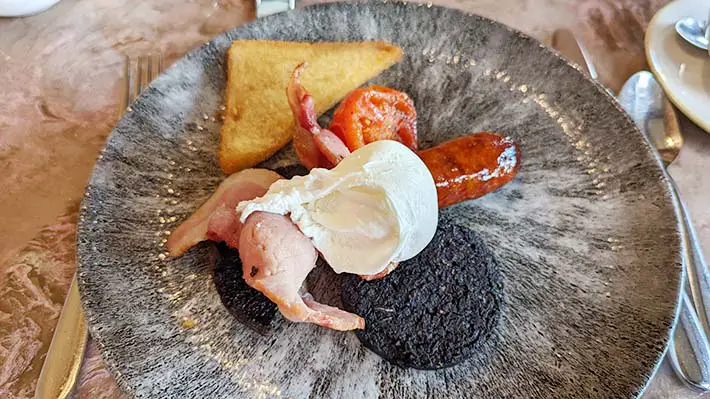 "Perfection on a plate"
We were shown to different corner of the restaurant from last night for breakfast, and were asked to help ourselves to fruit juices and anything from the continental selection. The apple juice was very refreshing (I think it was freshly squeezed) and a welcome start to the day for me.  And the breakfast menu looked delightful too.
For me, I wanted to try the full English breakfast. I was very keen on trying out the local eggs (poached please), bacon and sausage, as well as black pudding.  So, that was my order without question, with my other half plumping for French Toast.
Well, what can I say about Breakfast? My full English was perfection on a plate.  The quality of the ingredients were above anything I've had for a very long time, and it tasted incredible. The black pudding was the best black pudding I have ever tasted. By a long way. And, although I'm no connoisseur, I can tell that the quality of the portion I was served at Burleigh Court would come high on the list of any black pudding fan.
My breakfast came without beans. Something I didn't notice until someone pointed it out when I got home and showed them a photo of my plate.  I didn't miss the beans at all, because they'd cooked my breakfast so well. The entire plate was succulent, and just juicy enough to not need any sauce-based additions to the dish.
The French toast also looked great. 'Eggy' bread, bacon and maple syrup…plated up beautifully, and I was assured it was as good as it looked. A breakfast can make or break the beginning of your day. And it's fair to say we'd had a great start to our Saturday.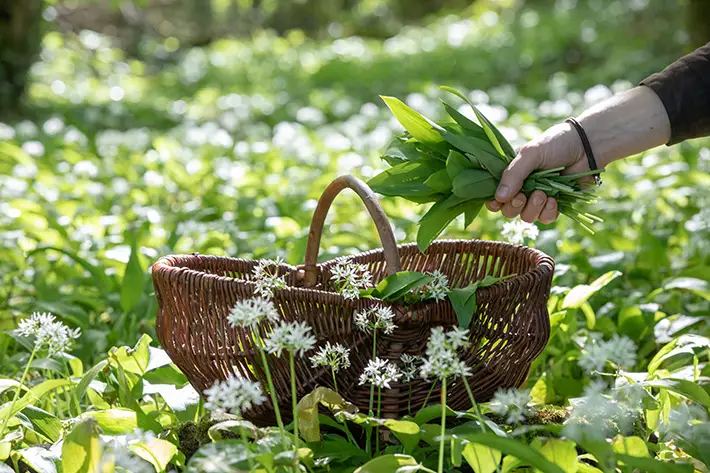 "Something unique"
Burleigh Court Hotel offers something unique that you won't get at many other places. The Wild Foodie Foraging Experience, and at 10:30am on the Saturday morning we met resident kitchen gardener and forager Emanuelle Paulson for a taster of what this offers.
Emanuelle leads foragers around the grounds, the gardens and in to the local area to show, and surprise them with just how much food is around us without realising.
She led us through wild garlic in the garden, while we also stumbled upon oregano in-between cracks in the pavement.  We were encouraged to pick certain leaves and flowers, sniff them and taste them. I happily did this on occasion, but opted out of picking and eating a nettle leaf. Even if Emanuelle did it herself first and showed us the sting-proof technique to follow.
She is very passionate about what she does, and as you wander round with her that passion rubs off on you. We learned that we can make soups, gins, sauces and more from the basic contents of our garden. And that's without growing anything special. We also found out what bits of nature we should stay away from, and our 90 minutes with Emanuelle went by in an enjoyable flash. My partner and I throughly enjoyed being informed and educated about foraging, and the phrase 'food for thought' was never more appropriate than it was here.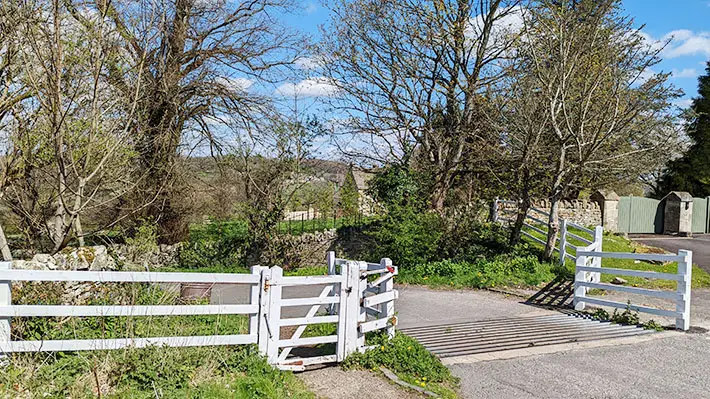 "Well and truly spoiled"
Burleigh Court Hotel is ideally positioned for a bit of outdoor exploring. Westonbirt Arboretum isn't far away, and Bath is only 40 minutes away by car. But, after checking out of the hotel we wanted to see what was on its doorstep. And before jumping in the car to our next destination, we spent a few hours walking up to and around Minchampton Common.
With the sunshine still beating down, we wandered through a lovely mix of winding country roads, footpaths and fields.  The views went on for miles, and we just felt well and truly spoiled by our rural getaway.
It was a shame we were only here for one night, as there was so much more that we knew we could see and do in the local area.
We thought about heading down to the bottom of the hill for lunch to a pub that we'd heard did great food, but we decided that we'd take one last drink on the terrace at Burleigh Court Hotel, and head off to our next destination.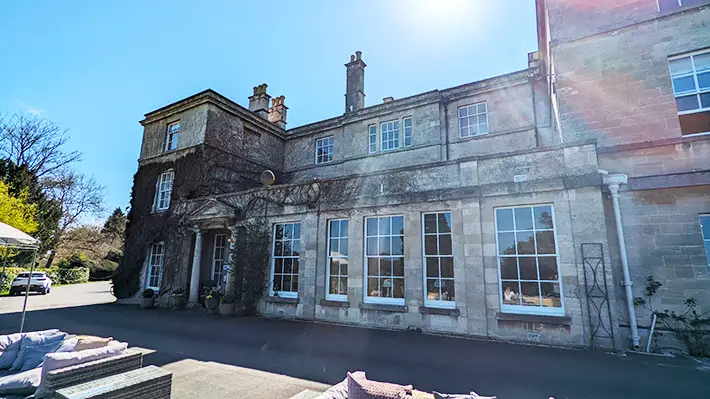 "A lovely, relaxed escape"
Sometimes you look for superlatives that don't exist because the ones that do don't seem accurate enough. I'm on the verge of making one up for how good our stay was here.
We'd had a lovely, relaxed escape by coming to Burleigh Court Hotel. We were made to feel special, whilst staying in a very special place. A delightful hotel, that provides an idyllic experience in a beautiful part of the country. If you're thinking about your next break, I would highly recommend a stay here. For the hotel, the service, the food, and also for the wonderful surroundings.
Next time, we'll be staying for more than one night.
Burleigh Court Hotel, The Roundabouts, Brimscombe, Stroud, Gloucestershire, GL5 2PF
Burleigh Court Hotel is a boutique hideaway hotel with a 2 AA Rosette restaurant in The Cotswolds. Room only stays are priced from £139 per night. Dinner, bed and breakfast packages are available too. 
The Wild Foodie Foraging Experience with Lunch is priced from £69 per person; £138 per couple and is available on select dates throughout 2022.
To book a stay at Burleigh Court, please call 01453 883 804 or visit www.burleighcourtcotswolds.co.uk.
Tel: +44(0)1453 933043
Email: reservations@burleighcourtcotswolds.co.uk
Images: Beth Higham & Steve Crabtree