The Ivy, Leeds – Restaurant Review
Leeds has a number of fantastic places to go and eat these days.  Whatever you want, you'll find if you have a walk around the city, or do a quick search online. And at the bottom of the Victoria Quarter sits The Ivy.
The Ivy's flagship restaurant in Covent Garden is renowned for being a place where you might be able to do a bit of celeb spotting. And in its Leeds restaurant I've seen sports presenters, TV stars and musicians before, and you never know who might rock up for a drink or a feed.  We didn't see anyone we recognised in here tonight, but there were more important reasons to be here anyway: Food!
We arrived early evening to be greeted at the door by the ladies in red. Very friendly, very welcoming, and very chatty. One of them led us into the restaurant, and seated us at a nice downstairs corner booth, towards the far side of The Ivy.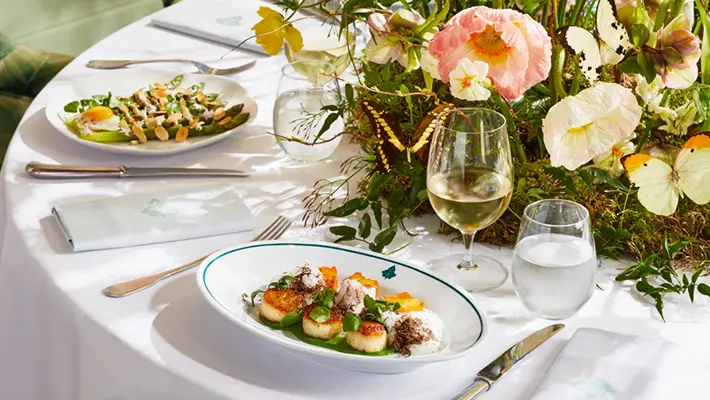 "Bright, modern and vibrant"
We were handed the spring menu, which brought us a lot of choice – and there were a lot of options that made my mouth water. The Crispy Duck Salad sounded lovely. And the Salt and Pepper Squid would have been a hit too. But I plumped for the Roasted Scallops (£13.95). My partner liked the sound of the Grilled Asparagus (£8.95), so that was her choice of starter.
The mains selection was equally as enormous. Lobster Linguine (£29.95) stood right out for me above everything else. And my other half decided to go for the Minute Steak at £17.95.
While waiting, we looked around the restaurant, enjoying how nice it is on the eye. The place looks very classy from the outside, with a bit of a traditional kind of exterior. When you enter the place, you're thumped in the face with its bright, modern, and vibrant look. It fuses in splashes of tradition here and there, and that makes the entire look work.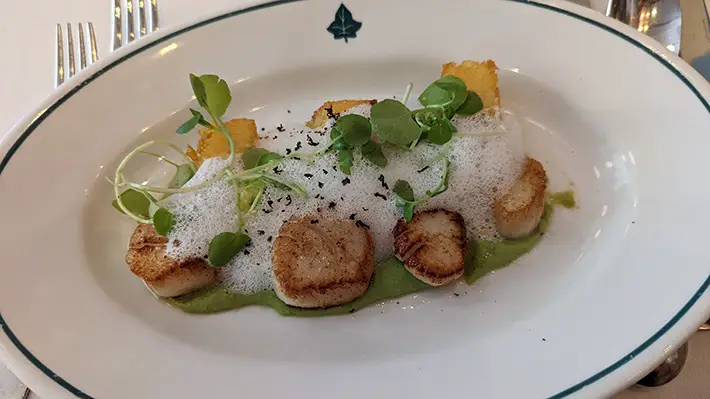 "Very succulent, very tasty"
Our starters arrived swiftly, and they looked lovely. The presentation was very nice, and both dishes carried a nice aroma with them.
My scallops came with crispy potato rösti, pea purée, parmesan sauce and grated truffle. The parmesan sauce was a frothy affair, floated over the rösti and the scallops, which in turn were served on the purée. The scallops had been cooked perfectly. Very succulent, very tasty, and the mix of the other ingredients on the plate made the dish very satisfying.  I have to say, the rösti wasn't something I'd really noticed on the menu when I chose the dish, but I'm glad they were there. They paired with the scallops nicely.
Around the table, my partner was also enjoying her asparagus. As part of her plate, she had Szechuan mayonnaise, capers, flaked almonds, fried quail's egg and watercress.  The asparagus spears weren't too crunchy, but neither were they soft. They'd been prepared well, and she enjoyed how it mixed together with the quail's egg.  The waiter recommended that the Szechuan mayo came separately, as it was very spicy, and his recommendation proved right. She did enjoy the sauce but added it in her own quantities which meant it didn't spoil or overpower her starter.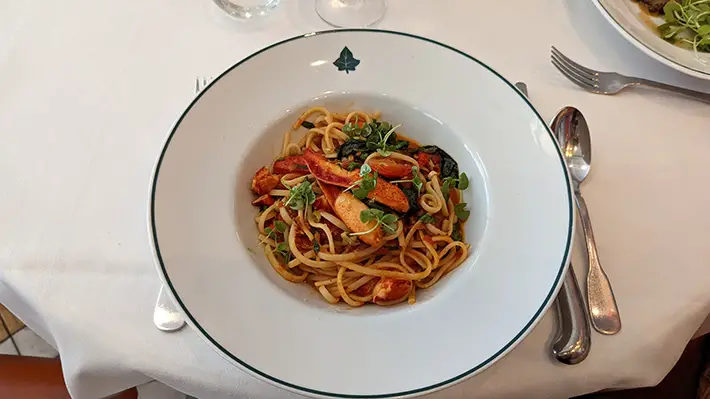 "Combo of flavours"
So far, everything here was so good. Our cocktails that we were sipping on were delightful and refreshing too. My Sparkling Peartini (£12.50) was light and lovely. It contained Grey Goose Le Poire, Italicus Bergamot Liqueur, Lillet Blanc and lemon. It also had The Ivy Collection Champagne in there too for good measure. My other half was enjoying the hi-ball Roundhay Gardens (£9.25).  This was a stronger affair, that comprised Wyborowa Vodka, elderflower cordial, cucumber, apple and lime, topped with Aspall Cyder.
Whilst enjoying our drinks, our main courses arrived. Once again, we had a presentation success, and I was a bit taken aback with my choice. The amount of Lobster in my dish was very generous, much more than I was expecting. It had been nicely cooked, and had a soft texture as I ate it. And it was seasoned well with tomato and chilli sauce with San Marzanino tomatoes, parsley and spring onion. The combo of flavours was delicious. A perfect balance, with nothing overpowering the main lobster taste,  just complementing it.
It was a lighter dish, and it was fresh. Size wise, you know you'd had dinner, and you finished it feeling satisfied. The flavours whirled around in the mouth for a while after as well.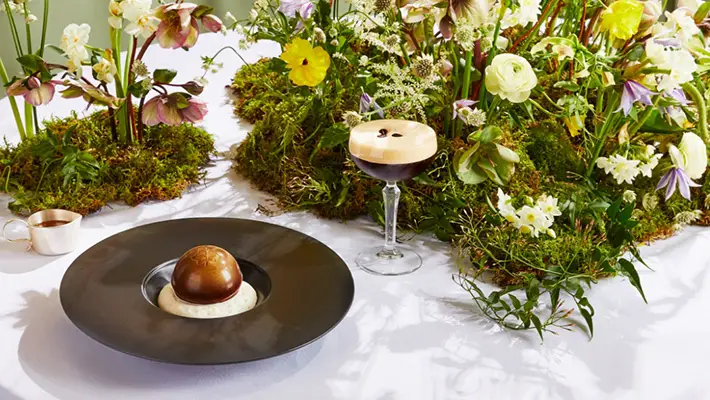 "Delicious food and drink"
My partner's Minute Steak was also cooked nicely, and exactly as she'd ordered. A thinner, grilled steak, smaller that what you'd get on a typical grill menu. It came with an abundance of peppercorn sauce, garnished with onions, watercress, and also a portion of Ivy cut chips on the side. Her knife sailed through the meat with ease. And, although being cooked well-done, it was tender to chew and it tasted lovely.
I have to say, we were really pleased with the dishes we'd chosen, but then it seemed like everyone in the place felt the same. There was a lot of happy faces, and also lots of clear plates being collected by the staff. A sign of something good.
The tea-time atmosphere in The Ivy is nearly as vibrant as the decor.  There's a nice level of music in the background, but above that are people enjoying themselves.  Maybe this is the walls and detail rubbing off on people? Maybe it's the fact that everyone's being taken care of nicely, and being served delicious food and drink? Either way, it's a lovely place to be. And also, a lovely place to try a desert.
Because the main courses were cooked so nicely, there wasn't a heavy stomach between us. So we wanted a little bit more and scanned the slightly compact dessert menu. The Chocolate Bomb caught my partners eye. And I went for the Black Bee Honey and White Chocolate Cheesecake. Little did we know that both these plates would be showstoppers.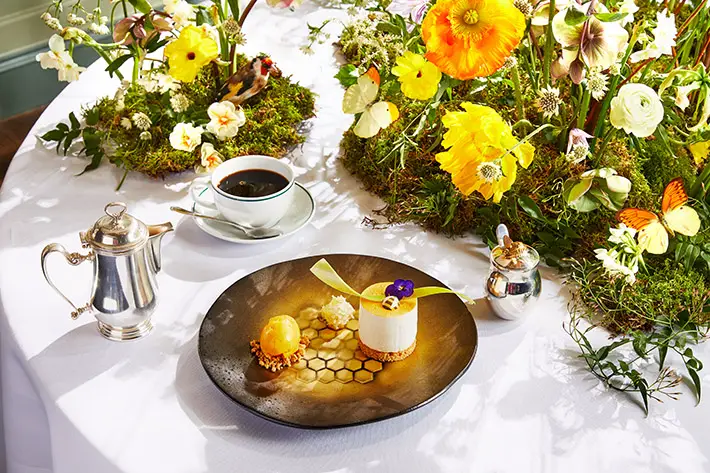 "One of the most memorable desserts I've ever had"
The Melting Chocolate Bomb (£8.95) arrived in front of my partner. All very neat and centred, and as our server poured over the hot salted caramel sauce, the chocolate oozed away revealing the vanilla ice cream and honeycomb centre.  What a delight! You can even imagine the sweetness and indulgence from the very combination of the dish.  And my partner loved it. She kept offering me some, but I had my own dessert to get excited about.
My honey and white chocolate cheesecake was the most eye-catching dish of the lot.  At £9.25 it came with mango sorbet, honeycomb and an edible flower.  And I savoured every last mouthful of it.  I've mentioned the combo of flavours throughout every course of our meal, this one also kept up with that trend. It looked stunning, and when I started to devour it, it was sensational. I'll go on record to say it was one of the most memorable desserts I've ever had.  Soft, refreshing and very tasty. The sweetness, the tartness, the texture… what a fine way to finish a fine meal.
Our visit to The Ivy this evening was a lovely experience. The service, the ambience, the restaurant, food and the drinks were all perfect this evening and we're just looking forward to seeing what the summer menu will hold.
The Ivy Victoria Quarter, Vicar Lane, LEEDS,  LS1 6BB.
Mon-Thu: 11.30am – Midnight
Friday – 11.30am – 1am
Saturday – 11am – 1am
Sunday & Bank Holidays: 11am – 11pm