How to Take Your Band's Live Set to the Next Level
As a live performer, you can probably tell when the audience is really into the music you are playing – and you can also tell when there is somewhat of a disconnect.
Every band tends to go through that phase at some point, whether you are trying out a new set or are in the middle of experimenting with creative ideas. Regardless of the reason you're reading this, we are here to help give you some ideas to take your live performances to the next level.
Read on for some simple ways that you and your band can capture the entire crowd and put on an awesome show!
Update Your Percussion Section
The percussion section of any band is responsible for keeping the music going. They are truly the heart of the band, so why not invest in some updates?
By adding a double bass pedal to your drum set, you will see the difference in how the audience responds. These pedals are perfect for both beginners and experienced drummers and allow them to keep up with any tune easily.
After all, so many people can agree that the feeling of the bass and drums ringing throughout the room is what live music is all about. These additions can make quite the difference in smaller venues and will really add some extra body to your music compositions as whole.
Add Some Lighting
While impressive musical solos are always a good time, there is something to be said about adding a little visual flare to your set.
Lighting, lasers, and smoke machines can help to push your live music to a whole new level of awesome. Not only do these additions really draw people's attention in, but they can also make your show seem much more professional in the crowd's eyes!
Even smaller, indie sessions could benefit from the addition of some lighting elements – don't knock it 'til you try it!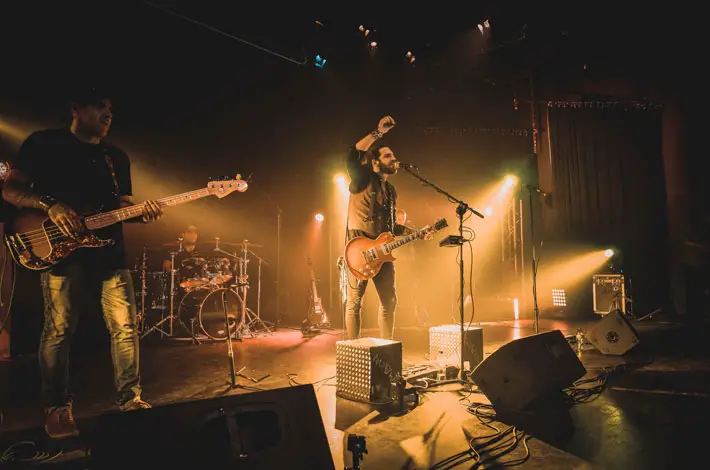 Polish Your Instruments
Though the music is the real art taking place during a live show, it can be easy to forget that the musical instruments themselves are their own type of artform.
Keeping your instruments polished and shiny is so important and should be done regularly. The crowd is going to be starting at you and your equipment for an entire setlist, so make sure you give them something pretty to look at.
For this suggestion, you can use regular polishes or take them to a professional to be cleaned. You also have the option to customise the exterior of your instruments into something representative of your band.
Whatever you decide, you and your fans will love having a whole new appearance for your band!
Modernise Your Equipment
Out with the old, and in the with new! Modernising your equipment is a surefire way to propel your live performances up a notch.
If you are using outdated sound or recording equipment, it is going to show. Older microphones and speakers just don't give the same quality of music and it can really affect the way your performance is perceived.
If you can, invest in some newer equipment to ensure you are putting on the best show possible. Amps and speakers are expensive, but truly worth it in the long run.
Playing in a band is such an exciting experience and gives you the opportunity to entertain big crowds if you do it right.
Live musicians are some of the most respected and talented people in the performing community because there is something so special about those shared experiences between the audience and the performers.
To make sure you are always putting on a great show, give some of these suggestions a try and see just how great you all can really be!