5 Ideas to Improve Your Home
Home improvements can add value to your property and make it a better place to live. You might be bored with your colour palette or tired of the stains on the kitchen cupboards. Home improvements can be as big or small as you like. Sometimes even the simplest of home improvements can make a huge difference to your mood and lifestyle.
Here are a few ways to improve your home this year.
Upcycle existing kitchen cupboards
The kitchen is often the heart of the home, and it shows wear and tear. Your cupboard doors might be hanging off the hinges, and your white walls might be covered in mucky handprints. Fortunately, these things can be easily fixed with a little DIY and a fresh lick of paint.
Remove the cupboard doors and give them a thorough clean. Remove the layer of dirt and grime, start painting them in a fresh new colour. You could go for a minimal, neutral tone or a bright pop of colour. Green kitchens are particularly popular at the moment, as sage and lime green make a comeback. Pair your new cabinet doors with some fresh brass handles to finish off the renovation. Reattach them to the kitchen frame, and you're good to go!
Introduce smart home devices
Smart kitchens are an absolute lifesaver for busy individuals. You could have a smart assistant in the kitchen, like Amazon's Alexa, to help you with the simplest of tasks. For example, you can ask Alexa to set a ten-minute timer instead of cooking, set a timer and help with homework tasks.
Take technology one step further, and introduce smart LED lighting. You can change the colour of the light bulbs in your kitchen to add a different atmosphere. You might fancy a warm white during the week and a multicolour light show on the weekend.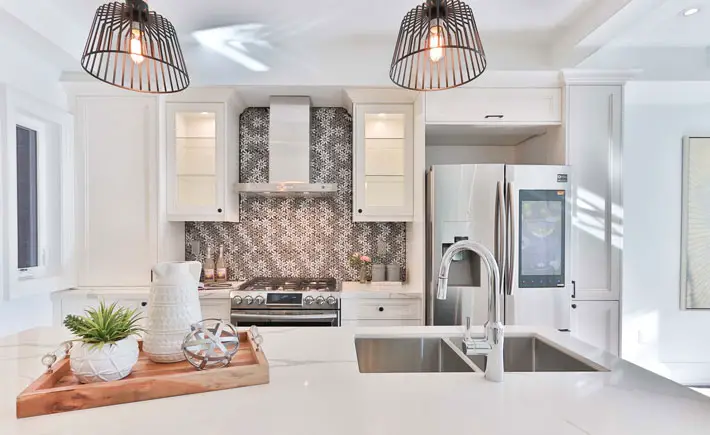 Replace the boiler
An old boiler tends to use more energy and rack up your bills. You can install a combination boiler to cut down your energy bills and make your home much more efficient.
Change the bathroom accessories
Bathrooms can get gross very quickly. Check to see if the grout between the tiles is mouldy and use a mould spray to remove it immediately. You should also replace your shower curtain as soon as it starts to go mouldy around the edges. Bathrooms are very humid rooms that are prone to dampness and grime. Clean your bathroom thoroughly every week to keep it in good condition throughout the year.
Redo your garden
Take a look at your garden, and consider adding a new deck or pathway. A few new plants and shrubs will add some colour and life back into your garden.
Have fun with your home and make it a place you're proud of.