Introducing: Bella Gaffney
Bradford-born, York-based, Yorkshire-inspired folk artist…
YOUR NAME: Bella Gaffney
HOW LONG HAVE YOU BEEN PLAYING MUSIC?
I first picked up the guitar when I was 7… I started performing in pubs when I was 14, which is 14 years ago!
ANY PAST BANDS OR COLLABORATIONS WE SHOULD KNOW ABOUT?
I play with The Magpies, an all-female folk band. I also played in a pretty great punk band with my brother in school, our seminal hits included 'I am a Sea Cucumber' and 'Stupid Rabble'. Every day I am glad that there's no record of those songs.
GIVE US 3 REASONS WHY WE SHOULD TRACK DOWN, LISTEN AND DISCOVER YOUR MUSIC?
If you like original folk music, with a modern twist, I hope you'll like my stuff. My latest album has collaborations with artists from all around the world on it so it is quite varied and interesting (I think!). Also, if you are interested in the acoustic guitar you might enjoy my music, I try to use a variety of styles and techniques that are fun.
WHERE DO YOU SOUND BEST – FESTIVAL, CLUB, BEDROOM – OR SOMEWHERE ELSE?
In my own mind (also the shower). But seriously, I really like playing smaller intimate gigs, I think there is something special about them.
WHAT WAS YOUR FIRST…
RECORD? I don't think I've ever purchased a record, but I inherited my mum's collection. My joint favourites are Rumours by Fleetwood Mac and Bat out of Hell by Meatloaf… We used to play them at full volume, mostly to annoy my dad.
CD? I think it was Kylie's Fever album, but it could have been S-Club 7. Both absolutely brilliant albums, I would buy again, and again, and again. No regrets.
DOWNLOAD? I have literally no idea!
SO, WHEN IT ALL GOES RIGHT AND YOU'VE GOT A BOTTOMLESS PIT OF MONEY AND LONG QUEUE OF HANGERS-ON, WHAT WILL BE YOUR BIGGEST MUSICAL INDULGENCE?
A whole house full of guitars and someone whose job it is to tune them. I won't play them, I'll just look at them and be satisfied that if I wanted to play them, they would be in tune.
SO, WHEN IT ALL GOES WRONG AND YOU'RE LEFT BITTER AND TWISTED AND CURSING THE MUSIC INDUSTRY, WHAT DO YOU FALL BACK ON?
Other than the giant pile of cash that I will have earned? I go back to busking!
WHAT ARE YOUR MUSICAL GUILTY PLEASURES…
I don't feel guilty about any of them. But, I have a very soft spot for ABBA, The Eurythmics, and Blondie.
WHO ARE YORKSHIRE'S FINEST IN CULTURE, SPORT AND MUSIC?
Tough question. I know so many brilliant musicians from Yorkshire – Dan Webster, Plumhall, Polly Bolton, and so many, many others. I couldn't comment about sport – except my 5-a-side team is pretty excellent. Also, I am pretty excellent at squash (I played once), so I guess that makes me Yorkshire's finest in sport too…?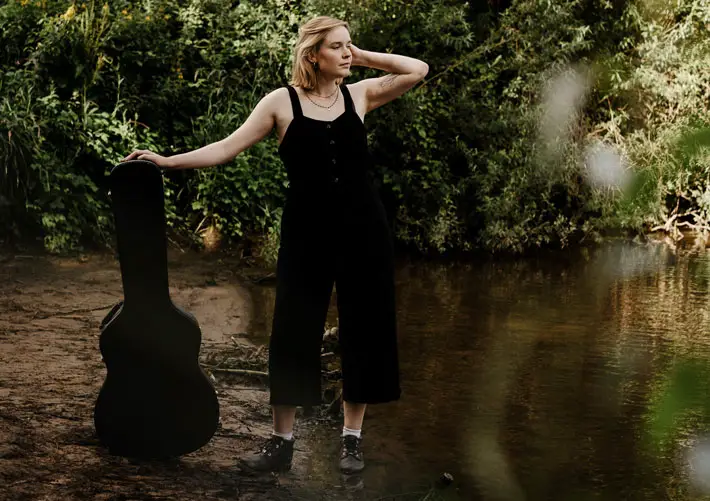 NAME YOUR SUPERGROUP – WHO'S PLAYING WHAT, WHO'S ON VOCALS AND WHO'S YOUR BEZ?
This is a tough question. Me, Stevie Nicks and Paul Simon are sharing lead vocals. I'm playing lead acoustic guitar and Richard Thomson is playing rhythm guitar (but not singing, sorry Richard and no solos). Ringo Starr is playing the egg shaker. I think that's all we need. It'll be great. Terrible, but great.
GO SEE THIS FILM: Whiplash.
GO READ THIS BOOK: Eleanor Oliphant is Completely Fine.
GREAT LOST BAND/ARTIST: Jackson C. Frank.
WOULDN'T BE CAUGHT DEAD SUPPORTING: No comment, I try everything once.
LONDON, L.A OR LEEDS?: Leeds (but Bradford all the way).
AND FINALLY… AS YOU LEAVE THE STAGE, WHAT ARE YOUR PARTING WORDS?
Usually something like, 'Thanks for coming, who wants to buy me a pint?'
For more info visit: facebook.com/BellaGaffneyMusic
Tour dates: York St John University 6 Nov; Doncaster Roots Club 12 Nov; Sheffield Nether Edge Bowling Club 19 Nov; Bradford Black Dyke Mills Venue 20 Nov
Images: Esme Mai