No88 Walmgate – Restaurant Review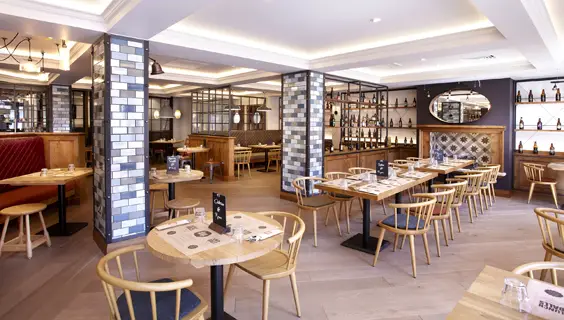 By Roger Crow
National Pie Week is just around the corner (6th – 12th March), so when I'm invited to York's No88 at Hotel Indigo to try out the best they have to offer, I don't need much persuasion. To celebrate said week, they have a special menu of pies and a free ale with every one purchased. The menu is pitched as 'Cracking food made from fantastic local ingredients, influenced by their Yorkshire roots'. I'm here to see if the superlatives are justified.
It's years since I've walked down Walmgate, and while I expect it to look like the same old place, it's rather different to what I remember. Great new shops and some revamped old ones make me wish I'd come back sooner. I'd never ventured as far as No 88, and it turns out to be a welcome surprise.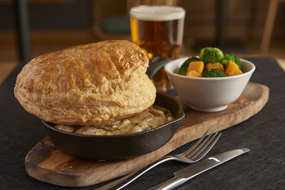 Rhys, the restaurant manager, does a great job of ensuring we have everything we need, starting with a trio of delicious breads and a bowl of olive oil and rosemary with balsamic vinegar served on a slate. It's an engaging warm-up for the main event.
The good old British pie has long been a personal favourite – when done right. While childhood memories of burnt gristly steak and kidney pies in tins return to haunt me whenever the word is mentioned, I never forget a venue that does a good pie. For example, it's five years since I enjoyed a cracking one at The Raven pub in Bath. That set my gold standard for pie excellence.
"Good selection of world wines at a decent price"
At No 88, I opt for the seafood pie which is right up my street. Served in a small metal pan, it's a hearty treat, despite a couple of excess prawn shells. They don't detract from the experience too much. The salmon is tender and delicious while the mashed potato is creamy with a crispy topping. A side of beautifully cooked veg in an old fashioned enamel bowl complement it perfectly. Both dishes keep their heat for longer, which is a smart move. Regarding the veg, I've never had purple heritage carrots before, and they're also a nice touch. (Before the 16th century, they were the norm; orange carrots were created by Dutch farmers apparently).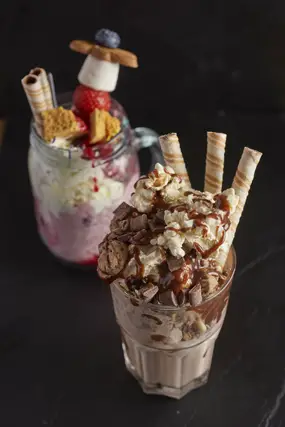 My partner goes for a vegetarian option which isn't on the menu. However, Rhys's behind-the-scenes team do a fine job of rustling up a vegetarian version of the Ey Up Brunch Butty – a veggie sausage sandwich with mushrooms, hash browns and fried egg. A little metal bucket of crisps and a few salad leaves rounds things off. It looks great and there's no complaints from Rachel's side of the table.
While there's a good selection of world wines at a decent price, I go for the York Brewery's Minster Ale, which goes down a treat with the main. Unlike the fine beer, our couple of hours at one of Walmgate's finest eateries is a far from bitter experience, in more ways than one.
"Doughnuts. On a milkshake"
While our dinners are warming comfort food on a drizzly grey day, dessert turns into a surreal experience. It looks like it's been plucked from the candy coloured world of Wreck-it-Ralph. As a veteran of countless American diners on both sides of the Pond, I'm used to calorific desserts, but the Freakshake takes things to another level. I'd seen images on social media, and was keen to see if it was worth the multiple hashtags.
Like a wrong Oscar announcement, it takes a couple of minutes to process what we're experiencing. Imagine a large jar full of cream and ice cream; rivulets of chocolate flowing over the side; streaks of strawberry sauce running vein-like through the shake. There are marshmallows at the base and on the creamy peak, which comes complete with Kit Kat fingers. The strawberries and raspberries give a hint of healthy appeal, but it's the two mini chocolate doughnuts which leave my gob well and truly smacked.
Doughnuts. On a milkshake. Yes, that just happened.
"Good dining should feature a sense of theatre"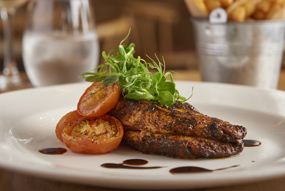 Over my shoulder resting on a mantelpiece, surrounded by shelves full of tastefully arranged beer bottles, is an arty picture of a pig. "How apt", I think. Not that it stops me. Okay, so it's not good for the waistline, but as a decadent treat goes, the Freakshake is quite an experience. Good dining should feature a sense of theatre. Through dessert is more like a trip to an amusement park, we all need a splash of culinary colour on a slate-grey day.
Excellent and decadent food aside, the decor is warm and welcoming, with an enclosed TV area for those who want to retire with a beer and watch the game. I might have to leave it a few months before trying that shake again, but I wouldn't need much of an excuse to pop into No 88 once more.
The superlatives are justified. It's a wealth of locally sourced goodies at a great price served up with a smile.  Now we just need to walk off those calories. I'm guessing a (25 mile) trek back home should just about do it.
No. 88 Walmgate, open daily from 12 noon until 10 pm, is inspiring diners to delight in all things Yorkshire. The focus is simple; cracking dishes with lots of local flavours and seasonal ingredients.
Chef describes his menu as a selection of his favourite things from Yorkshire, brought together to refresh, sustain and entertain.
This British Pie Week (6th-12th March) No. 88 Walmgate is serving up a special selection of delicious pies, and are treating diners to a free carefully paired ale, with every pie ordered. To find out more about No. 88 Walmgate visit hotelindigoyork.co.uk