Bistro 67 at York Theatre Royal – Restaurant Review
By Roger Crow
There is a belief that fast food can't be much good. But there's a difference between quick convenience food and a good meal produced at speed. Obviously, when you have to seat a number of diners before a theatre show, time is of the essence. Bistro 67 proves a fascinating taste of a well-managed restaurant producing good quality food in next to no time.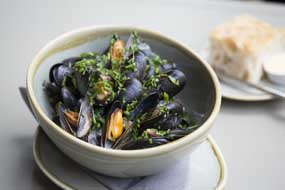 Dividing off a section of York's Theatre Royal to form a quality eatery could have been a disaster, but the setting works rather well. It's simple but effective. Our waitresses, Jessie and Fiona, prove outstanding. There's no sense of fake amiability you get in some restaurants. They're ultra-efficient and make us feel at home in seconds. A few minutes after placing our order, the starters are at our table.
I opt for a tasty black pudding with beautifully done fried egg, mashed potato and gravy. Maybe because I overdid it at lunchtime, or the portion is just large, I try and eat half to save space, but it's so moreish, resisting proves trickier than knitting fog. Rachel opts for 'pleasant' soup of the day, tomato and basil with croutons. It's hearty and warming. Just the job for a winter's evening.
"Wouldn't have to think hard about trying them out again"
Ever keen to try new things, I opt for crayfish risotto for the main. Meaty chunks of fish and beautifully cooked rice, together with crisp garlic toasts and spring onions ensure the dish is a delight. Rachel's veggie option is a revelation.
Roasted vegetable bread and butter pudding with blue cheese cream and walnuts is a flavoursome treat, and proof that veggie food doesn't have to be boring. Sides of roasted root vegetables and mashed potato with whole grain mustard round things off beautifully.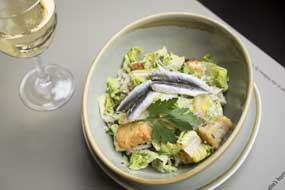 The mash is a delight, and as much as I try and leave it alone, it has the tasty allure of all good comfort food. One of the best things about Bistro 67 is the price. Two courses will set you back a mere £15.95, or for another four quid you can have three courses from the set menu.
Sadly, though we have plenty of time, we don't have room for dessert or coffee. However, given the speed of service, I wouldn't have to think hard about trying them out before my next show at the Theatre Royal in a few weeks' time.
Bistro 67, York Theatre Royal, St Leonard's Place, York YO1 7HD
Serving from 5pm until 45 minutes before curtain up every show day.
01904 623568
yorktheatreroyal.co.uk
food images © Andy Bulmer