Fish & Forest, Micklegate, York – Restaurant Review
By Roger Crow
Over the last few days I've been lucky enough to tour Europe, sampling wine and food in Santorini and Split; I made pasta and tiramisu in Venice, and dined out every night on a posh cruise liner's restaurant. For a foodie, it was heaven, so coming back down to Earth after that is quite the bump.
When I'm invited to sample the food at Fish & Forest in York, I wonder if this modest little eatery can even compete with those dizzy culinary highs.
After parking up on Nunnery Lane, it's a five-minute walk to the restaurant, and though half an hour early, Steph, our waitress does a splendid job of seating us and taking our drinks order.
Though there is a small menu of nibbles, Lindisfarne Oysters and Radish Butter will have to wait for another time.
Steph hoists over a blackboard with the Menu du Jour, and we joke about the fact that paper menus might be lighter.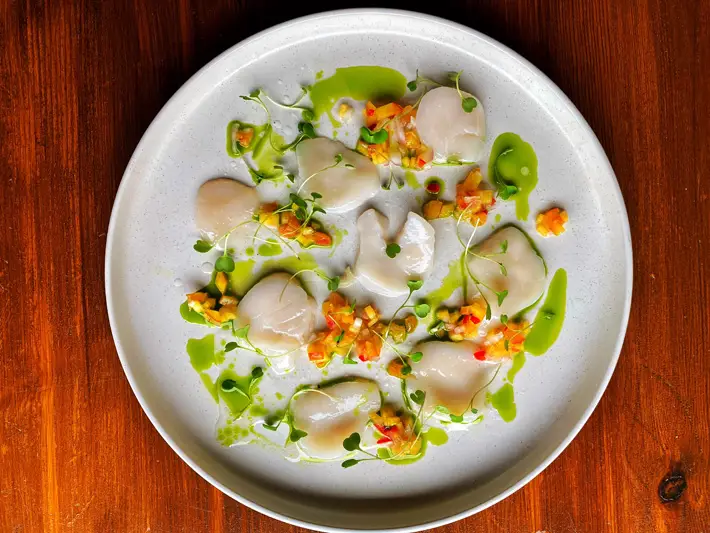 "A joy"
Not only does she know everything on the menu, she delivers it with the sort of animated presentation that deserves a round of applause.
I opt for the Cured Stonebass with Kabayaki (a sweet soy sauce-based glaze) which turns out to be an absolute delight. Delicate flavours with hints of pickled onion are a sensation. Rachel's exquisite Onion Tartlette is also a joy.
Her main is basically a large beetroot* (grilled on the outside and soft on the inside) with beetroot slaw, pickles and beetroot jus.
*Seriously, the name 'Crapaudine Beetroot' is a dreadful moniker for any dish, but foodies may beg to differ.
"It's earthier and sweeter than normal beetroot," explains head chef Steve.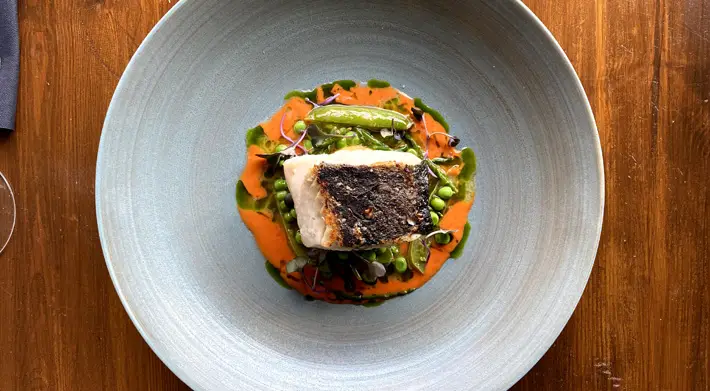 "Incredibly tasty"
"Tasty but a smaller beetroot would have been good. Just beetroot overload", is Rachel's verdict.
My Coley Fillet with Miso Broth is an absolute joy, as is the side of roast potatoes and greens.
Flavoursome, gentle on the palate, and as bone-free as I'd hoped.
Later, assistant Tom pops over with another course, again perfectly explained.
Rhubarb Pavlova, which is incredibly tasty, has Rachel's name all over it, and I just opt for a slice of Gruyère cheese with pickled red onion and home-made cracker. It's the perfect end to a lovely meal.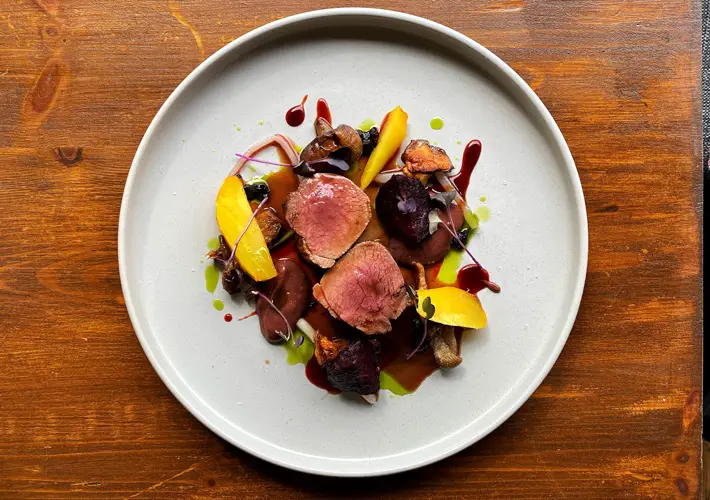 "Outstanding"
The place is busy throughout the evening, and the ambience is a delight. Watching Steph work her magic on every table is a joy, especially as I've dined at some places where staff couldn't care less about their punters. If there's an award for Yorkshire's Best Waitress, she gets our vote without hesitation.
Given the fact the eatery was set up just at the start of the first lockdown, I'm thrilled it survived, and given the calibre of its food and outstanding staff, I can see it thriving now things are returning to some sort of normality.
And as much as I love sampling food around the Med, there is nothing like a great meal served by fabulous folks on home turf. I'm not surprised they've been mentioned in the Michelin Guide.
Whether you're based in York, or don't mind a bit of travelling to get there, Fish & Forest is well worth a visit. We'll definitely be back.
Fish & Forest, 110 Micklegate, York, YO1 6JX
Opening Hours:
Wednesday – Friday : 17:30 – 21:00
Saturday : 12:00 – 13:45 , 17:30 – 21:00
Sunday – Tuesday : Closed
01904 220587
fishandforestrestaurant.com